About this Event
7/29/2019, 5:30PM-8PM at LAGUNITAS: THE BASEMENT, 2607 W. 17TH ST. CHICAGO, IL 60608
$10 ADMISSION, $6 BEER
All guests must be 21+, no childcare available at this event.
90% of beer sales and 100% of proceeds will help support Latino Union's community-led programs.
Founded in 2000, Latino Union battles wage theft and empowers low-wage immigrant and US-born workers in Chicago. Latino Union helped pass the 2016 Illinois Domestic Workers Bill of Rights. In 2018, Latino Union recovered over $25,000 of stolen wages.
In its community organizing efforts of empowering low-wage immigrant and US-born workers to become self-reliant agents of change, Latino Union additionally prevents future wage theft and offers credentialed workforce development programs.
Community members also run their own living-wage hiring hall (earning an average of $24.89/hr), community-led programming including support groups, ESL classes, and peer-to-peer skill-sharing workshops.
Learn more at: www.latinounion.org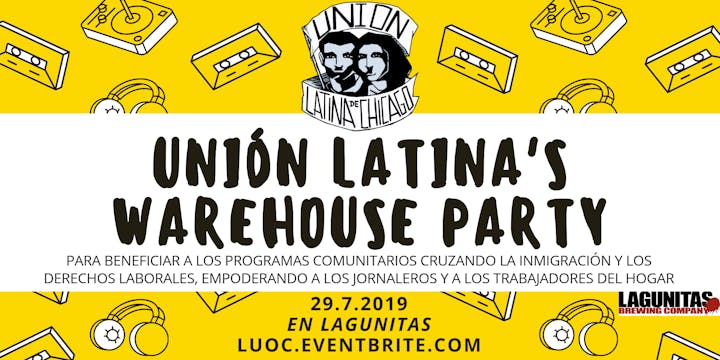 ¡Acompáñanos en nuestra noche de clásicos de los 80s y 90s para beneficiar los derechos y desarrollos laborales! Disfruta de la música, baile, comida y bebidas para apoyar a la Unión Latina de Chicago.
29/7/2019, 5:30 PM-8PM en LAGUNITAS: THE BASEMENT, 2607 W. 17TH ST. CHICAGO, IL 60608
ENTRADA $10, CERVEZA $6
Todxs lxs invitadxs tienen que ser de edad 21+, no hay cuidado de niños disponible en este evento.
90% de las ventas de cerveza y el 100% de los ingresos ayudarán a apoyar programas liderados por la comunidad de la Unión Latina.
Fundada en 2000, la Unión Latina lucha contra el robo de salarios y los derechos de lxs trabajadorxs inmigrantes y nacidxs en los Estados Unidos con salarios bajos en Chicago. La Unión Latina ayudó a aprobar la Declaración de Derechos de los Trabajadores Domésticos de Illinois 2016. En 2018, la Unión Latina recuperó más de $25,000 en salarios robados de nuestra comunidad.
En su esfuerzo de organización comunitaria para empoderar a lxs trabajadorxs inmigrantes y nacidxs en los Estados Unidos de bajos salarios para que se conviertan en agentes de cambio autosuficientes, la Unión Latina además previene futuros robos de salarios y ofrece programas acreditados de desarrollo de la fuerza laboral.
Nuestros miembros de la comunidad también tienen su propia sala de contratación de salario digno (con un promedio de $24.89 por hora), programación dirigida por la comunidad que incluye grupos de apoyo, clases de ESL y talleres de intercambio de habilidades.
Obtenga más información en: www.latinounion.org