Sales Have Ended
Registrations are closed
Thanks for registering for the Latino ThoughtMakers Virtual Conversation with Luis Guzmán! Join us at the JPAC Theatre.
Sales Have Ended
Registrations are closed
Thanks for registering for the Latino ThoughtMakers Virtual Conversation with Luis Guzmán! Join us at the JPAC Theatre.
Rick Najera's Latino Thought Makers Series at Morton College with American Philosopher, Dr. Cornel West
About this event
Hi Morton College Community!
We are excited to bring to you Latino ThoughtMakers Live Interview Series Featuring Latino Innovators in Media and Entertainment moderated and hosted by award-winning writer, producer, author and comedian Rick Najera. We invite you to join the conversation and listen to the insights, stories, and perspectives on issues facing the Latino community!
As a continution of the Latino ThoughtMakers series we invite you to join us for our second live talk n on Friday, October 22, 2021 starting at 6pm for our conversation with American Philosopher Dr. Cornel West.
Dr. Jamillah Moore will moderate this dynamic conversation between Dr. West and Rick Najera!
You don't want to miss us for a powerful and inspirational interview series this Fall! Register today!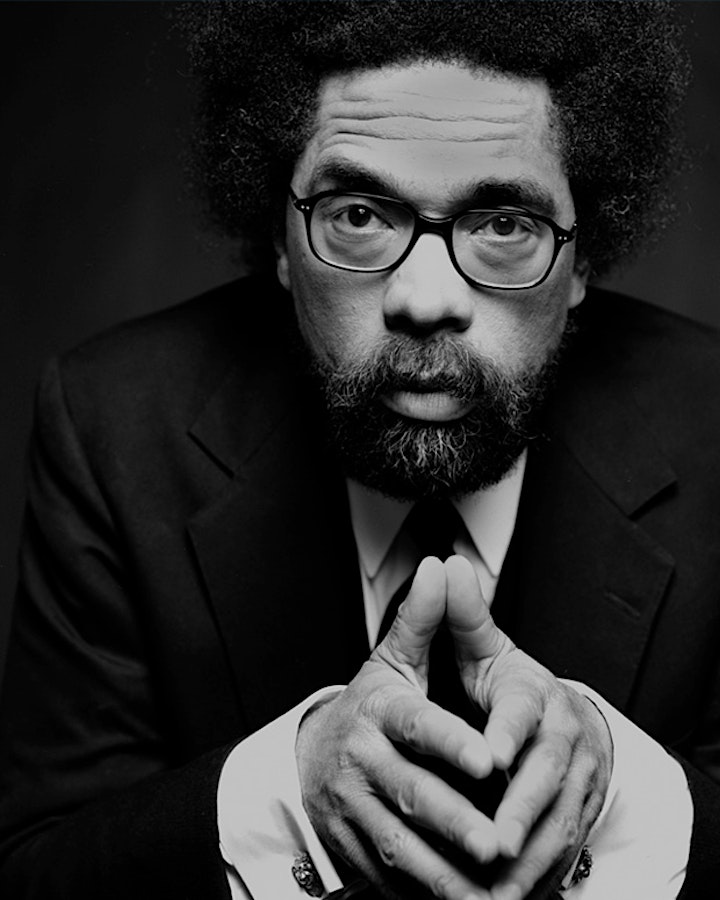 Short Bio:
Professor • Philosopher • Author • Activist
Dr. Cornel West is a prominent and provocative democratic intellectual. He is Professor of the Practice of Public Philosophy at Harvard University and holds the title of Professor Emeritus at Princeton University. He has also taught at Union Theological Seminary, Yale, Harvard, and the University of Paris. Cornel West graduated Magna Cum Laude from Harvard in three years and obtained his M.A. and Ph.D. in Philosophy at Princeton.
He has written 20 books and has edited 13. He is best known for his classics, Race Matters and Democracy Matters, and for his memoir, Brother West: Living and Loving Out Loud. His most recent book, Black Prophetic Fire, offers an unflinching look at nineteenth and twentieth-century African American leaders and their visionary legacies.
Dr. West is a frequent guest on the Bill Maher Show, CNN, C-Span and Democracy Now. He made his film debut in the Matrix – and was the commentator (with Ken Wilbur) on the official trilogy released in 2004. He also has appeared in over 25 documentaries and films including Examined Life, Call & Response, Sidewalk and Stand.
He has produced three spoken word albums including Never Forget, collaborating with Prince, Jill Scott, Andre 3000, Talib Kweli, KRS-One and the late Gerald Levert. His spoken word interludes are featured on productions by Terence Blanchard, The Cornel West Theory, Raheem DeVaughn, and Bootsy Collins.
In short, Cornel West has a passion to communicate to a vast variety of publics in order to keep alive the legacy of Martin Luther King, Jr. – a legacy of telling the truth and bearing witness to love and justice.
Short Bio:
Dr. Jamillah Moore is the Vice President of Student Enrollment and Academic Affairs at San Francisco State University, an award-winning institution located in the heart of San Francisco.
Educational BackgroundA native Californian, Dr. Moore holds two degrees from California State University, Sacramento- a Bachelor of Arts in Communication and a Masters in Intercultural Communication and Public Policy. Dr. Moore also earned a Doctorate from the University of San Francisco in International and Multicultural Education.
Professional ExperienceDr. Moore's background also includes teaching and research in the area of educational access and equity with a primary focus on student success for minority and low-income students. She has consulted on education policy issues with college systems and policymaking organizations in California and Washington, DC. She has testified in front of local governments and the state legislature. As a former California State Senate Fellow, legislative staffer and consultant to the Senate Select Committee on Higher Education Admissions and Outreach. Dr. Moore has written policy as well as advocated and fundraised on behalf of California students. She was a member of the policy team that advocated for admission in the local context for the University of California. With an educational career spanning more than 25 years, Dr. Jamillah Moore has become known for her passion on educational excellence, commitment to students, strategic leadership, and tackling difficult issues. Dr. Moore has a reputation for leveraging collaborative partnerships with public and private organizations, enabling students, faculty, and staff to cross institutional boundaries and engage in innovative instruction to ensure student success.
Prior to Dr. Jamillah Moore's appointment as the Vice President of Student Affairs and Enrollment Management she has also served as:• President of Cañada College• Vice Chancellor for Educational Services and Planning• Chancellor of the Ventura County Community College District• President of Los Angeles City College• Interim Superintendent President of Compton Community College• Senior Vice Chancellor for Governmental and External Relations for the California Community College Chancellor's Office
In addition, Dr. Moore has served as an adjunct faculty member for the School of Education at California State University, Stanislaus, Cal Lutheran University, University of Southern California, and California State University, Sacramento. She also taught in Communication Studies at California State University, Sacramento. She spent a decade as a legislative staffer and policy analyst in the California State Senate. She is also a former Director of Governmental Relations for the Los Angeles County Office of Education.
Dr. Moore combines innovation, research, and effective management with a commitment to transparency, respect for faculty and staff, and a compassionate dedication to students. She supports participatory governance decision-making, with a personal obligation to support students' achieving their personal, academic, and career goals.
As an active civic leader, Dr. Jamillah Moore serves on the Board of Directors for the Redwood City Chamber of Commerce, Parents Institute for Quality Education (PIQE). She is a former Commissioner for the California Student Aid Commission. She also serves as a member of the Redwood City Rotary Club, the Trusteeship, American Association of Community Colleges, Lakin Institute for Mentored Leadership, Western Region Council of Black American Affairs, National Council on Black American Affairs, Board of Directors for 2nd Harvest Food Bank, and Educating Young Minds.
Dr. Moore has published articles, book chapters and other publications, and her work has appeared in Psychology Today and Diverse Issues in Higher Education. In addition, Dr. Moore is the author of Race and College Admission: A Case for Affirmative Action. Dr. Moore is also the recipient of the 2014 California State University, Channel Islands African American in Higher Education Achievement Award, the 2018 National Coalition Of 100 Black Women Educator of the Year Award, and the 2020 Distinguished Alumni for California State University, Sacramento.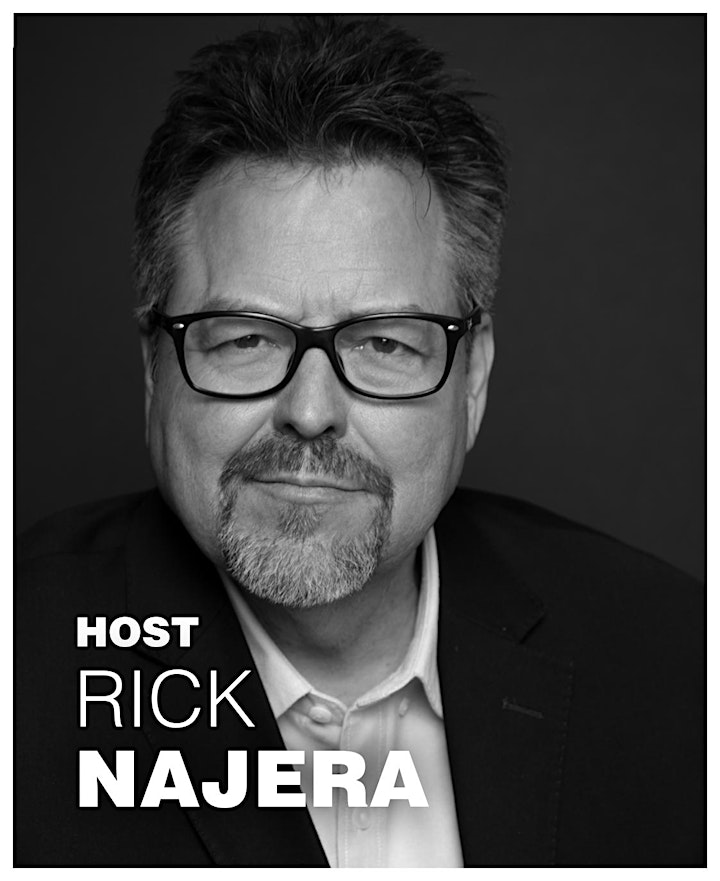 Short Bio:
Rick Najera is an award-winning screenwriter, actor, director, producer, sketch comedian, author, playwright, coach and national speaker with an expansive portfolio of credits in all forms of entertainment. He has received numerous industry awards for his work.
From starring in films with Sidney Poitier, George Clooney and most recently Mario Lopez, to writing sketch comedy for Jim Carrey and Jamie Foxx, Najera is best known for starring on Broadway in his award-winning, self-penned stageplay, Latinologues, directed by comedy legend Cheech Marin. Najera is only one of three Latinos to ever write and star in their own play on Broadway.
As a screenwriter, Najera has written dozens of scripts for TV, film and the stage, starting out in the industry as a staff writer on the groundbreaking urban comedy series, In Living Color, for which he wrote more than( 30 episodes). Najera went on to write for Townsend TV (10 episodes), MAD TV (47 episodes), East Los High – a Hulu original (21 episodes) and numerous TV pilots and more. He penned the feature film Nothing Like the Holidays starring Debra Messing, Alfred Molina, John Leguizamo and Luis Guzman, which won him an ALMA Award. And was nominated by Congressman Joaquin Castro to be placed in the permanent Congressional record. Najera learned from great writers like Spike Lee, Quentin Tarantino and Scorsese to "write what you know' and has been a pioneer in Hollywood telling his American experience, from a Latino perspective.
We have a great line-up for you:
Live sit-down interviews with interactive Q&A moderated by award-winning writer, producer, author and comedian Rick Najera.
Meet and hear from trailblazing Latino leaders in Media and Entertainment and raises the bar on the positive image of Latinos and diversity in America
Join engaging and candid conversations about critical issues facing Latinos, with a comedic twist
Hear inspirational stories from influential Latino artists, celebrities and entertainment industry professionals
Discuss important issues to the Latino community including the current state of Latinos in the Media,Immigration, Social Justice, Career & Life Choices and Inspirational Success Stories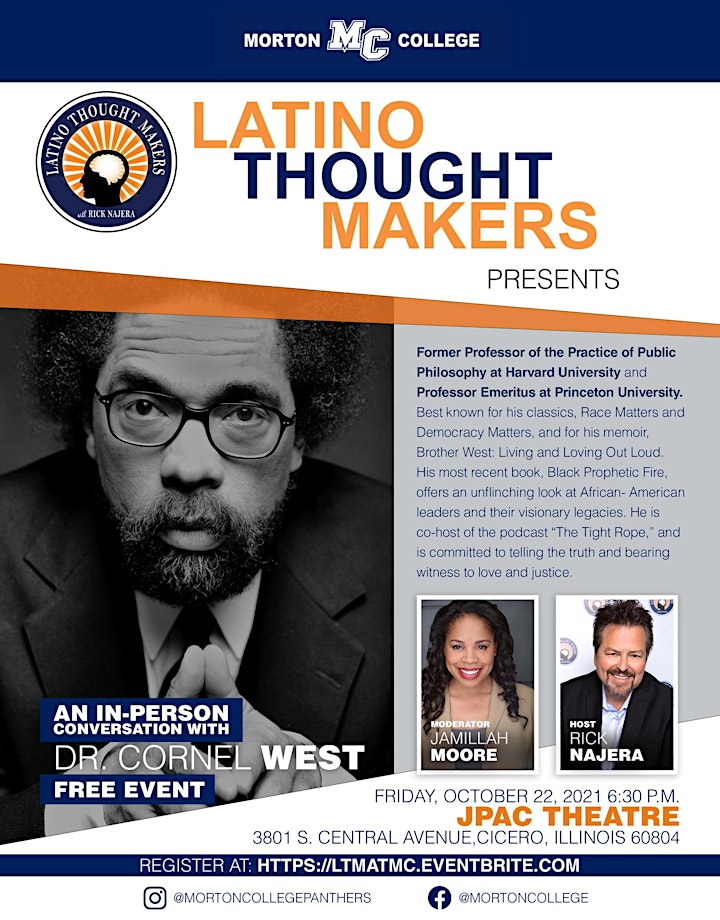 About Latino ThoughtMakers
Latino ThoughtMakers inspires the future leaders of America through this positive, powerfully uplifting and motivational platform. The Latino Thought Makers builds bridges of understanding in cultural diversity through personal and comedic dialogue and showcases critical thinking as it relates to entertainment and education and provides the audience an opportunity to be a part of a greater dialogue and motivational story-telling experience. It is an unscripted interview series highlighting prominent Latinx personalities through organic conversations with Najera's network of industry friends and community leaders.
Educational. Engaging. Entertaining.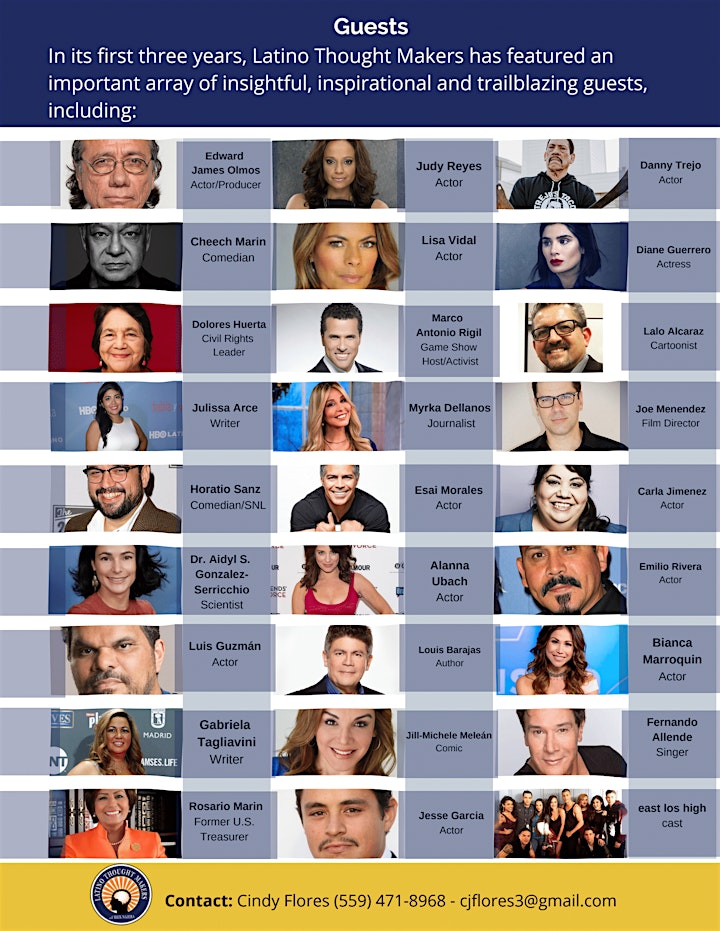 For more information on Latino Thought Makers, please visit www.morton.edu/latino-thought-makers/. Follow Morton College's Facebook page for the announcement of future guests and shows.
We ask that you follow us on social media and use hashtags:
#WeareMC #SomosMC #LTM21 #orgullolatino
Organizer of Latino Thought Makers Presents a Conversation with Dr. Cornel West
Imagine what you can do! | ¡Imagina lo que puedes hacer!  
#WeAreMc #SomosMC
To jumpstart your education, visit or register at Morton.edu!