Location
Morton College, JPAC Theatre
3801 S Central Ave
Cicero, IL 60804
Sales Have Ended
Registrations are closed
THANK YOU for the overwhelming response to our upcoming nationally acclaimed interview series, Latino Thought Makers, with Mexican American actor, director, producer, and activist Edward James Olmos on Saturday, April 9. The evening will kick off at 3:30 p.m. with Mariachi Universal and a small reception. The event is sold out, and we anticipate more traffic than usual. Latino Thought Makers event will begin at 5 p.m. and will be recorded and livestreamed for educational purposes. For this reason, we are asking that you arrive no later than 4:45 p.m. Arrival after 4:45 p.m. will result in ticket cancellation. Please plan accordingly. Parking for Latino Thought Makers is free and available on the Morton College campus. Latino Thought Makers will also be broadcasted live via Morton College's Facebook page and YouTube channel. If you can no longer attend this event, please respond to this email. Thank you for your support of Latino Thought Makers at Morton College.
Rick Najera's Latino Thought Makers Series at Morton College with Mexican-American actor, director, producer and activist Edward James Olmos
About this event
Hi Morton College Community!
We are excited to bring to you Latino ThoughtMakers Live Interview Series Featuring Latino Innovators in Media and Entertainment moderated and hosted by award-winning writer, producer, author and comedian Rick Najera. We invite you to join the conversation and listen to the insights, stories, and perspectives on issues facing the Latino community!
As a continuation of the Latino ThoughtMakers series we invite you to join us on Saturday, April 9th for a reception beginning at 3:30 pm and our live talk starting at 6:00 pm for our conversation with Mexican-American actor, director, producer, and activist, Edward James Olmos. Read the press release here.
You don't want to miss us for a powerful and inspirational interview series! Register today!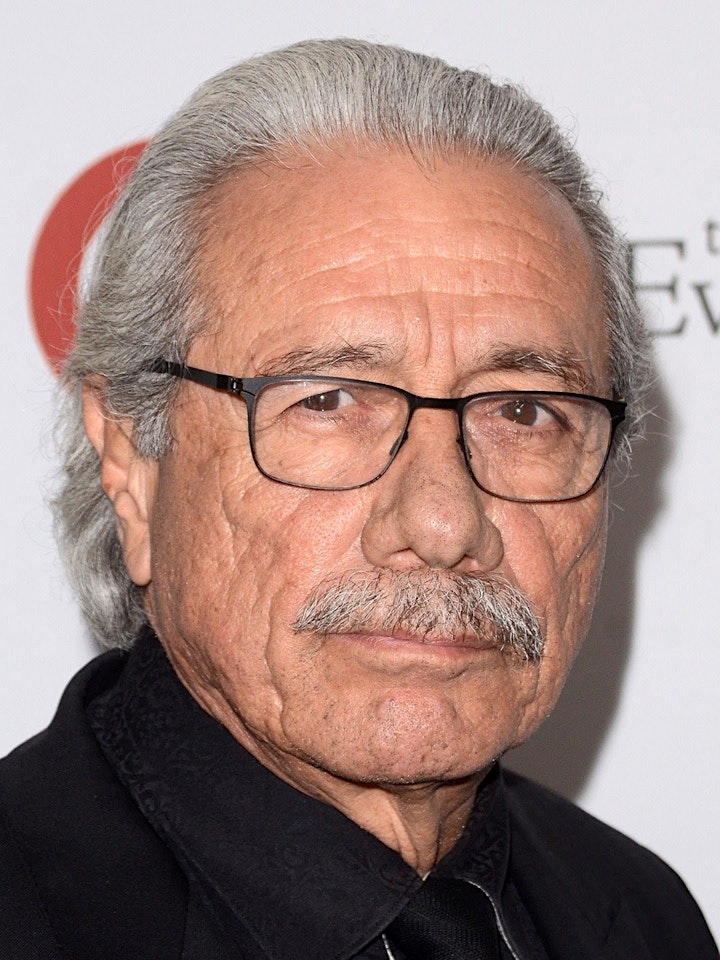 Short Bio:
Mexican-American actor, director, producer, and activist.
Edward James Olmos is a Mexican-American actor, director, producer, and activist. He is best known for his roles as Lieutenant Martin "Marty" Castillo in "Miami Vice" (1984–1989), actor in and director of "American Me" (1992), William Adama in the re-imagined "Battlestar Galactica" (2004–2009), teacher Jaime Escalante in "Stand and Deliver" (1988), and Detective Gaff in "Blade Runner" (1982) and its sequel "Blade Runner 2049" (2017). In 2018, he played the father of two members of an outlaw motorcycle club in the FX series "Mayans MC."
For his work in "Miami Vice," Olmos won the 1985 Primetime Emmy Award for Outstanding Supporting Actor in a Drama Series, as well as the Golden Globe Award for Best Supporting Actor – Series, Miniseries or Television Film. For his performance in "Stand and Deliver," Olmos was nominated for a Golden Globe Award and the Academy Award for Best Actor in a Leading Role.
He is also known for his roles as patriarch Abraham Quintanilla in the film "Selena," narrator El Pachuco in both the stage and film versions of "Zoot Suit," and the voice of Chicharrón in "Coco."
Over the course of his career, Olmos has been a pioneer for more diversified roles and images of Hispanics in the U.S. media. His notable direction, production, and starring roles for films, made-for-TV movies, and TV shows include "Wolfen," "Triumph of the Spirit," "Talent for the Game," "American Me," "The Burning Season," "My Family/Mi Familia," "Caught," "12 Angry Men," "The Disappearance of Garcia Lorca," "Walkout," "The Wonderful Ice Cream Suit," "American Family," and "Dexter." He is the founder of the Los Angles Latino International Film Festival as well as the YFP Youth Film Project that teaches and empowers young people to express themselfs through film.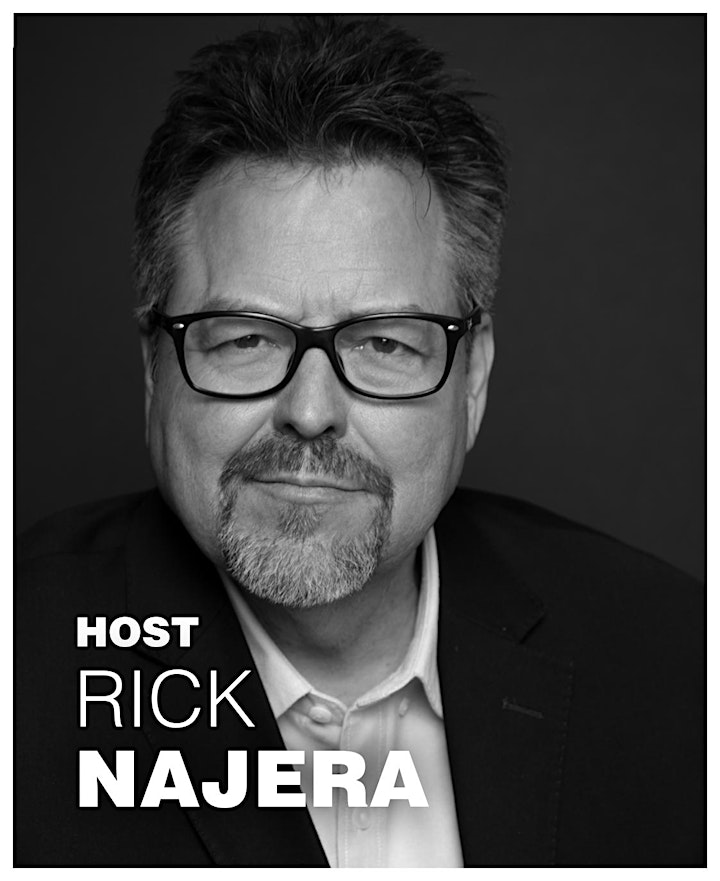 Short Bio:
Rick Najera is an award-winning screenwriter, actor, director, producer, sketch comedian, author, playwright, coach and national speaker with an expansive portfolio of credits in all forms of entertainment. He has received numerous industry awards for his work.
From starring in films with Sidney Poitier, George Clooney and most recently Mario Lopez, to writing sketch comedy for Jim Carrey and Jamie Foxx, Najera is best known for starring on Broadway in his award-winning, self-penned stageplay, Latinologues, directed by comedy legend Cheech Marin. Najera is only one of three Latinos to ever write and star in their own play on Broadway.
As a screenwriter, Najera has written dozens of scripts for TV, film and the stage, starting out in the industry as a staff writer on the groundbreaking urban comedy series, In Living Color, for which he wrote more than( 30 episodes). Najera went on to write for Townsend TV (10 episodes), MAD TV (47 episodes), East Los High – a Hulu original (21 episodes) and numerous TV pilots and more. He penned the feature film Nothing Like the Holidays starring Debra Messing, Alfred Molina, John Leguizamo and Luis Guzman, which won him an ALMA Award. And was nominated by Congressman Joaquin Castro to be placed in the permanent Congressional record. Najera learned from great writers like Spike Lee, Quentin Tarantino and Scorsese to "write what you know' and has been a pioneer in Hollywood telling his American experience, from a Latino perspective.
We have a great line-up for you:
Live sit-down interviews with interactive Q&A moderated by award-winning writer, producer, author and comedian Rick Najera.
Meet and hear from trailblazing Latino leaders in Media and Entertainment and raises the bar on the positive image of Latinos and diversity in America
Join engaging and candid conversations about critical issues facing Latinos, with a comedic twist
Hear inspirational stories from influential Latino artists, celebrities and entertainment industry professionals
Discuss important issues to the Latino community including the current state of Latinos in the Media,Immigration, Social Justice, Career & Life Choices and Inspirational Success Stories
About Latino ThoughtMakers
Latino ThoughtMakers inspires the future leaders of America through this positive, powerfully uplifting and motivational platform. The Latino Thought Makers builds bridges of understanding in cultural diversity through personal and comedic dialogue and showcases critical thinking as it relates to entertainment and education and provides the audience an opportunity to be a part of a greater dialogue and motivational story-telling experience. It is an unscripted interview series highlighting prominent Latinx personalities through organic conversations with Najera's network of industry friends and community leaders.
Educational. Engaging. Entertaining.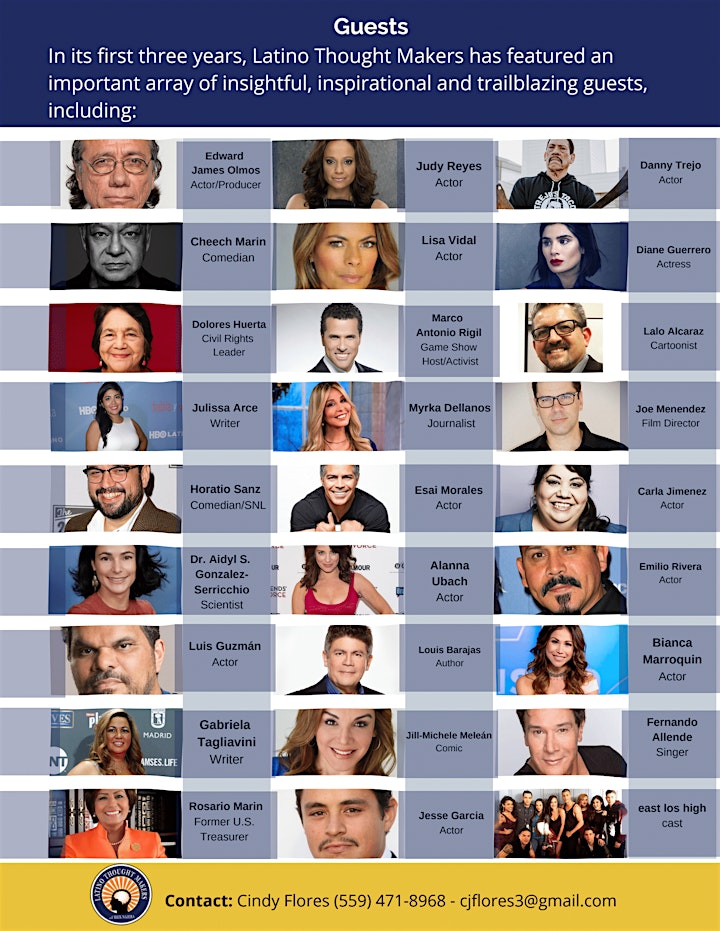 For more information on Latino Thought Makers, please visit www.morton.edu/latino-thought-makers/. Follow Morton College's Facebook page for the announcement of future guests and shows.
We ask that you follow us on social media and use hashtags:
#WeareMC #SomosMC #LTM21 #orgullolatino