Description
CONNECT. LEARN. REENERGIZE.
LCF is thrilled to invite our Latino Giving Circle Network™ members to their Annual Retreat at Google Sunnyvale. We have a full day agenda with speakers, workshops and networking opportunities. Hope you come ready to strategize for 2017!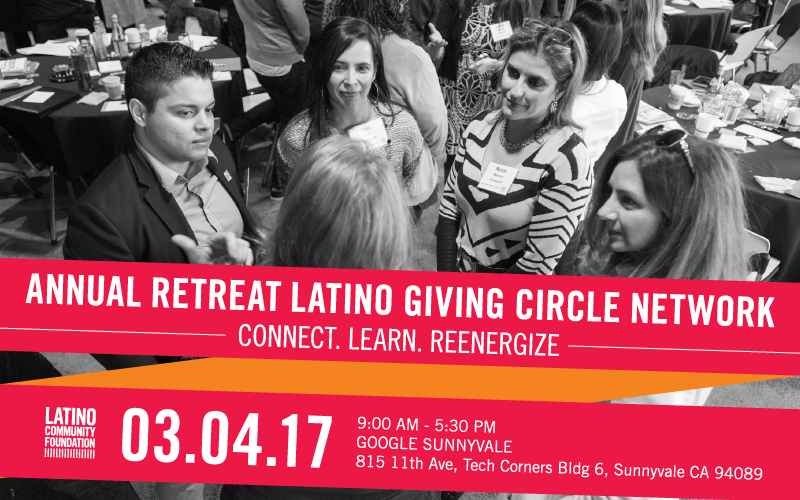 AGENDA
8:45 AM Registration and Cafecito
9:15 AM Investing In Latino Communities: A Vision for the Future
9:25 AM The Latino Giving Circle Network 2.0
10:00 AM Where we Stand: the Sum is Greater Than Our Parts
10:15 AM Reflecting on the Context: Equity Walk
---
11:30 AM BREAK & LUNCH (Gallery Walk)
---
12:15 PM Ya EsTiempo: Latinos Leading with Boldness
Frank Carbajal, Founder and President, EsTiempo
12:40 PM Perspective from the Frontlines: Why Your Investment Matters?
LCF Community Partners: George Galvis (CURYJ) & Rita Mancera (Puente de la Costa Sur)
1:15 PM Strengthening our Ties
Wellness & Life Coaches: Judith Duval, Claudia Medina, Alba Alamillo
---
2:05 PM BREAKOUT SESSIONS/WORKSHOPS:
Beyond The Giving Circle: Other Vehicles to Give and Achieve Our Vision

The San Francisco Foundation

Building Wealth: Breaking through the Other Side

Franco Olmeda, OWG International
Moving Beyond Grants: Investing for Social and Financial Returns

Felipe Arango, Founder, Raices.org
Technology and Giving

Keith Calix, Chief of Staff, Laura Arrillaga-Andreessen Foundation
---
3:15 PM Call to Action: What Next?
4:30 PM Cocktail Reception with Grantees! Meet and greet.
(!) This event is only for active Latino Giving Circle Network Members.