Description
The Latino Community Foundation is thrilled to launch the Los Angeles Latino Giving Circle! Join us to learn more about philanthropy by and for Latinos. Meet the dynamic champions of this circle: Benjamin Torres (CD Tech), Julio Marcial (The California Wellness Foundation), Janet Sandoval (Avery Dennison Foundation), Chrissie Castro (Chrissie M. Castro & Associates), Michael de la Rocha (Revolve Impact), Judy Davidds-Wright (Wright Consulting Group), Arturo Carmona (mitú), Danielle Campos (Bank of American Charitable Foundation) and Juana Mora (Rio Hondo College).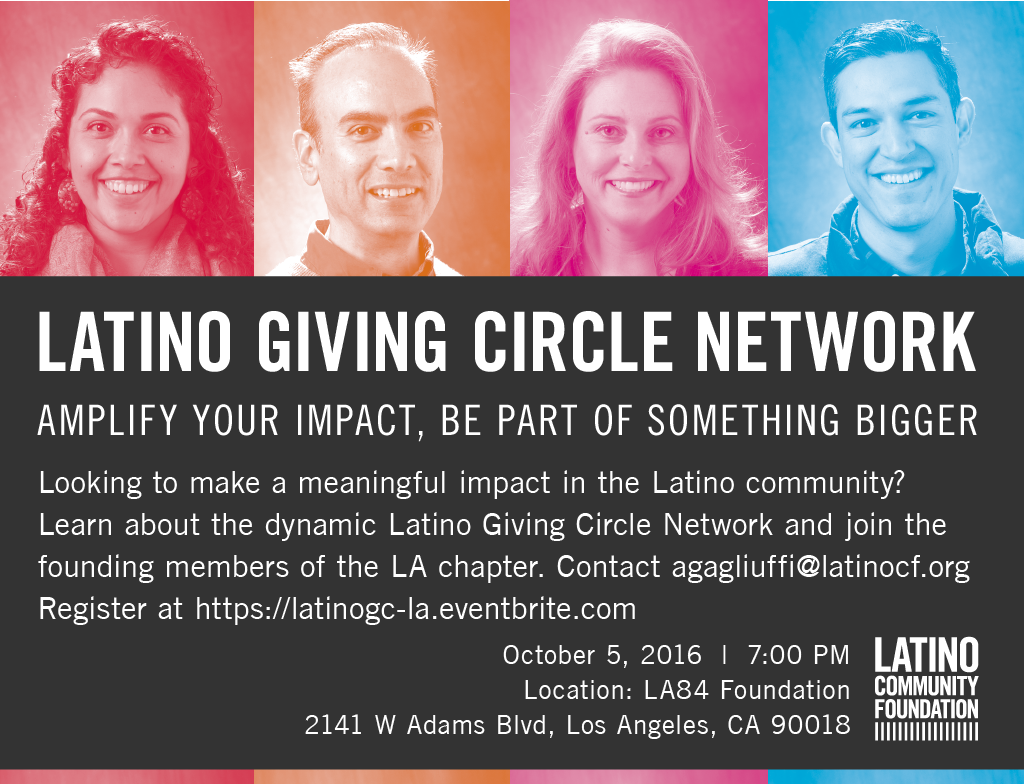 The Latino Giving Circle Network (LGCN) is a group of intergenerational individuals invested in improving the lives of Latinos in California. Each member of the LGCN pledges to donate at least $1,000 a year ($84 a month). Together, each circle defines the issues facing the Latino community that they want to invest in. After the Giving Circle hears from experts and a dynamic pitch from their top three organization choices, the members decide the amounts to be granted out.
Today, the LGCN has 225 members and has invested more than $200,000 in Latino-based organizations in CA! All contributions from members are given out in its entirety to their choice of grantees.
Join our movement, it is your time to make a change!
Enjoy tapas and wine!
Contact Anna Gagliuffi at agagliuffi@latinocf.org