The Latino Flash Pitch seeks to foster connections, inspire learning, and make a community around Latino entrepreneurship and innovation.
About this event
A worldwide conference for Latino Entrepreneurs who are changing the world.
The world has changed, existing inequities have widened and for many first time Latino entrepreneurs, these changes have created even greater disparities in all areas of their lives and businesses. As one of the fastest-growing demographics of business owners in the US, Latino entrepreneurs are facing uncertain and challenging times ahead.
The Latino Flash Pitch Conference is a place of belonging. An opportunity to come together and help all of us move forward. We bring Hispanic entrepreneurs from all sectors and industries who are leading our community through uncertain times. Experts from different fields join us in a discussion on the most pressing needs and issues affecting Latino entrepreneurs today.
You're invited to an online video conference for Latino Entrepreneurs. A conference in the truest sense—you're here to meet other people, to dialogue and forge connections, to find the others who are ready and willing to join with you.
Come to a place of belonging
Join us for the premier live conference that centers on the experiences of Latino entrepreneurs in the US.
It all happens at your fingertips through video, face to face.
You will hear from thought leaders and experts in our community, people taking transformative action. Just as important, you'll be able to engage digitally with us and people like you in an exciting exchange of ideas and experiences. That means you're not alone, our strength is multiplied when we come together.
The conference runs for two days. It's a powerful way to be inspired to do even more by people who want to come together and move towards prosperity for all.
What you'll take away:
Access to a growing community that seeks to make a difference
Valuable knowledge on how to lead and adapt through uncertain times
Tools for connecting with resources and experts beyond the conference
Invite your boss, your colleagues, and your familia to sign up! Changemakers don't just participate in a movement, they help build it. Be sure to bring others along on your journey and include them here in the next steps.
Registration & details
Our conference is August, 11th - 12th, 2020.
For more details please see the agenda below
1st Day -Tuesday, August 11th
-Introductions: LULAC's CEO & Verizon - Sindy Benavides & Verizon Representative 10:30 AM
-Managing Operations on a Small Budget: How to maximize your impact. 10:30 AM - 11:30 AM
Felipe Ugalde, Manager of Financial Planning & Analysis will be joining us representing USHCC and giving insight on how to operate a small business with a tight budget. He will be discussing some of the best practices behind setting your small business for success as you continue to grow.
Felipe Ugalde, United States Hispanic Chamber of Commerce
Q&A - 11:30 AM
Break - 11:40 AM
Financing Your Startup 101 12:00 PM - 1:00 PM
Ms. Sylvia Flores and Ms. Jessica Salinas will be speaking about the resources available through Manos Accelerator and the way to seek funding from investors and other potential partners. They will be speaking about how to make your business more appealing and how to strategically seek more added funding.
Sylvia Flores, Chief Executive Officer of Manos Accelerator
Jessica Salinas, Founding Partner of Stat Zero
Q&A - 1:00 PM
Program Concludes 1:20 PM
2nd Day Wednesday, August 12th
Welcoming Remarks: Alberto & Randy 10 AM
Program begins: 10:15 AM
Latin@s Emprendedores Panel 10:20 AM - 11:20 AM
This panel will consist of established Latino business owners that were once aspiring entrepreneurs with great business ideas and have now established them into running businesses. Their discussion will be centered around talking about branding, how to seek funding, and operating your business as you begin to make it larger.
Jessica Salinas - Partner & VP, Venture Ops & New Media at Stat Zero - Moderator
Luis Moran - Co-Owner of Tortamovil
Carla Chavarria - Owner of Ocho Design Agency
Shaydi DeJesus - Austin City Lead for Bunker Labs
Mark L. Madrid - CEO of the Latino Business Action Network
Q&A: 11:20 AM
Break: 11:30 AM
Latino Flash Pitch Awards 11:40 AM - 12:40 PM
The Latino Flash Pitch Competition was created to help engage Latino entrepreneurs to foster the creativity and innovation of their ideas. Through this competition, we want to help create new businesses that can bring new innovation to the Latino community. During this portion, our seven awardees will be presented and given their prizes.
Belinda de la Libertad - CEO & Managing Partner of A-Z Techs
Daiquiri Ryan - Co-Founder of Netacollab
Edward Barrios - D.C. Chapter Director of Techqueria
Kenneth Salas - Co-Founder & COO of Camino Financial
Break: 12:40 PM
Fireside Chat: "Resiliency as an Entrepreneur" 12:50 PM - 1:20 PM
The resilience that you hold as an entrepreneur is important to the success of your business. Many entrepreneurs and their businesses fail when they see failures or if they do not have the proper mentorship and resources. Come learn how Mr. Kristopher Lopez discusses the importance of staying focused and finding the proper mentorship to succeed in building your business.
Shaydi DeJesus - Austin City Lead for Bunker Labs - Moderator
Kristopher Lopez - Co-Founder & CEO of L2BNB
Program Concludes 1:30 PM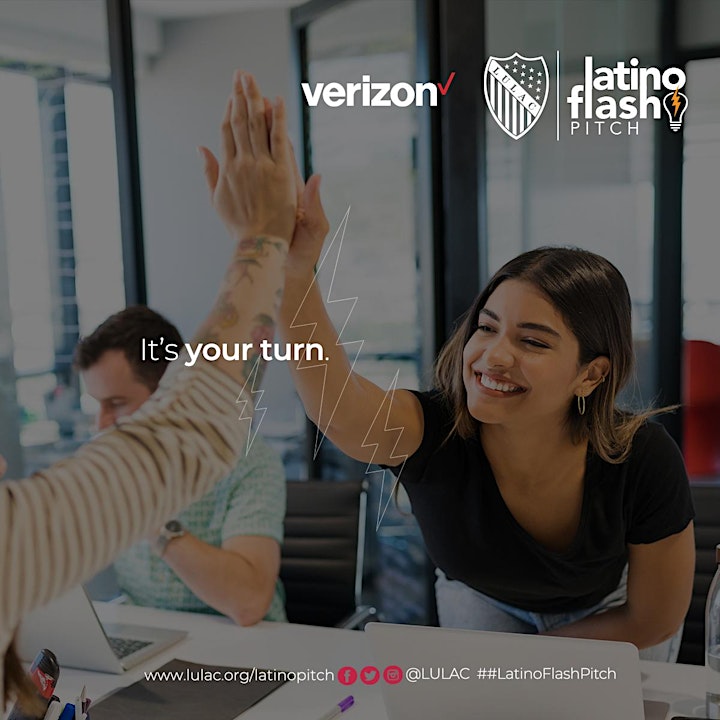 Organizer of Latino Flash Pitch Conference
LULAC is the largest and oldest Hispanic organization in the United States. LULAC advances the economic condition, educational attainment, political influence, housing, health and civil rights of Hispanic Americans through community-based programs operating at more than 1,000 LULAC councils nationwide. The organization involves and serves all Hispanic nationality groups.