Description
LATINO FASHION WEEK® |LFW™|arrives in Miami on Friday February 19th, for its 10th Annual 2016 Tour "A Decade of Elegance," celebrating ten years of glamour, creativity and panache that we have encountered. We are looking forward to emulating and inspiring the best, while shaping the future of fashion. The event will take place at 380 District, 380 NE 59th Street Miami - Miami, FL 33137.
Doors Open: 7:00PM | Red Carpet: 7:00PM-8:00PM | VIP Reception: 7:30PM - 8:30PM | Fashion Runway Show: 8:30PM | VIP After Party.Tickets can be purchased online at www.latinofashionwk.com/tickets or at the door.
FEATURED DESIGNERS INCLUDE:
CLAUDIO MILANO -
With over 30 years in the fashion circuit, fashion designer and entrepreneur Claude Cohen of Claudio Milano envisioned and built his brands from the ground up. Beginning with his earliest brand, NewYork NewYork, founded in Israel in 1985, a desire to provide excellence in quality met talent and perseverance. NewYork NewYork became the staple of style with over 25 stores opened nationally.
Establishing a new homebase in Miami, Florida in 2001, Claude built a company inspired and molded by the luxe lifestyle of those who appreciate elegance and class. Claudio Milano quickly expanded from a boutique carrying various Italian brands, to 7 stores across the country carrying one-of-a-kind, couture evening gowns and dresses. With his unique technique of mixing exquisite blends of silks and Swarovski crystals, Claude's designs have become a familiar element in Miami as well as the world of fashion. His dresses can be seen worn by several renowned celebrities as well as adorned down red-carpet events.
GABRIELA PIRES - Miami based designer - Brazilian Beachwear
ISMAEL DE LA CARIDAD -
Ismael de la Caridad began his professional career as a textile designer in 1980 in the Cuban Cultural Fund (LCFC), an institution to which he still belongs and is one of its most outstanding artists, as an active member he is part of all the installations and the performances. His creations have been shown in Angola, Argentina, Austria, Bosnia, Canada, Colombia, Spain, United States, France, Guatemala, Italy, Japan, Mexico, Nicaragua, Panama, Peru, Portugal, Dominican Republic, Russia, Uruguay and Venezuela. His designs have been included on international shows by Revlon Professional, L'Oreal, Network Caine and Mercedes Benz Fashion Week in Mexico.
Since 2006, he has curated in exhibitions in the Museum of Decorative Arts in Havana, an annual exhibit, which renews each year, named Divas in Art Deco, where he exhibits his costumes of great figures of Cuban culture. Ismael de la Caridad always leaves his personal stamp on every catwalk presentation. His work is comprehensive and totalizing: design, clothing, accessories, hair and make-up and everything that parades in each aisle bears his signature. Latino Fashion Week Miami will be his first US debut.
Our partner Hotel is EB Hotel Miami, use the code LFWM for a discount on your hotel stay.
http://www.ebhotelmiami.com/home/1-EB_Hotel_Miami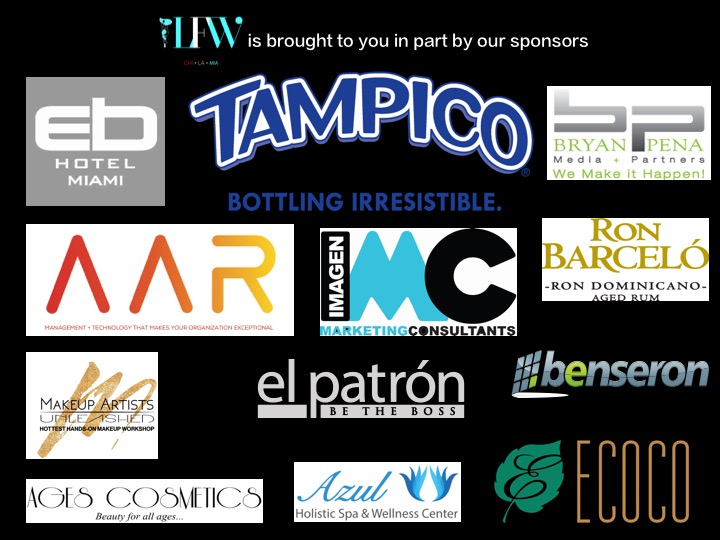 A portion of our ticket sales will go to our beneficiary
Ronald McDonald House Charities, South Florida.