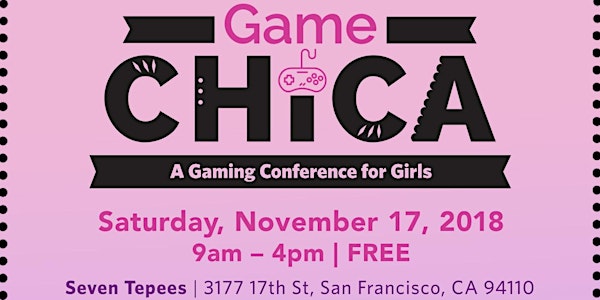 Latinitas Game Chica Conference in San Francisco
When and where
Location
Seven Tepees Youth Program 3177 17th Street San Francisco, CA 94110
Description
Austin-based nonprofit Latinitas, in partnership with Seven Tepees Youth Program, will host its first ever ​Game Chica Conference​ in the Bay Area on ​Saturday, November 17, 2018, from​ 9am to 4pm at the Seven Tepees Community Center​ (3177 17th Street, San Francisco, CA) to cultivate new voices in the game generation.
Latinitas' Game Chica Conference will show girls ages 9-18 of all backgrounds how to design a video game using platforms such as Scratch, a programming language and online community where anyone can create interactive games and stories. The day will also include a keynote speaker and lunch where girls meet with a diverse group of women and men in video game design, virtual reality, programming, and various roles in the tech sector.
Contact Latinitas Austin at austin@latinitasmagazine.org
Contact Seven Tepees at (415) 522-1550 or at info@seventepees.org
---
Latinitas, una organización sin fines de lucro con sede en Austin, en asociación con Seven Tepees Youth Programme, celebrará su primera Game Chica Conference en el área de la bahía el sábado 17 de noviembre de 2018, de 9 a.m. a 4 p.m. en el Seven Tepees Community Center ( 3177 17th Street, San Francisco, CA) para cultivar nuevas voces en la industria del juego.
Latinitas 'Game Chica Conference mostrará a niñas de entre 9 y 18 años de todos los orígenes cómo diseñar un videojuego usando plataformas como Scratch, un lenguaje de programación y comunidad en línea donde cualquiera puede crear juegos interactivos e historias. El día también incluirá un almuerzo donde las niñas se encontrarán con un grupo diverso de mujeres y hombres en el diseño de videojuegos, realidad virtual, programación y diversos roles en el sector de la tecnología.
¡Becas están disponibles! Póngase en contacto con Latinitas Austin en austin@latinitasmagazine.org para obtener más información.
Pongase en contacto con Seven Tepees al (415) 522-1550 o info@seventepees.org