Description
Latina's Prosperity Summit
On September 24th, The Latino Coalition will host our first national Latina's Prosperity Summit, focusing on the most dynamic demographic group in our country: Latinas!
Did you know?
Latinas start small businesses at a faster rate than any other group in the U.S.

There are about two million Latina-owned firms in the U.S.

Latina-owned firms employ more than half a million people.

Latina-owned firms generate nearly $100 billion in revenue annually.
Our conference agenda will feature leading Latinas in business and government, with a close look at what Latinas need to scale and grow their businesses, from procurement opportunities to tax code certainty and regulatory clarity.
#LatinaSummit
Agenda
Time: 7:00 am – 8:00 am
Breakfast & Registration Location: Foyer
Time: 8:15 am - 9:30 am
Opening Session
Latina Power: America's Leading Entrepreneurs
Latinas start businesses at a higher rate than any other demographic group in the U.S. What drives this economic and cultural phenomenon, and how can it be encouraged and leveraged for generations to come?
Location: Federal AB Ballroom
Time: 9:30 am – 10:30 am
Procurement Panel: Modern Matchmaking
There will always be a place for in-person matchmaking events in the procurement space, but online tools like TLC MatchPoint are making procurement matches easier and more profitable for small firms than ever before.
Location: Federal AB Ballroom
Time: 10:45 am – 11:45 am
Technology Panel: Opportunities and Challenges for Small Firms
Digital transformation, artificial intelligence and 5G are all impacting the way the world does business — but do all of these impact small business? What trends in technology are important for small firms to understand, harness and leverage? Panelists will highlight the most important innovations and opportunities in tech for entrepreneurs.
Location: Federal AB Ballroom
Time: 12:00 pm – 2:00 pm
Luncheon
Leading Latinas
Across both business and government, Latinas are leading and making an impact. Their inspiring contributions deserve a new level of recognition and celebration. Enjoy lunch as you hear motivational messages from just a few of America's leading Latinas and Latina advocates.
Location: Presidential Ballroom
Time: 2:15 pm – 4:00 pm
Latina Town Hall Meeting: Latinas, Unplugged
The best advice is candid advice. This town-hall-style session will feature an engaging, free-range discussion about the elements of leadership and entrepreneurship that are unique among America's leading Latinas.
Location: Presidential Ballroom
Time: 4:15 pm – 4:45 pm
Networking & Exhibit
Location: Foyer
Time: 4:45 pm – 6:00 pm
Closing Reception
Location: Federal AB Ballroom
How do I book my hotel stay?
Capital Hilton Washington D.C. is offering the special group rate of $329.00+ USD per night per standard King or double room.
Book Now: https://book.passkey.com/go/TheLatinoCoalition2019
Start date: Friday, 9/20/19
End date: Tuesday, 9/24/19
Last day to book: Friday 8/30/19 by 11:59PM EST
All reservations after the cut off date will be subject to availability and pricing will be subject to change. For all other inquiries, please visit the Capital Hilton Washington D.C. website directly to book your stay.
Cancellation policies may vary depending on the rate or dates of your reservation. The Capital Hilton offers a cancellation policy of 72 hours before your designated check-in time (EST) to avoid additonal fees.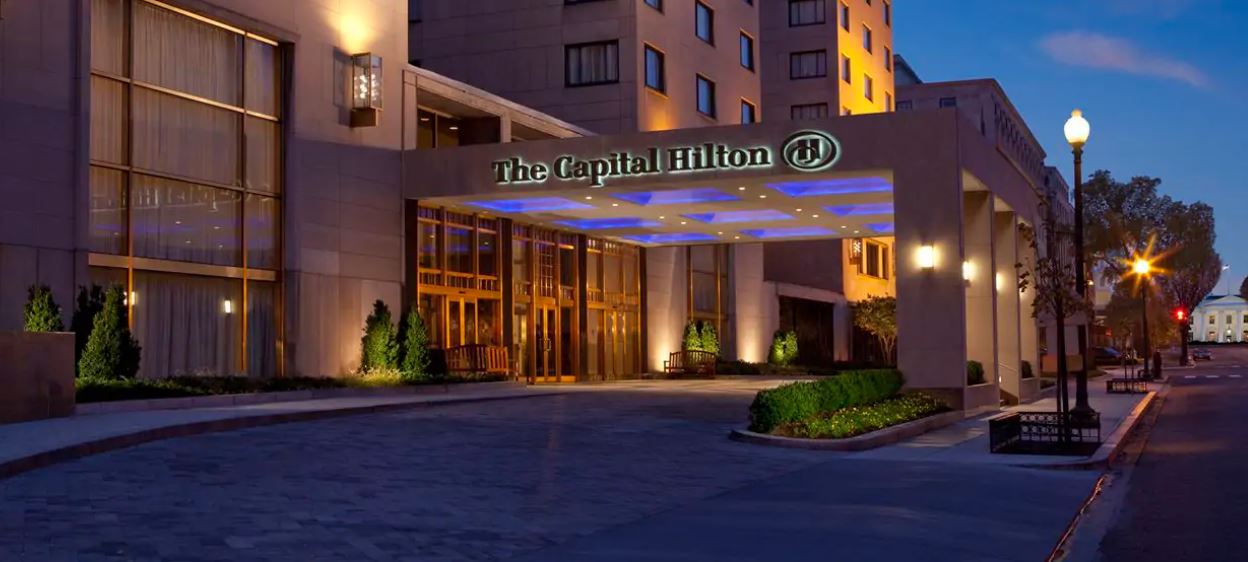 Helpful Links
Click Here to View the Livestream

Parking
Self Parking: Not Available Onsite
Valet Parking: $62.00 Valet Park Per Day
How can I contact the organizer with any questions?
Please email events@thelatinocoalition.com.