Latinas Equal Pay Day: Be Unapologetic About Heritage, Language & Legacy
Event Information
Refund policy
Contact the organizer to request a refund.
Eventbrite's fee is nonrefundable.
This Latinas Equal Pay Day, we want to get to the core of the issue.
About this event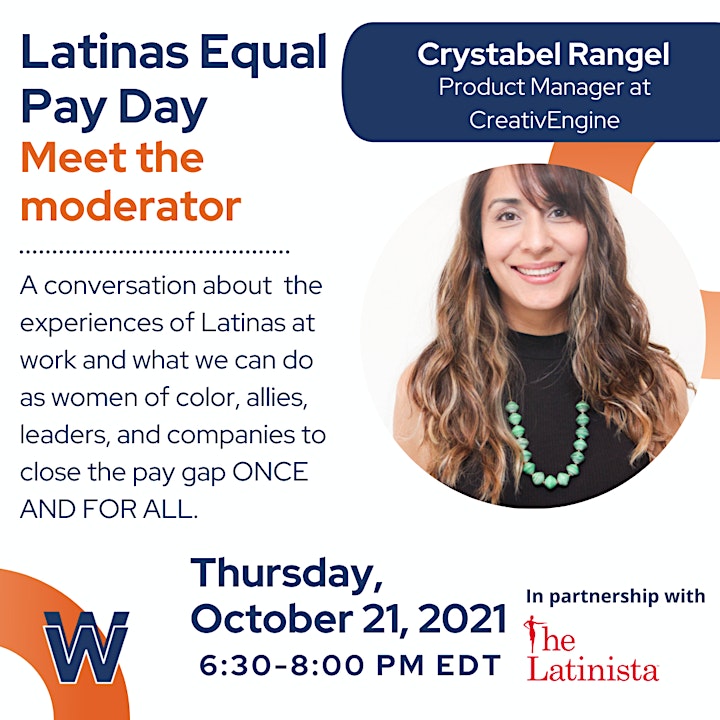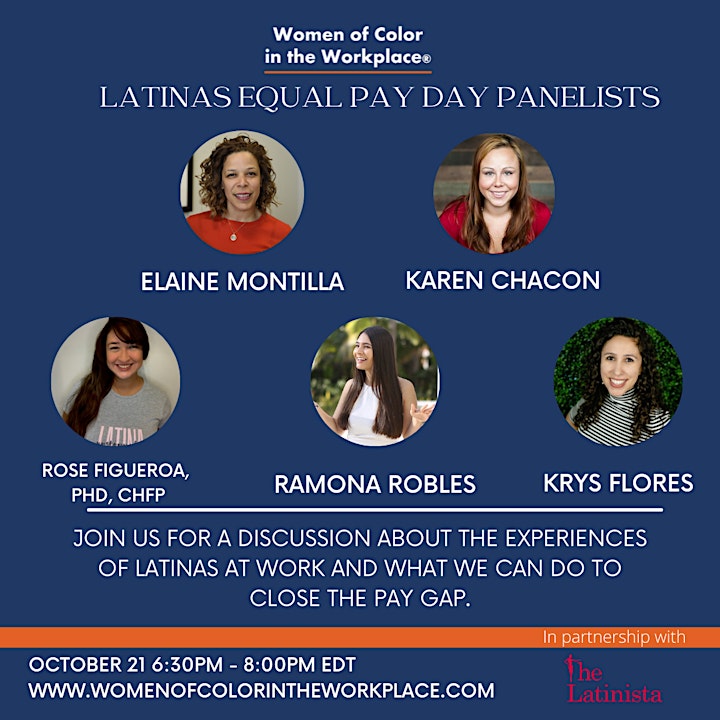 On average, Latinx women suffer from a 45 percent pay gap. Studies state that Latinas lose over $1 million dollars in a lifetime which impacts their day to day spending and savings. Aside from working the entire previous calendar year, October 21st, represents how far into 2021,a Latinx woman must work to earn what a white non-Hispanic male made in the 2020 year alone. Gender and race equality and equity are critical in organizations that want to perform at the highest level.
Through www.latinasequalpayday.org, Women of Color in the Workplace works to provide visibility and a voice to Latinx women's experiences.
Join us on October 21st from 6:30 pm to 8:00 pm eastern for a discussion about the experiences of Latinas at work and what we can do as women of color, allies, leaders, and companies to close the pay gap ONCE AND FOR ALL.
In partnership with The Latinista
.......................................
About Our Experts
MODERATOR
Crystabel Rangel is a Product Manager at CreativEngine, a web design and development company that focuses on bridging the gap between government and technology. Her career has been an evolution in the fields of behavioral therapy, localization and now technology. She is passionate about having a positive social impact and is an active member in her community. As the Los Angeles Co-Chapter Lead for The Latinista she helps connect and empower Latina professionals in their career growth.
PANELISTS
Elaine Montilla is Assistant Vice President and CIO for information technology at The Graduate Center, CUNY, a Forbes Technology Council member and contributor, and an accomplished senior executive with two decades as an IT leader in higher education. Montilla is also a TEDx speaker and the founder of 5xminority, Inc.
Karen Chacón has served as Executive Director for Latino STEM Alliance since 2018, a STEM non-profit based in Boston that inspires and empowers Latinx and Black students to pursue STEM by providing high quality coding and robotics programs. Karen also serves as an advisory member for Boston Public Schools' STEM Advisory Committee, co-chair for the Greater Boston Latino Network (GBLN), and advisory member for Zero Debt Massachusetts.
Dr. Rose Figueroa is a Certified Human Factors Professional and a Senior Scientist at Explico Engineering – an engineering consulting firm – and has investigated many complex problems associated with accidents and failures throughout the U.S. and Mexico.Rose is a co-founder of the Diversity Task Force (now a Committee) at the American Society of Biomechanics, currently serves as the founder/chair for HFES's Disability and Chronic Illness Affinity Group, and is a member of HFES's Code of Ethics Task Force. She is also the Regional SHPEtinas Director (Region 7).
Ramona Robles is a Speaker, Coach, Facilitator and a former English as a Second Language student and first generation corporate professional. This experience coupled with Ramona's graduate education and decade of work experience in education, social services, and now, technology, have prepared Ramona for her current career in People Operations and coaching other first-gen professionals.
Krys Flores is a Senior Software Engineer at Lob, an API company automating snailmail. Krys is also a huge advocate of equal opportunities in the workforce, especially equal pay. In 2019 she was featured in the #NothingLess Micro Documentary by Hired. In 2018, she gave the talk "Applying Sheryl Sandberg's Lean In principles in technology" as part of the Visionary Voices program. She recently got a huge merit based pay increase less than two months after returning from a lengthy maternity leave.
By purchasing a Women of Color in the Workplace t-shirt, you will be supporting our mission to bridge women of color with leading workplaces!
Thank you!!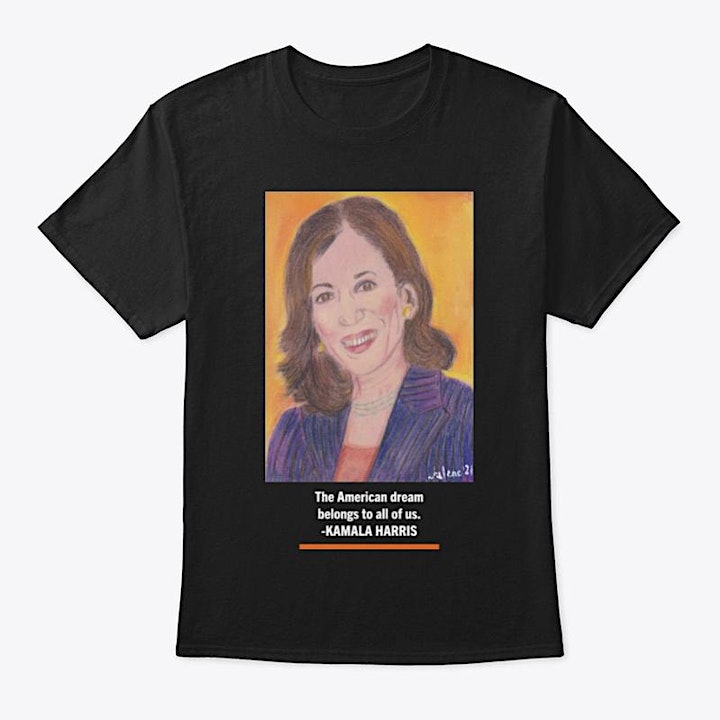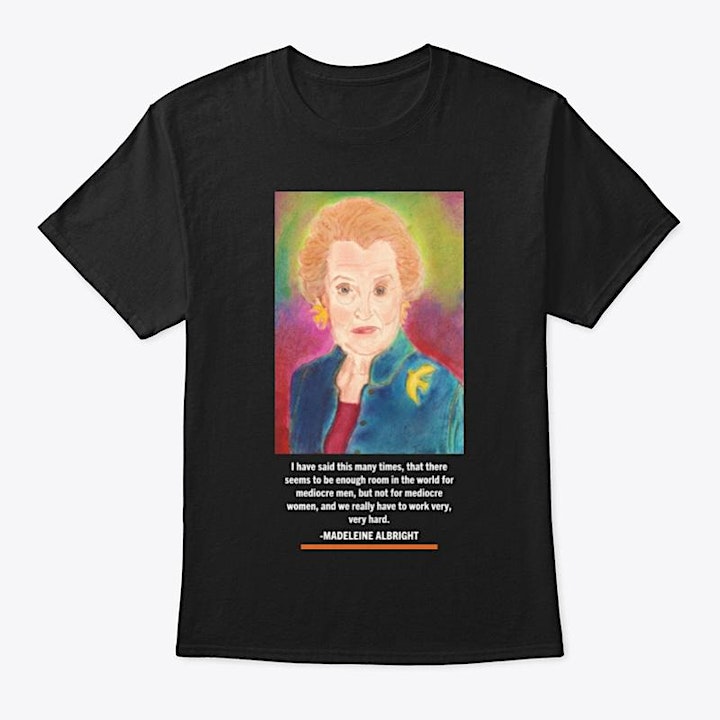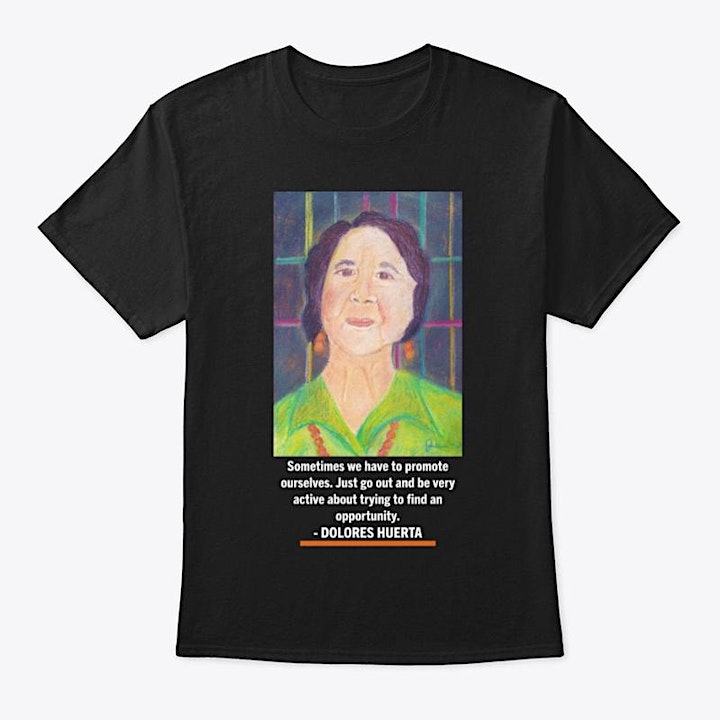 Date and time
Location
Refund policy
Contact the organizer to request a refund.
Eventbrite's fee is nonrefundable.
Organizer of Latinas Equal Pay Day: Be Unapologetic About Heritage, Language & Legacy