Description
SEPA Mujer and our Islandia Chapter leaders are delighted to announce that on Sunday April 23rd, 2017 from 9:30 am to 2:00 pm we will be hosted by Stony Brook University at the SAC (Student Activities Center) to carry out our Fourth Annual Conference, "Latinas in Action, centered around Human Trafficking and Immigration issues on Suffolk Long Island. We will be discussing various layers of issues and the different forms of Human trafficking that impact the Latina Immigrant woman in : workplace rights and harassment, obstacles of immigrant women face when accessing health services, local policy, legal services and resources for victims of human trafficking; documented or undocumented and lastly the different faces of human trafficking on Long Island including other topics that affect women's rights.
This conference will provide the opportunity to connect with diverse community members on Long Island such as community residents and leaders, service providers, community-based organizations, immigrant advocates, government-funded organizations, local government, and more importantly the community itself that to become informed and learn about local resources and services. Lastly it will be a space for the community to come together to learn and conncet about issues concerning immigrant women and families.
WE WILL ALSO EXPAND ON HOW YOU CAN TAKE CLEAR ACTION STEPS TO TAKE A STAND AGAINST HUMAN TRAFFICKING ON LONG ISLAND.. MORE INFO TO COME..
English Interpretation available... Conference will be conducted in Spanish.
Babysitter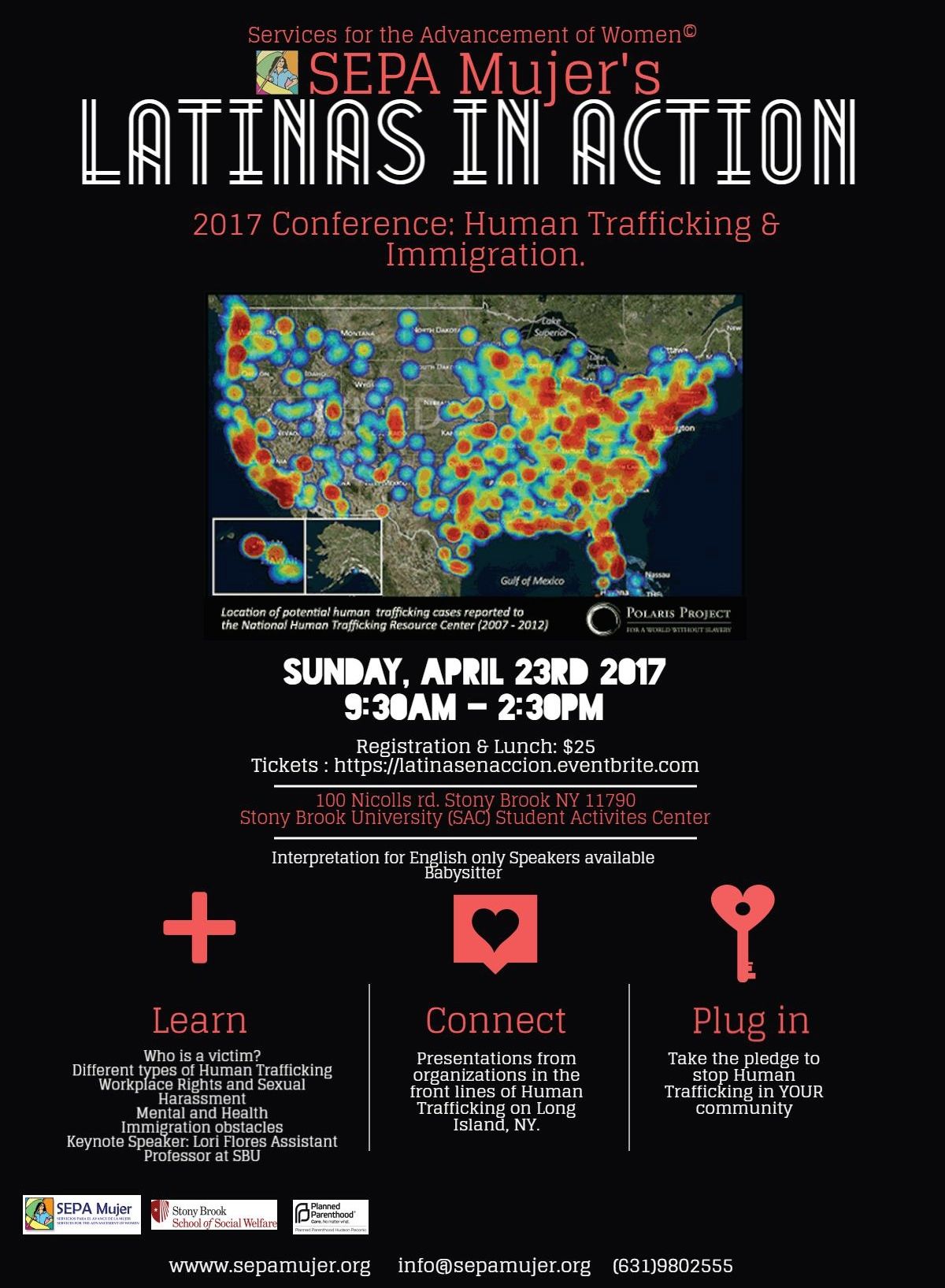 _____________________________________________________________________________
SEPA Mujer, Inc. (Servicios Para el Avance de la Mujer) está actualmente organizando su 4ta Conferencia Anual! Desde que se establezco la organización en 1993, hemos estado dedicadas a el empoderamiento individual y comunitario de la mujer Latina inmigrante y sus familias en Long Island por medios de educación, abogacía, representación legal y talleres de liderazgo. Nuestra meta ha sida reconocer las voces Latinas, inmigrantes, en el sistema gubernamental, política y social.
SEPA Mujer y nuestro sucursal de Islandia están emocionadas en anunciar que en Domingo, 23 de Abril 2017 de 9:30 am a 2:00 pm estaremos realizando nuestra 4ta Conferencia Anual "Latinas en Acción" en la Universidad de Stony Brook, con un enfoque en el Tráfico Humano/La Trata e Inmigración específicamente relatados con Suffolk Long Island. Exploraremos las diferentes causas y capas de temas y las diferentes formas de trata de personas que impactan a la mujer inmigrante latina en: derechos laborales y hostigamiento, obstáculos de las mujeres inmigrantes al acceder a servicios de salud, política local, servicios legales y recursos para víctimas de trata de personas; documentados o indocumentados y por último las diferentes caras de la trata de seres humanos en Long Island incluyendo otros temas que afectan los derechos de las mujeres.
Esta conferencia brindará la oportunidad de conectarse con diversos miembros de la comunidad en Long Island incluyendo residentes y líderes de la comunidad, proveedores de servicios, organizaciones comunitarias, defensores de inmigrantes, organizaciones financiadas por el gobierno, gobierno local y otras personas preocupadas por asuntos relacionados con mujeres inmigrantes latinas.
En esta Conferencia puede anticipar una variedad de organizaciones con recursos informacion y servicios.
Conferencia sera en Español. Niñera confirmada.