Latinas Avanzando En Recursos Humanos Lanzamiento Oficial
About this event
No te pierdas el lanzamiento oficial de Latinas Avanzando en Recursos Humanos: Historias Inspiradoras De Profesionales De Recursos Humanos Que Lideran, Prosperan Y Rompen Barreras!
_________________________________________________________________________________
Don't miss the official launch of Latinas Avanzando En Recursos Humanos!
We're so excited to bring this amazing book now is SPANISH. Please join us for the hybrid book launch!
Our launch will be VIRTUAL and IN-PERSON at Coral Gables, FL on October 16th from 2:00pm - 3:30pm EST.
To attend the IN-PERSON launch please register here: https://www.eventbrite.com/e/in-person-latinas-rising-up-in-hr-author-book-signing-tickets-171691282247
You don't want to miss this exciting celebration!
About the Book:
Latinas Avanzando en Recursos Humanos, creado por Priscilla Guasso, muestra con orgullo las historias que inspiran de profesionales en recursos humanos que superaron los obstáculos y desafiaron las estadísticas para alcanzar sus sueños en empresas, organizaciones sin fines de lucro y como empresarias en los E.E.U.U. Sus experiencias responden a la pregunta: "¿Por qué no hay mas latinas en niveles de liderazgo ejecutivo?" y muestran como la determinación, las ganas y la búsqueda de los mentores adecuados pueden abrir el camino hacia la oportunidad para cualquier persona de cualquier origen. Déjate inspirar por su sabiduría en los momentos de micro-mentoreo en las secciones de "Reflexionar y Avanzar" al final de cada capitulo, y tu también podrás seguir avanzando hacia tus sueños.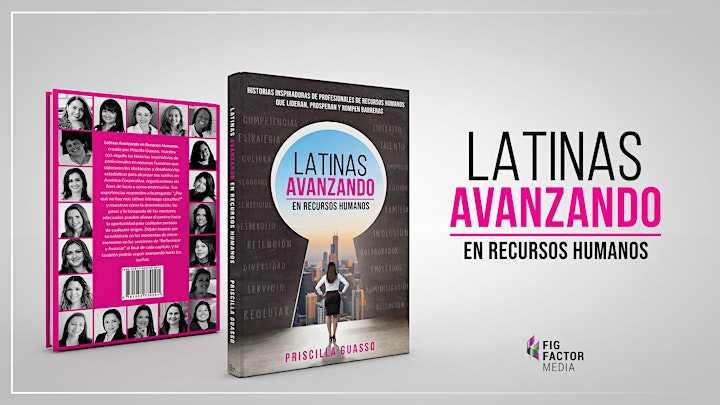 Organizer of Latinas Avanzando En Recursos Humanos Lanzamiento Virtual Oficial
Fig Factor Media Publishing is an international publishing company with a "beeping" heart. Fig Factor Media has helped many authors achieve and support their dream of impacting their communities in the United States, Mexico and Europe. Fig Factor Media is the official publisher of Today's Inspired Latina.

www.figfactormedia.com