Latina Success Network (LSN) Tech Talk w/Apple - Do's and Dont's of a Resum...
Event Information
Location
Your Computer
Must Enter An Email to Receive Webinar Link
Description

Although Latinas/os make up 30% of the population in Silicon Valley, sadly they only make up less than 3% in tech companies and at some companies less than 1% of the total number of employees. This includes all positions, not just engineering positions.
Everyone knows that tech has some of the highest paid positions in the Valley. Therefore, if you work in the tech industry, you are likelier to have a higher standard of living and be economically better off than if you work in another industry.
However, according to LSN research, Latinas/os do not even apply for positions at tech companies and this includes non-engineering positions as well.
Join us for an hour of the "Do's and Dont's" when applying for positions in tech, as LSN Founder Rosie "the Closer" Zepeda, interviews Apple Technical Rebruiter, Connie Bustillo, formerly HR Manager at Ebay and former engineer at various companies.
These are the three main points you will walk away with:
1. Be clear on your approach when applying for positions in tech
2. Immediate edits for your resume
3. What tech companies, like Apple, look for and see as a fit
You will also hear about resources and options to make your resume and LinkedIn profile stellar, so you can get noticed, get in and get hired.

Connie Bustillo is a Technical Recruiter at Apple, Inc. Connie graduated in Software Engineering from Santa Clara University and worked in various engineering capacities before moving over to the the HR side. Connie lives in South San Jose with her husband and two teenage children.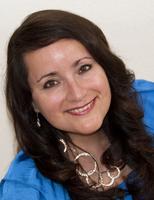 Rosie "the Closer" Zepeda is the Founder of LSN and Compelling Conversations, a training, diversity and conscious marketing consulting company. Rosie worked in sales development and marketing at Canon and Xerox. Rosie is a graduate of Santa Clara University in Communications.
Date and Time
Location
Your Computer
Must Enter An Email to Receive Webinar Link