Event Information
Refund policy
Contact the organizer to request a refund.
Eventbrite's fee is nonrefundable.
A National Conversation with Latina Leaders to share resources and trends to support millions of Latina businesses in the Post-Covid World.
About this event
If We Fall, We Rise Back Up!
In a glooming and already unequal environment -even before the pandemic-, solopreneurs under the risk of losing their homes to small enterprises letting go of all their hired labor have been affected by the COVID-19 pandemic and the resulting economic crisis.
It is estimated that around two-thirds of Latino-owned businesses will close their doors for good.
We are gathering Latina Leaders around the country to share knowledge, resources, and trends that will help Latinas and other minority women entrepreneurs recover from the worst financial and health crisis in the history of this country.
Join us to support our community, and share this important knowledge as well with your own organization and small businesses!
KEYNOTE SPEAKER
Stacie de Armas, Senior Vice President of Inclusive Insights & Initiatives and a leader within Nielsen's Diversity, Equity & Inclusion practice.
Through her knowledge and expertise in research and consumer behavior, she produces inclusive thought leadership and new research initiatives on diverse consumers and audiences. She is currently an active member of the Cultural Marketing Council Board of Directors, Google's 21st Century Multicultural Marketing Council, and has received industry honors for her work in diversity marketing.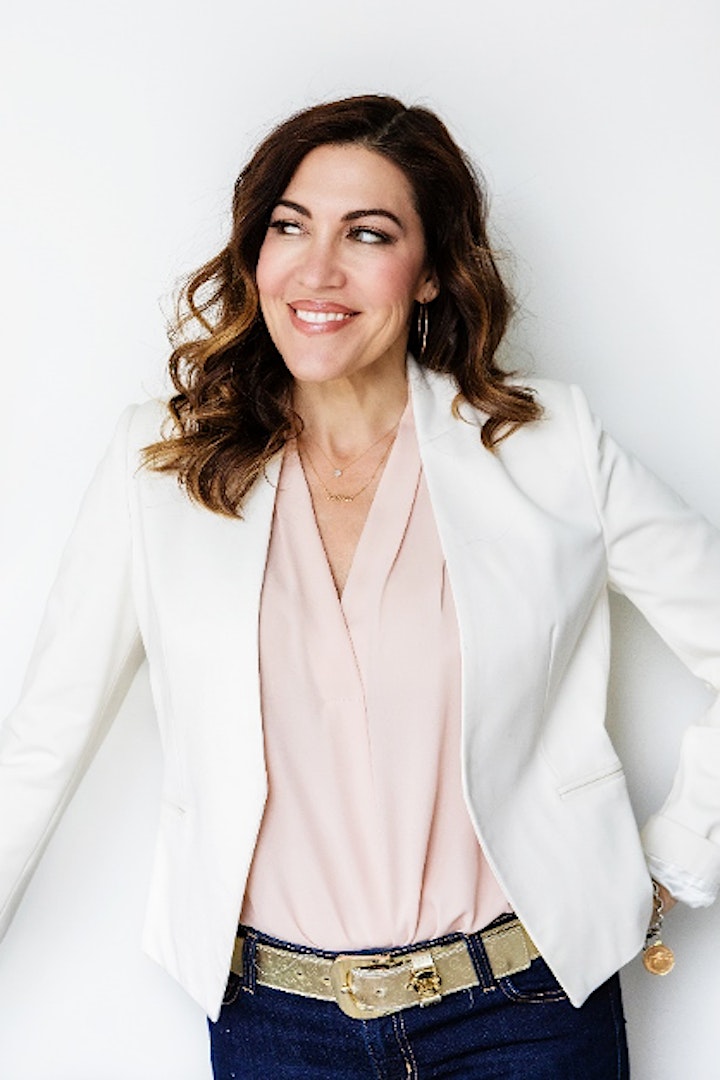 Celebrity Speaker
Damaris Diaz: "Lessons Learned from the Covid-19 Pandemic"
The popular correspondent of Despierta America, a national morning show on Univision network, will be the center of the Fireside Chat: "Lessons Learned from the Covid-19 Pandemic," in which she will focus on unique human-interest stories that amplify the need for resources, funding, and protection for small businesses and essential workers.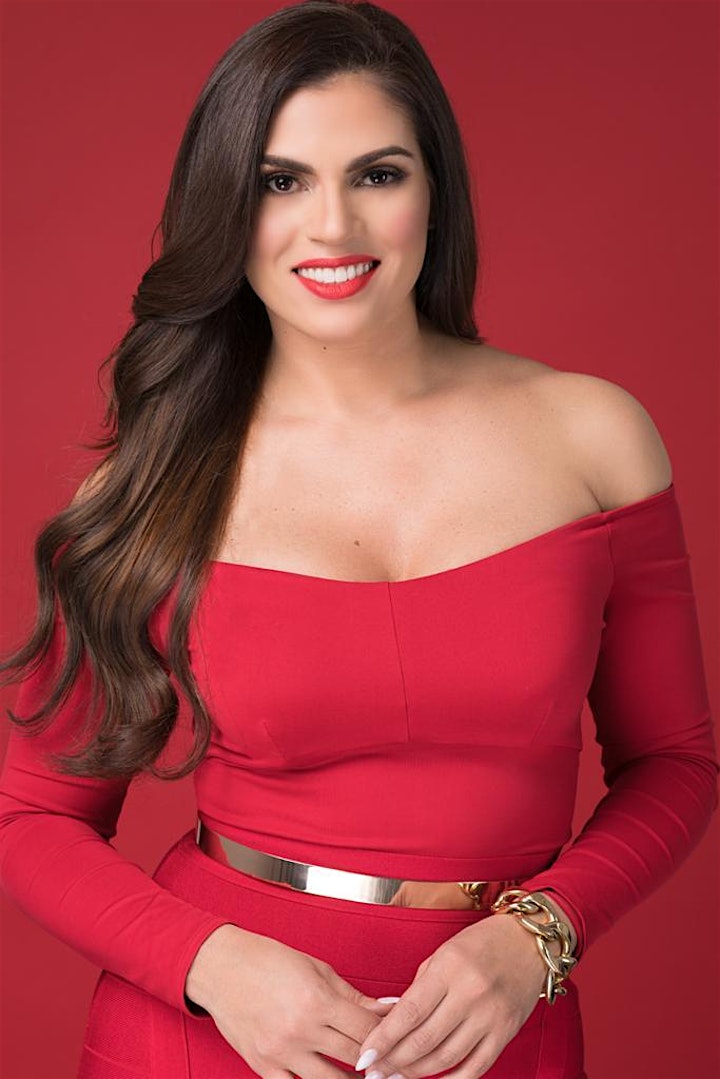 Panel Speakers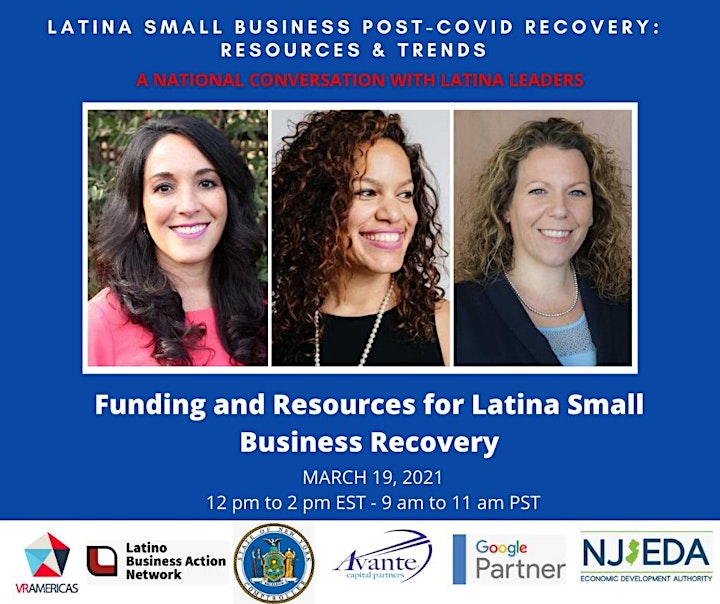 From CA, Jennifer Garcia, Interim CEO at Latino Business Action (LBAN).
LBAN's mission is to strengthen the United States by empowering Latino business owners to grow. Under her leadership, she oversaw four successful cohorts of the Stanford Latino Entrepreneurship Initiative Education (SLEI-Ed) Scaling Program empowering nearly 300 Latino and Latina entrepreneurs to complete this prestigious program.
From NY, Wendy Garcia, Chief Diversity Officer at the Office of the NYC Comptroller Scott Stringer.
Wendy Garcia is responsible for increasing contracting opportunities for Women and Minority-owned Business Enterprises (MWBEs) and managing diversity-related projects across all bureaus of the agency.
From NJ, Christina Fuentes, Managing Director – Community Development within the Community Development Division at the New Jersey Economic Development Authority (NJEDA).
Christina is responsible for developing, coordinating, and managing initiatives that support community development, such as incentives and loans along with brownfield redevelopment, historic preservation, and small business services including traditional financing, technical assistance, partnering with Community Development Financial Institutions Fund's (CDFI) and COVID-19 recovery programs.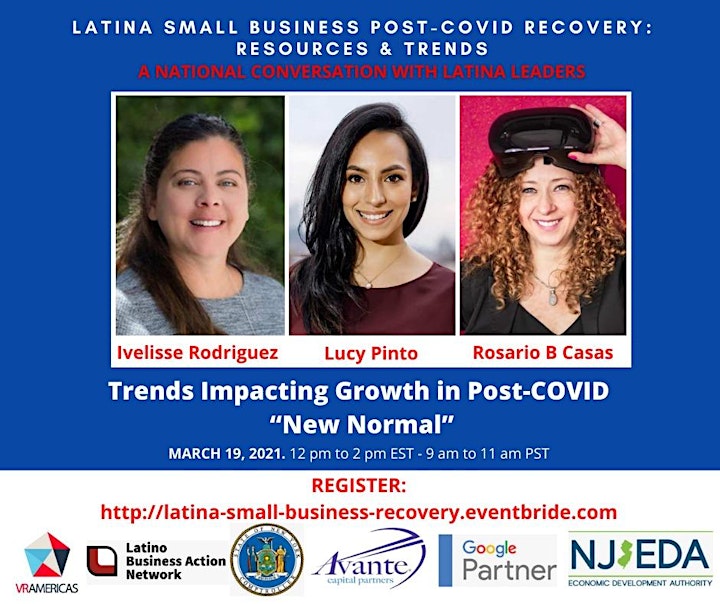 From NY, Ivelisse Rodriguez Simon, Managing Partner of Avante Capital.
Ivelisse is currently responsible for identifying, executing, and managing investment opportunities. Ivelisse is a longtime advocate and champion for women, minorities, and the underserved and underrepresented. She holds leadership roles in several local and national non-profit organizations and even launched a philanthropic organization called We Will with her two sisters, to support and empower underserved women and minorities in the areas of healthcare, education, and financial literacy.
From NY, Lucy Pinto, Grow with Google Coaches Program Manager.
Lucy works to level the playing field for communities who face digital divides and barriers to resources needed to grow. She manages the Grow with Google Digital Coaches Program which delivers free digital skills training for U.S. Black & Latino small businesses. The program has trained over 60,000 businesses on digital tools. work on initiatives that invest in communities that are underrepresented online to untap their potential, help them succeed, and drive bottom-line impact.
From Bogota-Colombia, Rosario B Casas, Co-founder of VR Americas, Co-Founder of Business Creative Partners (BCPartnersTech)
A Colombian-born serial entrepreneur and award-winning women-in-tech advocate, VR Americas is a NYC headquartered software company, using spatial computing for workforce skills development, as well as the leading digital adoption and transformation for Hispanic-owned businesses. Additionally, she is self-admittedly obsessed with finding more women and Hispanics using technology to solve key global challenges.
TENTATIVE AGENDA FRIDAY MARCH 19, 2021
12:00 pm to 2:00 pm EST- 9:00 am to 11:00 am PST
12:00 -12:05 Welcome by Susana Baumann, President & CEO, Latinas in Business
12:05 – 12:15 Opening Remarks
12:15 – 12:50 Panel 1. Funding and Resources for Latina Small Business Recovery
Context: Using February as a baseline, the analysts found that the sales of Latino-owned businesses dropped 42% in March and April and are down 21% during the 12-month period from Sept. 16, 2019 – Sept. 15, 2020. Even more troubling was the discovery that costs for Latino companies that applied for Paycheck Protection Program (PPP) funding have risen higher than their revenues in the ensuing months.
Facilitator: Pilar Avila, Latinas in Business Executive Board Member
12:50 – 1:05 Fireside Chat
Moderator: Susana G Baumann, Pres & CEO
1:05 – 1:45 Panel 2. Trends Impacting Growth in Post-COVID "New Normal"
Context: For small businesses across America, 2020 has been one of the most challenging years in history. Despite the coronavirus pandemic, small business owners have been resilient, pivoting, and adapting their business models to navigate continually changing conditions. We will discuss few business trends that are likely to dominate in 2021, along with tips on how to position your business for growth.
Facilitator: Beth Marmolejos, Latinas in Business Executive Board Member
1:45 – 1:55 Keynote Speaker
1:55 – 2:00 Closing Remarks
Date and time
Location
Refund policy
Contact the organizer to request a refund.
Eventbrite's fee is nonrefundable.
Organizer of Latina Small Business Post-Covid: Recovery Resources & Trends