Description
Join the Latina Circle for
Part II of the State of Latinos and Race in Massachusetts
Leveraging Our Cultural Identity as an Asset
In March 2018, Latina Circle hosted a lively panel discussion on the State of Latinos and Race in Massachusetts. As a continuation of the race dialogue, we invite you to a salon style discussion on how our cultural identity benefits our work and how to leverage it as an asset in the workplace, in the board room and on the playground. Participants will learn how race has shaped structural inequalities, how bias shows up in our behaviors and in groups and organizations, and how to reshape our behaviors to honor our cultural identity. Participants will also leave with a shared language on cultural identity as an asset and driver of innovation, and for having constructive conversations around difference.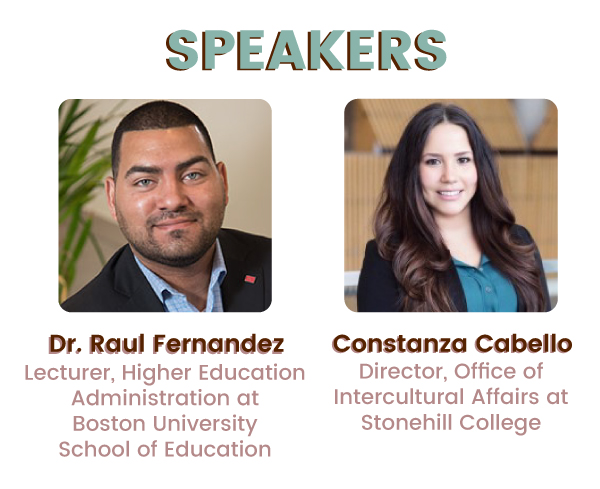 DR. RAUL FERNANDEZ is a lecturer in the Higher Education Administration program and the director of the online Ed.M. program at the Boston University School of Education. He is a well-recognized leader and accomplished speaker on issues of diversity and inclusion, with hundreds of faculty, staff and students at numerous campuses and conferences having attended his workshops. Raul's signature workshop Blind Spots challenges participants to examine their background, beliefs and biases while identifying areas where they can do the work and grow. He's facilitated versions of Blind Spots for deans, faculty and administrators, doctors and nurses, high school teachers and tutors, resident assistants, campus activities boards and orientation leaders.
CONSTANZA CABELLO is the Director of Intercultural Affairs at Stonehill College. She provides leadership and decision making focused on diversity, equity, and inclusion. Constanza speaks and trains with institutions across the country to develop cultural consciousness and strategize to reach individual and organizational goals. She is a candidate in the Doctor of Education in Organizational Leadership Studies program at Northeastern University. Her research is focusing on the experiences of Latinx/a/o higher education administrators who encounter and respond to racial bias incidents at predominantly white institutions. Constanza is a proud Chilena, child of immigrants, and first-generation college student.
Agenda:
6:00 – 6:30 Registration and Networking
6:30 – 8:30 Workshop and Discussion
SPONSORED BY