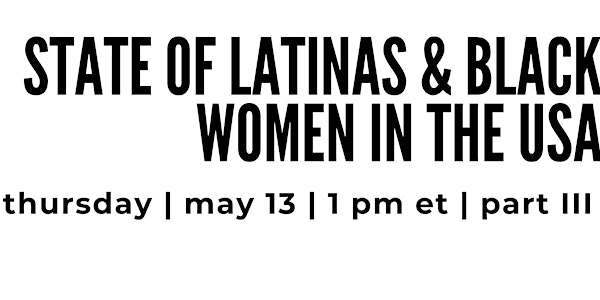 Latina & Black Women Symposium
Join Latina & Black Women executives in discussions around leadership, private equity, venture capital, real assets, & other pivotal topics.
About this event

Latina & Black Women Symposium
See website page for the most up to date agenda
Part III : Thursday | May 13, 2021 | 1 pm ET
Join us for a conversation on the State of Latinas & Black Women in the USA
Our speakers:
Mandy Price, Co-Founder & CEO, Kanarys
Mandy is an advocate for diversity, equity, and inclusion (DEI) as the CEO and co-founder of Kanarys, Inc., a technology startup that takes a holistic approach to solving Diversity, Equity, and Inclusion (DEI) challenges enabling companies to immediately take action towards systemic change. Kanarys uses a data-based approach to pinpoint what companies may not have been able to see before so DEI strategies and interventions are precise, measurable, result in lasting transformation.
Judit Arenas, Senior Director, APCO Worldwide; UN Special Adviser
Judit Arenas is a senior director and senior adviser to the Founder and Chairman of APCO Worldwide. She is a seasoned public affairs and strategic communications professional with over 20 years of related experience.
Prior to joining APCO, she was the Director of External Relations for the International Development Law Organization (IDLO) where she led IDLO's external positioning as the only intergovernmental organization focused exclusively on promoting the rule of law. She served concurrently as Deputy Permanent Observer to the United Nations in New York. Her responsibilities included oversight for advocacy, government relations, public affairs and strategic communication efforts to contribute to building a culture of justice.
Anisa Keith, Investor Relations, Basis Investment Group (moderator)
Anisa oversees capital raising and investor relations at Basis Investment Group, a minority and woman owned real estate fund manager which invests and leads across the capital stack in middle market transactions cross the US. She joined the firm from BRP Companies (the largest African American-owned real estate development group in the NY Tri-State area) where she headed capital raising and marketing efforts.
Part II : Thursday | January 28, 2021
Founding My Investment Firm
Part I: Thursday | December 3, 2020
Asset Owners & Consultants Joining Us:
Alameda County Employees' Retirement Association (ACERA)
Baltimore City Fire and Police Employees' Retirement System
Cleveland Clinic
Chicago Teachers' Pension Fund
City of Stamford
Crewcial Partners
Houston Municipal Employees Pension System
Kansas City Public Employees Retirement System
Los Angeles County Employees Retirement Association (LACERA)
Los Angeles City Employees' Retirement System (LACERS)
Marquette Associates
Meyer Memorial Trust
New York City Retirement System
SEIU
Speaking and sponsorship opportunities available for our 2nd annual Latina & Black Women Symposium July 28-29. Please fill out your info here and you will be contacted: Sponsor.
Contact us with any questions at hello@accelerateinvestorsny.com