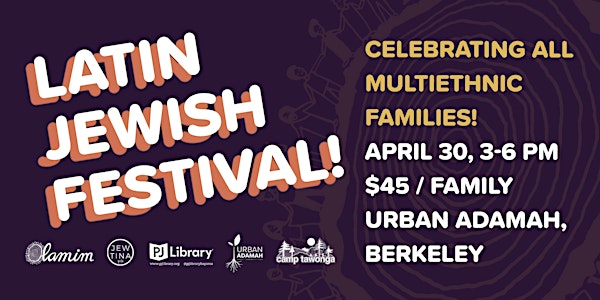 Latin Jewish Festival: Celebrating Multi-Ethnic Families
Inviting all multiethnic families to join in on a celebration of Latin Jewish Families!
Date and time
Sunday, April 30 · 3 - 6pm PDT
Location
Urban Adamah 1151 Sixth Street Berkeley, CA 94710
About this event
Join us for an afternoon of celebrating our Latin Jewish families, and learn about Olamim's latest research findings on how Bay Area Latin Jewish families navigate our many identities while raising resilient, rooted and joyful children. Research presentation by Olamim's founder and executive director, Ariela Ronay-Jinich, M.A.Ed; VOCES community media work by Dr. Analucia Lopezrevoredo, founder and directora ejecutiva of Jewtina y Co., and guest speaker Dr. Priya Mariana Driscoll of Mills College.
We'll have antojitos, pozole, and a wonderful bilingual children's program for your kids.
If you are raising children with multiple cultural heritages and languages, we warmly invite you to join and celebrate family together.
This program is brought to you by Olamim and Jewtina y Co, research grantees of the Jews of Color Initiative. Partners include Bend the Arc: A Jewish Partnership for Justice, Camp Tawonga, Kehilla Community Synagogue, PJ Library and Urban Adamah.
In case you were wondering...
Are only multi-ethnic families allowed to attend?: Yes. The goal of this program is to center Latin Jewish families and to engage other multiethnic families.
Is this event related to the Mexican holiday 'El día de los niños?': Yes. Borrowing from the traditional Mexican holiday El día de los niños, U.S. Congress also officially designated April 30th as "Day of the Child."