Location
The Good Witch Coffee Bar - @ Hastings Train Station
134 Southside Avenue
Hastings-on-Hudson, NY 10706
Latin Dance Night brought to you by Amanda Kupillas Dance. Come dance and listen to live music in downtown Hastings-on-Hudson, NY.
About this event
Latin Music & Salsa Dance!
Join Amanda Kupillas Dance for an exhilarating evening of music and dancing outdoors at The Good Witch Coffee Bar in Hastings-on-Hudson, NY, featuring Mitch Frohman (Tito Puente Orchestra, Mongo Santamaria) and his band, and Salsa dance duo Vira Lee and Devin Flores. Authentic dishes from restaurant Mariachi Mexico and adult beverages from The Good Witch will be available for purchase à la carte throughout the night.
The party begins at 6:30pm with Salsa dance instruction and lots of fun, as Vira and Devin guide you through some basic steps that you can put to use on the dance floor. This is not a partner-based lesson. So the more, the merrier!
Live music kicks up at 8pm! Mitch Frohman's band will bring flair to Hastings under the stars, with the Palisades and Manhattan skyline as your backdrop.
The Good Witch Coffee Bar will be open 6:30pm -10:00pm , serving wine, beer, and other non alcoholic beverages from behind the counter.
Mariachi Mexico will also be on location selling delicious dishes off their restaurant menu in Armonk, such as Tacos de Carnitas (pulled pork, pickled onions, cilantro, radish, spicy salsa, lime), Vegan Tostadas (Epazote black bean purée, salsa tatemada, guacamole, seasonal veggies, E.V.O.O, sal de tlaxcuapan) and more!
Schedule
6:30pm: Check-in for those who have purchased tickets for full evening dance instruction. (Ticket holders will have a chance to order a drink before starting their lesson)
7:00-8:00pm: Salsa Lesson start with Vira and Devin
7:45pm - Check-in for Live Music and Open Dance ticket holders.
8:00-10:00pm: Mitch Frohman and Band start their set and the floor opens up to public.
Festive Attire Encouraged!
PLEASE NOTE: RAIN DATE WILL BE 9/11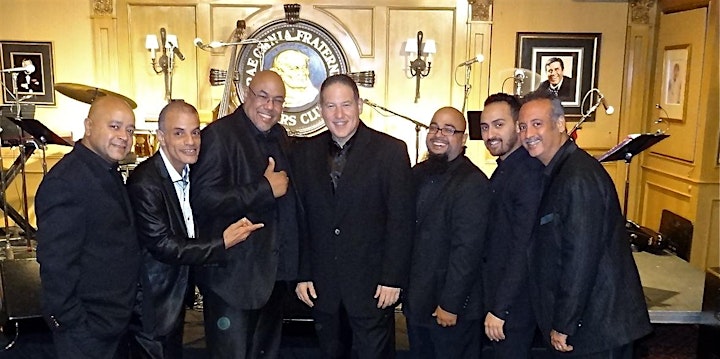 Bronx native, Mitch Frohman, is one of the top saxophonist/flutists in the music scene. After graduating from Columbus H.S.(Bronx,N.Y. class of 1971), he went on to get his Bachelor of Music Education degree from The University of Miami(class of 1975).His versatility in different styles of music has led him to many opportunities of playing with the greatest musicians in the world (including 6 Grammy Award winning records and numerous Grammy, Latin Grammy & Billboard nominations).
For 25 years he was the sax and flute soloist with The TITO PUENTE ORCHESTRA & LATIN-JAZZ ENSEMBLE & also was a steady member of the MONGO SANTAMARIA band for many years. Continuing that tradition, Mitch is the sax/flute soloist and co-leader of The MAMBO LEGENDS ORCHESTRA( the former all-stars of The Tito Puente Orchestra). Some of the great salsa/latin-jazz artists he has played and or recorded with are MACHITO, CELIA CRUZ, La LUPE, EDDIE & CHARLIE PALMIERI, PAQUITO D'RIVERA, CHICO O'FARRILL ORCH., MILLY/JOCELYN & LOS VECINOS(merengue), CHEO FELICIANO, JOE CUBA, AVENTURA (bachata) and many more. He has also played and or recorded with CYNDI LAUPER, PAUL SIMON, DAVID BYRNE & THE TALKING HEADS, and BLOOD,SWEAT and TEARS.
Currently, besides leading the critically acclaimed latin-jazz and salsa dance band THE BRONX HORNS & leading EDDIE TORRES' MAMBO KINGS Dance/Show Orchestra, Mitch is touring the world as the sax/flute soloist with the grammy award winning SPANISH HARLEM ORCHESTRA. In addition to being an in-demand performer, Mitch is an accomplished clinician for students from elementary age to college/conservatory level(he was the first sax/flute instructor at the world famous LOS ANGELES SALSA CONGRESS).
Mitch's newest project is his Latin-Jazz Quartet featuring the Curtis Brothers (Zaccai/piano & Luques/Bass along with drummer Joel Mateo). The new double disc CD--"FROM DADDY WITH LOVE"--Mitch Frohman Latin-Jazz Quartet (on Truth/Revolution Records) has gotten worldwide attention, climbing to #16 on the Jazzweek radio airplay charts.
​Mitch has just been awarded the 2016 LATIN JAZZ USA "Chico O'Farrill" LIFETIME ACHIEVEMENT AWARD.
And last (but not least), his signature solo sound can be heard somewhere in the world, every day, as he is the saxophone soloist on the THEME SONG of the mega-hit T.V. show SEX & THE CITY.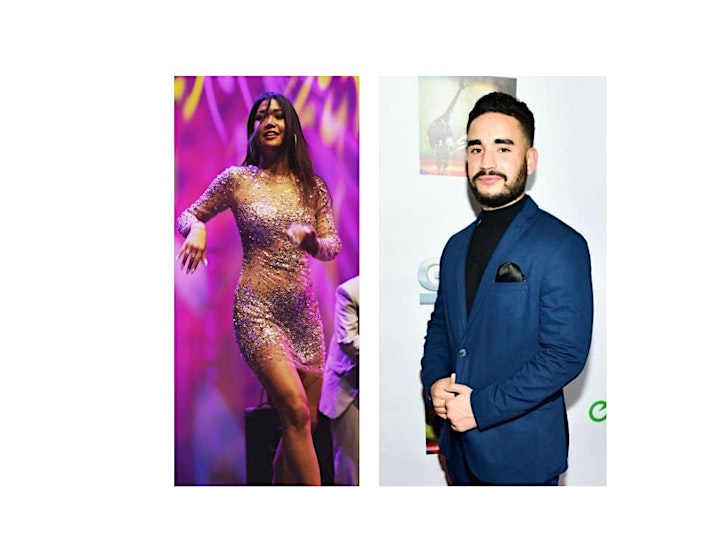 Vira Lee, a New York native, began her dance training at the Joffrey Ballet School– several of those years spent at the Joffrey Workshop Texas intensive where she worked closely with Liz D'anna, Francesca Corkle, John Magnus, Trinette Singleton, and Eleanor D'Antuono. She continued her dance education while earning her B.A. in Psychology at CUNY Hunter College. Vira has performed at Alvin Ailey Dance Theater for The Urban Styles Showcase and as a featured soloist for BalaSole Dance Company in 2014. She has also performed at Sybarite Production's 'Love is Love' Showcase for choreographer, Jessica Figueroa, and has performed as a featured member of Janice Rosario and Company at Triskelion Arts Center, Secret Theater, West End Theater, and The Tobago Contemporary Dance Festival between 2014 and 2016.In 2016, Vira began her Salsa training with Nelson Flores and Destiny Garcia. She began performing with their team, Descarga Latina Dance Company in 2016 and has traveled to Miami, Trinidad and Tobago, London, Panama, and Thailand, to compete and perform. Since then, Vira has placed 1 st at the Miami World Salsa Summit in the Amateur Same Gender Division (2019 & 2020) and the Open Ladies Shines Division (2019). With the intentions of broadening her technique to incorporate Afro-Cuban elements into her salsa dancing, Vira also pursued training with Ernesto & Denisse in 2018. She joined their dance company, Iroko (New York) in 2018 and debuted the semi-pro routine at the New York Salsa Congress (2019). Currently Vira teaches alongside Devin Flores in the Adults Salsa dance program at Addie-tude Cultural Arts Center and teaches one of the weekly ballet classes for children as well.
Devin Flores grew up in dance studios watching and learning first hand from his Mambo veteran parents Addie Diaz and Nelson Flores. As a young teen, he performed with Addie-tude Kids at the Connecticut Salsa Festival and many other community events.  Devin moved on to be the youngest member of Addie-tude's pro-team where he performed locally and at the Hawaii Salsa Festival in 2011. During that time, he also joined Movimiento Dance Co.  The opportunity arose for Devin to work as a principal dancer in a Latino Pride musical called Plantando Banderas.  This gave him the chance to dance several genres such as: Salsa, Cha-Cha, Hip-Hop and Jazz. Devin moved on to join Descarga Latina Dance Co. with whom he has traveled to Miami, Trinidad and Tobago, London, Panama, El Salvador and Thailand teaching workshops and performing. In 2015, he and his dance partner Karline Brathwaite placed 3rd in the Miami World Salsa Summit Dance Competition on their first time competing. Since then, Devin has placed "1st" in the Professional Men's Solo dance division at the World Salsa Summit dance competitions in Connecticut (2017 & 2018) and the Poconos (2018). He has also placed 1 st in the Pro-Am Men's Same Gender division in Miami (2019). Devin can be seen on screen in the Salsa music/dance drama feature film, SHINE (2017) as the comical best friend, Sonny, and has also appeared among his peers in the musical film based off of the hit Broadway show, In the Heights (2021). You can also catch him working in the NYC area teaching privates and performing with Descarga Latina throughout the Mambo community.