Description
Latin Cheeses with The Milk Maid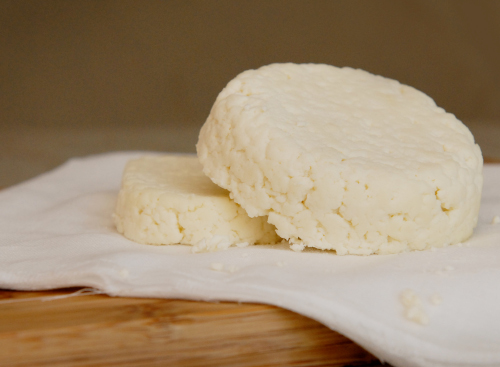 Go loco for homemade queso blanco and crumbly queso fresco. These Latin-style cheeses are known for their creamy freshness and beautiful simplicity, which truly lets the milk sing. Often made at home or in micro batches throughout Central and South America, they are surprisingly hard to find in small-batch form in the United States. Learn how to make your own with The Milk Maid. The class includes a take-home kit with lipase enzymes, rennet, a cheese form and recipes, so you can get started making your own quesos at home.
Date & Time: March 7th, 5:30 p.m. - 7:30 p.m.
Location: CUESA Dacor Outdoor Teaching Kitchen at San Francisco's Landmark Ferry Building (South Arcade)
Cost: $49.00*
*Sliding scale pricing available. Please email registration@urbankitchensf.org for details.
---
Instructor Bio
Louella Hill first decided to become a cheesemaker while working on a sheep farm in Italy. Then, after training at creameries in Tuscany, Parma, New York and Maine she went on to launch her own creamery in Rhode Island. When life brought her to the Bay Area, she decided to become the "San Francisco Milk Maid" and teach on-site cheesemaking classes. Topics range from Butter and Cheddar to Bright Blue and Stinky Reds. In addition to teaching, Louella is also finishing up a book on home cheesemaking due out Summer 2014 by Chronicle Books. She loves teaching the process of cheesemaking because it is a 15,000 year old craft that we eat the benefits of daily yet know very little about. Plus, she loves cheese! Visit her website to learn more at: www.sfmilkmaid.com.
---
Please note UKSF's cancellation policy: Refunds are available if notice is given 48 hours prior to the event. There are no refunds after that point, but you're welcome to pick up any materials and supplies handed out in class. Please be sure to email registration@urbankitchensf.org *before* class to ensure that your items are held for you. Without advanced notice, we may not be able to save everything. Please make sure to pick it up by the Saturday following the class as materials tend to be perishable.