A 3- Day Latin Music Festival bringing you into an Afro Cuban Music Cultural journey with music shows, educational workshops and fun jamming
About this event
A Latin Music festival which introduces the Afro Cuban music and culture, from the Son, Cha Cha Cha, to Timba and Salsa through highly engaging live music performances, educational workshops and fun jamming, allowing audience to immerse into the expressive music from the island of Caribbean.
Programme Details:
DAY 1 : 1st Oct 2021 Latin Music Workshops Day
3:00 pm- 4:00 pm PERCUSSION ENSEMBLE FOR KIDS
Latin Music is happy, rhythmic and expressive. Children could explore their creative potential in Afro-Cuban rhythm through the call-and–response elements in the percussion ensemble which facilitate ear training, vocal harmonies and improvisation.Led by a world class Cuban musician and his teams, children will have a fun-filled experience that build up your kids' musical confidence, foster coordination, balance and self confidence as well.
Kids who attend this percussion ensemble workshop can participate in the street parade with the music band on Day 2.
English and assisted with Cantonese. Suitable for 5 – 15 years old . Each child must be accompanied by an adult. Maximum 25 Pairs (1 Child + 1 Accompanying Adult). The adult will not participate.
4:30 pm- 5:30 pm THE BLACK ROOT OF LATIN MUSIC - CUBA
Rumba is a lively music and dance form emerged in the mid-19th century, when the drumming of enslaved Africans blended with the melodies of Spanish colonizers. It's the roots of Afro Cuban music culture that influenced the development of other different musical styles and infectious rhythms, like son, guajira, cha-cha-chá, pachanga, pilón, mozambique, songo, timba and salsa , etc. which influence the scene of world music. In this workshop, you will get to know the history and background of the black root of latin music, its related rhythms and dance forms like the Rumba or Cha Cha Cha, which is the expression of the joy of life, and is designated by UNESCO as an intangible cultural heritage.
In English. Suitable for aged 16 or above. No need for any music knowledge pre-requisite. Maximum 50 Seats.
6:00 pm- 7:30 pm LATIN PERCUSSION WORKSHOP
This workshop is designed to strengthen the overall versatility as a musician or drummers, by exposing participants to the rich grooves and rhythmic concepts of Afro-Cuban music, a genre that influencing the world music. We will introduce some popular Afro-Cuban music styles and rhythms, such as the guaracha, mambo, songo, cha cha cha, and 6/8 (bembe), and how to orchestrate and apply it with modern adaptations, including pop, jazz, rock and classical, etc.
In English. Suitable for aged 16 or above with basic music training. Maximum 50 Seats.
8:00 pm- 9:30 pm PERCUSSION JAMMING
Percussion Jamming Group is a fun jamming session to let you Relax and De-stress! Allow you to engage with people and be creative through captivating Afro Cuban rhythm.
In English. Suitable for aged 16 or above. No need for any music knowledge pre-requisite. Maximum 50 Seats.
Venue : Hong Kong Cultural Centre
REMARKS: Seats are on First Come First Served basis. Please email us to indicate your choice of workshops/ jamming. We might have additional workshops on other dates subject to further notice and actual attendance.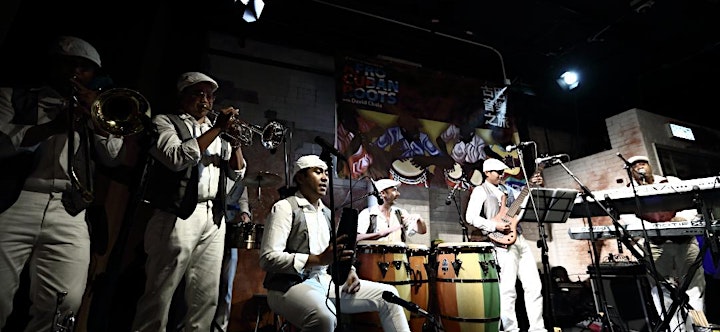 DAY 2 : SABADO DE LA RUMBA
3:00 pm - A Street Parade at Stanley
Afro Cuban drummers tear down the walls between performers and audience in a remarkable "pop-up" street show. Prepare for the unexpected and an exhilarating chance to immerse yourself into the exuberant Afro – Cuban music culture at Stanley Plaza.
3:30 pm - Latin Live Music Show By : David Chala y Caffe Mezclado
Surrender to the irresistible rhythms of the Mambo, Cha Cha Cha, Bolero, Guajira, Pilon, Mozambique, Son and Traditional Son as David Chala hosts the Afro-Cuban cultural music showcase at Stanley Plaza.
The event will feature an Afro-Cuban Jazz quartet, plus musicians showcasing Afro-Cuban drumming with rhythms such as the Rumba Guaguanco, Comparsa and Yoruba Bembe, all expressing daily life in Cuba.
Maximum 150 Seats.
DAY 3 : TIEMPO D' SALSA
3:00 pm - Afro Cuban Percussion Show by David Chala
An Afro-Cuban Percussion Showcase that brings you into the musical journey of the Afro Cuban root by a celebrated Cuban musician who was a starring percussionist at the world's renowned Cirque du Soleil Alegria" show and performed with countless famous Canto-Pop artists including Jacky Cheung 张学友, Andy Lau 劉德華, Kelly Chen 陳慧琳, Teresa Carpio, etc.
3:30 pm - Tiempo D'Salsa
Join us on a hip & groovy tropical afternoon party with Afro-Cuban tunes of Salsa, Cha Cha Cha, Timba, etc. by our Salsa DJ with celebrated percussionist.
Venue : Stanley Plaza
REMARKS:
- In line with the latest government regulations and in the interests of community health, the seating capacity is currently operating at reduced levels which may affect the admission and seating arrangement. Please check back for event announcements and updates.
- For the safety of participants, visitors, artists and staff, please note the following health precautions:
- Please provide contact information when purchasing tickets.
- Please bring your own mask and wear it at all times in the venue.
- Temperature checks will be carried out before admission. Visitors showing a temperature of 37.5°C or above will not be able to participate.
- Special seating arrangements are being implemented. Please follow the instructions of our staff.
- If you have travelled outside Hong Kong in the past 14 days or are wearing a home quarantine tracking wristband, please wait until your quarantine period is over before attending our event.
Adverse Weather Arrangements:
If a black rainstorm warning or a typhoon signal no. 8 or above is in force three hours before the start of the event, the event will be cancelled.
Ticketing & Programme Enquiries: hkmusictoss@gmail.com
Sponsor: LINKS / Stanley Plaza
Organiser: MusicToss Ltd.
Organiser of Latin Beat Sparks