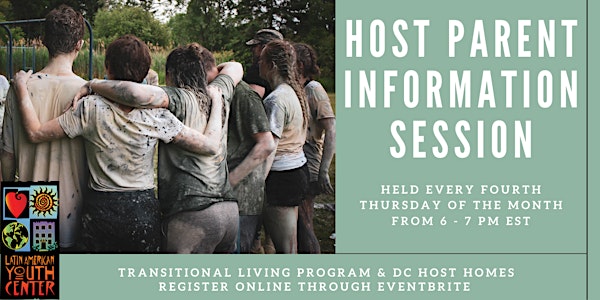 Latin American Youth Center Host Parent Information Session
Learn more about becoming a host parent through LAYC's family-based housing programs for youth. Join in every fourth Thursday of the month.
About this event
The single most important factor for cultivating resilience amongst youth is the presence of at least one positive adult relationship.
Host families create a sense of belonging and build empowerment by providing a safe, welcoming, and non-judgmental environment, which allows for youth to focus on their educational and vocational goals to prepare them to be secure, independent young adults.
Host families welcome youth, ages 12-22 for a short-term or long-term stay. A host home can serve as an emergency shelter (up to three weeks) for youth in crisis through our Host Homes program or as temporary, transitional housing (up to 18 months) through our Family-Based Transitional Living Program. Learn how you can become a host parent by dropping into an information session held every fourth Thursday of the month.
This event is free and open to the public
Access to this event is completely virtual
Registration for this event is required
During the event, attendees will have the opportunity for question & answer