Latest from Adobe Creative Cloud + NAB Roundup

Tuesday, April 23, 2019 from 7:00 PM to 10:00 PM (PDT)
Event Details
**** PLEASE NOTE THIS MEETING IS ON A TUESDAY IN THE CROSSROADS SCHOOL COMMUNITY ROOM LOCATED IN THE SPORTS COMPLEX****
Join us for April's LAPPG Meeting featuring:
 
ADOBE - WHAT'S NEW FROM NAB AND MORE


The National Association of Broadcasters convention (NAB) is always full of new announcements and surprises. Join Adobe Premiere Pro Master Trainer Christine Steele
as she covers all the new features available in Creative Cloud video and audio tools, including Content-Aware Fill in After Effects, Freeform panel in Premiere Pro, and Punch and Roll Recording in Audition. If you couldn't attend NAB, this is a great opportunity to get up to speed on what's included in the latest release.

(Plus, one lucky attendee will walk home with a full year subscription to Creative Cloud - all apps!)
Christine Steele is an Emmy Award winning Director, Producer and Lead Editor at Steele Pictures. She actively provides production and post-production services, consultation and training for colleagues and clients all over the world and is a popular speaker and Adobe Certified Master Instructor. Christine enjoys collaborating with other filmmakers and sharing her experiences through teaching.



NAB ROUNDUP:
CUTTING THROUGH THE AVALANCHE TO DETERMINE WHAT MATTERS
Inbox full of overwhelming NAB announcements? Or maybe you attend the show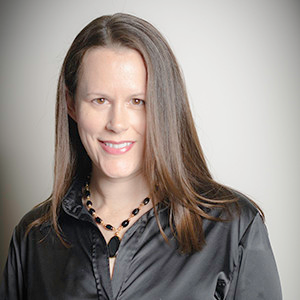 focusing on specific companies, but aren't quite sure if there's a big picture takeaway.  Entertainment technology marketer Laura Pursley will walk us through the show's intersection of production, post, and broadcast – illuminating the trends that emerge and the announcements that matter.
 


Laura Pursley is Market Development Manager for Sony's Venice camera.  She previously was Director of Marketing for post house Light Iron, and was on the launch team for Panavision's DXL camera.
***As always there will be plenty of time to network, enjoy some coffee and participate in our great giveaway which includes thousands of dollars of amazing prizes from our generous partners!

$5.00 cash kindly requested at the door will include 1 giveaway ticket.
Location:

Sports Complex - Community Room, 2nd floor

1634 18th Street

Santa Monica, CA 90404
Click for a map here. 
***Street parking is available as well as a Crossroads parking lot behind the Sports Complex.

---
NORMAN HOLLYN (1952-2019) - EDITOR/EDUCATOR/SUPPORTER/AUTHOR

We here at the Los Angeles Post Production Group are deeply saddened by the news of the passing of our dear colleague, Norman Hollyn. We know Norman has touched many, many of our members through his presentations, his filmwork, his books and his friendship. Even as Norman was the inaugural holder of the Michael Kahn Endowed Chair in Editing at USC, he was completely approachable and enjoyed discussions with people of all walks of life about filmmaking and the industry. Norman will be sorely missed in our community and the filmmaking community at large.
His generosity and his support of the Los Angeles Post Production Group over the years has been inspiring and has touched us deeply. Between his live presentation in 2011 of the web series 2 REEL Guys with Larry Jordan Norman to his most recent presentation in 2017 on AI (highlight video), Norman's knowledge and passion always created memorable evenings at the LAPPG. One of the highlights for us was to have Norman on board as a champion and a judge for our film festival, LA Post Fest (judges video). We will always remember and appreciate Norman's consistant support and generous heart.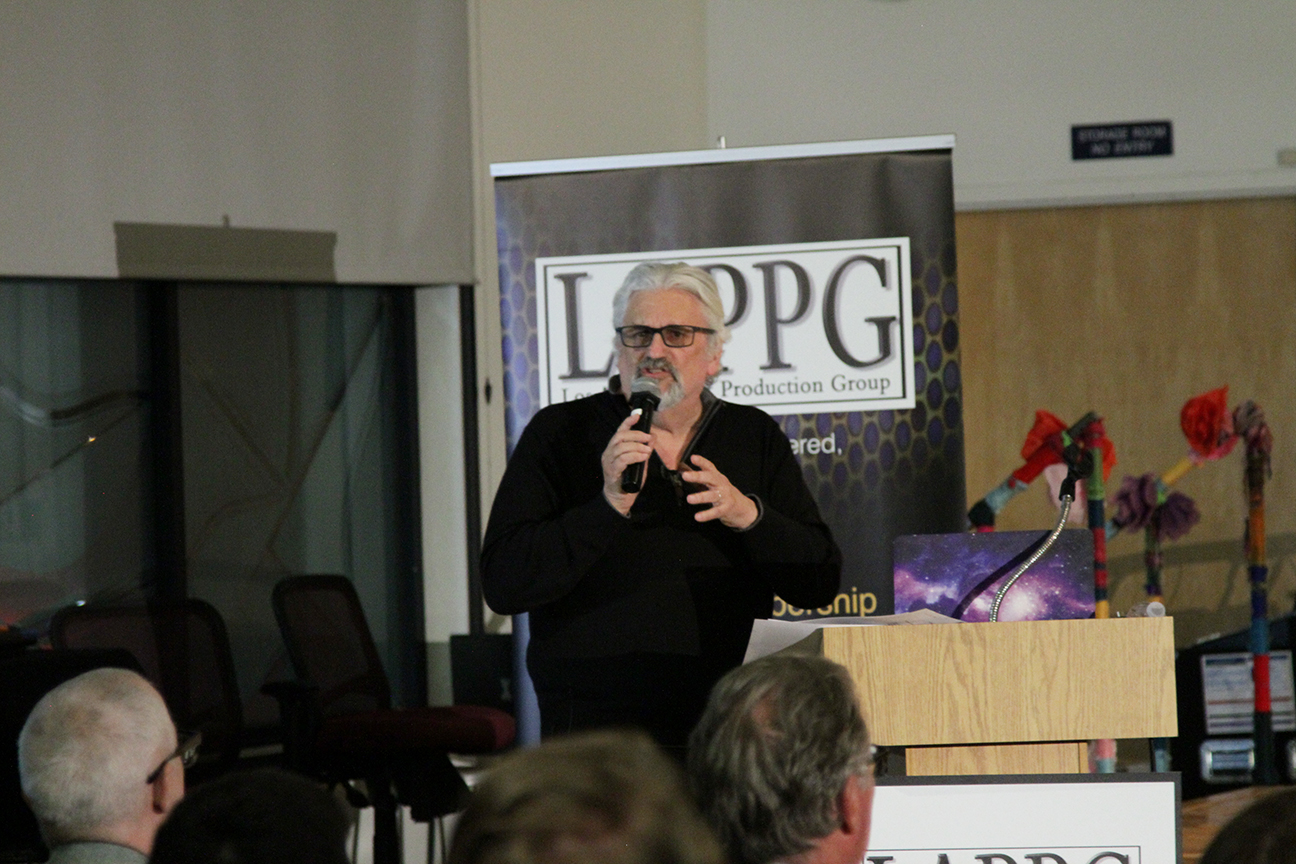 Norman discussing AI in the Editing Bay.

---
CONGRATS TO LAPPG PARTNERS ADOBE,  BLACKMAGIC DESIGN AND ZEISS ON RECEIVING PROHUB AWARDS OF EXCELLENCE


ProductionHUB, the global network of local freelancers, crew and vendors, announced its selections of the 2019 Awards of Excellence from the NAB (National Association of Broadcasters) Show.

More than six million people rely on ProductionHUB each year as the go-to resource in the production industry. The Awards of Excellence recognizes standouts in technological innovation and practice from the NAB Show Floor, the anchor event of the industry. Recipients of this award blaze the path of technological advancement, demonstrating excellence every step of the way.

"We interview hundreds of exhibitors from trade shows across the country to make sure our users are up to date on the tech and skills needed to succeed on set and in the workforce," says Steve Rotz, Vice President of ProductionHUB. "Because of this focused view, we are in a unique position to select and spotlight the best of the best from the NAB Show."



ProductionHUB used a combination of the following criteria to finalize their selections: nomination form entries, expert opinion from industry icons and the ProductionHUB leadership team and direct feedback from attendees at the show.

Out of the 1,600+ companies exhibiting at the 2019 NAB Show, ProductionHUB congratulates the recipients of the prestigious 2019 Awards of Excellence (listed in alphabetical order):

- Adobe After Effects Content-Aware Fill - ARRI ALEXA Mini LF - Atomos Shogun 7 - Blackmagic Design Next Generation 8K Products - Canon Sumire Primes - Core SWX Helix - LiteGear LiteMat Spectrum LED Panel - Quantum F-Series NVMe Flash Storage - SHOTOVER B1 Gyro-Stabilized Camera System - SmallHD Cine 7 - Teradek Bolt 4K - ZEISS Supreme Primes, 21mm & 135mm
---
1,000 MORE REASONS TO LOVE VIMEO STOCK
Wow! What a bonus! Vimeo has just announced that they are offering 1,000 high-quality clips — Vimeo Essentials — at no cost to Vimeo Plus or higher members. That's a total of over $60,000 worth of Vimeo Stock clips that you can start working with right away.
They built Vimeo Essentials with the types of clips that will help bring your video projects to life.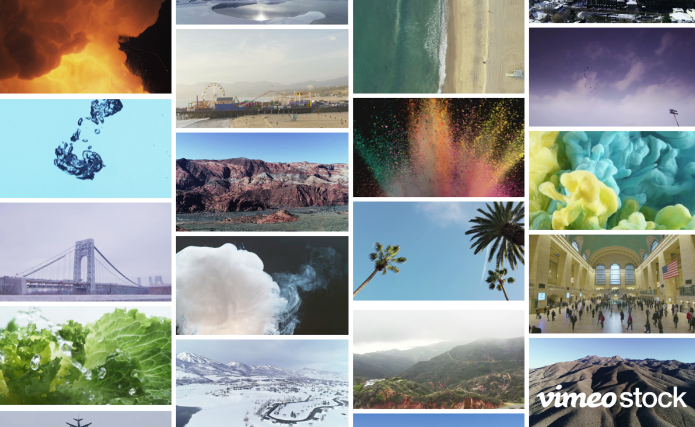 Weird glitchy transitions? Check. CGI sci-fi landscapes? Yes. Anonymous crowds of commuters slogging through the streets? Yup. Moody establishing shots of New York City? Sure. Blissful aerials gliding above lush green forests or sprawling across Los Angeles? But of course. All you have to do is head to Vimeo Stock and start adding the clips you want.
Stock up today, and if you're not already a paid Vimeo member, find the plan that's right for you.
---
ZEISS OPENS THEIR FIRST-EVER CINEMA LENS SHOWROOM IN LA
EXCERPTED FROM PRODUCTIONHUB.COM

A New Destination for Cinematographers features a Complete Lineup of ZEISS lenses, a Camera Prep Area, Lens Projection Bay, Lounge & 4K HDR Theater.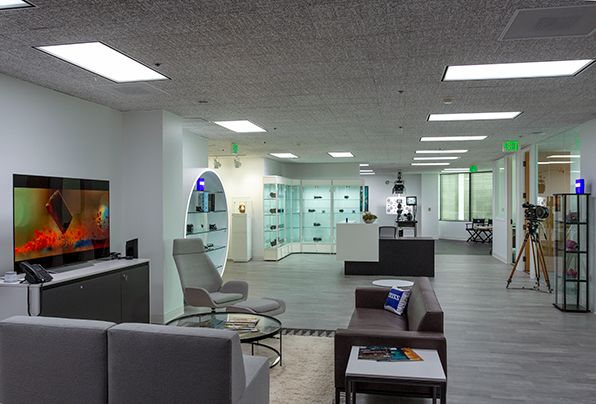 On March 29th, at 1:00 PM in Los Angeles, ZEISS opened its doors to the industry for its brand-new Cinema Lens Demo Center in L.A. — a first of its kind for the popular and historic lens company.
Right at the start, a crowd of working cinematographers and industry influencers shuffled in to check out the new and buzzed-about space.  Attendees found the Cinema Lens Demo Center to be a state-of-the-art and spacious facility, featuring everything a Director of Photography could want – including an elegant showcase of ZEISS lenses, a camera prep area, lens projection bay, lounge, and an amazing 4K HDR theater. Located on the 8th floor, it also features impressive views of the Hollywood Hills.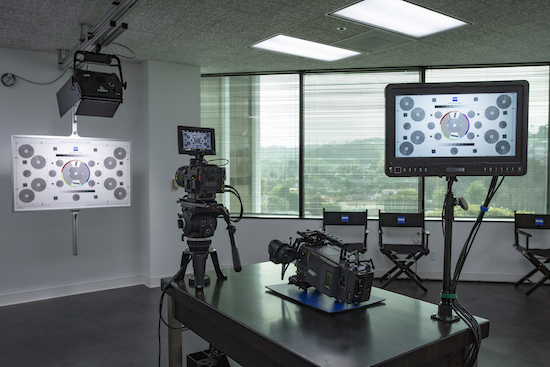 On display were the new, high-end Supreme Prime lenses, fitted on a variety of top go-to cinematography cameras including the ARRI ALEXA LF, SONY VENICE, and RED MONSTRO.  Also, available for image-makers to check out were the ZEISS Compact Prime lenses, its Cinema Zoom glass offering, and its family of photo/cine lenses: Batis, Loxia, Otus & Milvus lenses. These were fitted to cameras like the Panasonic EVA-1, and Blackmagic URSA Mini Pro.
The mastermind of the new showroom and ZEISS Cine Sales Manager Snehal Patel remarked, "We are so excited to show everyone this new space and provide a home for cinematographers in L.A. and beyond to come and find the very best solutions for their project needs. The Showroom has been in the works for a while and to open our doors today to all our friends in the industry is so gratifying.  It's great to see so many DP friends come out today for the launch — and we'll be using this space for educational events in the weeks and months to come."

For Angelenos, Cinema Lens Demo Center is located in Sherman Oaks, perfectly central for filmmakers who live on the east side, west side, downtown, or in the Valley.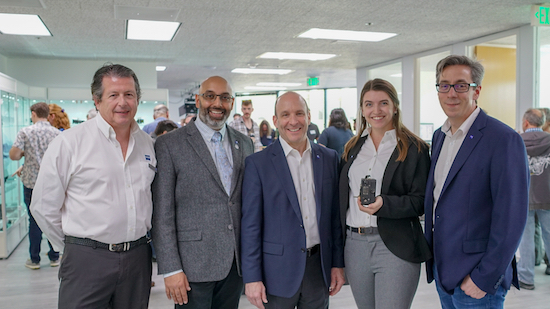 ---
DON'T MISS THE ULTIMATE VR/AR/360 PRODUCTION TRAINING EVENT IN LOS ANGELES THIS SUMMER!

Mark your calendars and join us on June 18-20 for a 3-day event featuring hands-on training for production and post-production professionals on how to create compelling 360/VR/AR content.

Immersive media is becoming increasingly important in a growing number of fields, from entertainment to engineering, education, and beyond. As immersive media continues to grow in use and importance, so does the need for qualified professionals who can help organizations integrate VR into their workflow. Don't miss the opportunity to learn how to create your own VR content from FMC's team of certified instructors and industry gurus.

The training sessions, expo, and networking will take place at the Hilton Los Angeles/Universal City. Visit the event website for more details and book your pass: http://www.dellivrconference.com/



All LAPPG members

can save $50 off on any of the 1, 2, or 3-day training passes by using exclusive member code: VRLA.
Students and faculty are also entitled to a 35% discount on any of the passes.

See you on June 18th!
---
OWC THUNDERBLADE NAMED A BEST OF SHOW AT NAB

Blazing-fast external SSD is recipient of Future Best of Show Award from Video Edge, presented at the NAB Show


OWC®, a leading zero emissions Mac and PC technology company, is thrilled to announce that their extreme performance ThunderBlade™ has received Future's Best of Show Award, presented at the 2019 NAB Show by Video Edge. Future's Best of Show Awards are evaluated by a panel of industry experts and are selected based on innovation, feature set, cost efficiency and performance in serving the industry.
 
OWC ThunderBlade
For creative professionals and prosumers who work to capture and process 4K or 8K
video, the newest ThunderBlade can be the difference between staying under budget and on-schedule on a project - or not. With dual Thunderbolt 3 ports users can daisy-chain up to five additional ThunderBlades, and by connecting more than one drive with SoftRAID, speeds can be increased up to 3800MB/s. The newest ThunderBlade can complete a 1TB content transfer in under four-and-a-half minutes.
 
"The Future Best of Show Awards at NAB are in their sixth year," said Paul McLane, Future managing director, content for media technology titles. "The program focuses attention on superb innovations in technology as seen around the million-square-foot exhibit floor of the industry's top trade show. The list of 2019 winners and nominees shows where media technology businesses are headed."

"Everyone at OWC is honored to have the ThunderBlade recognized with this Future Best of Show Award at NAB," said Larry O'Connor, OWC Founder & CEO. "Receiving this award is a win for the entire team, all of whom worked hard to develop the fastest and best external storage available for use by creative teams, so they can store their work quickly and safely, saving them time and money on their projects. We are grateful to the Video Edge team for this award."

Click here to learn more about OWC ThunderBlade.
---
NAB HIGHLIGHTS FROM OUR FRIENDS AT PROVIDEO COALITION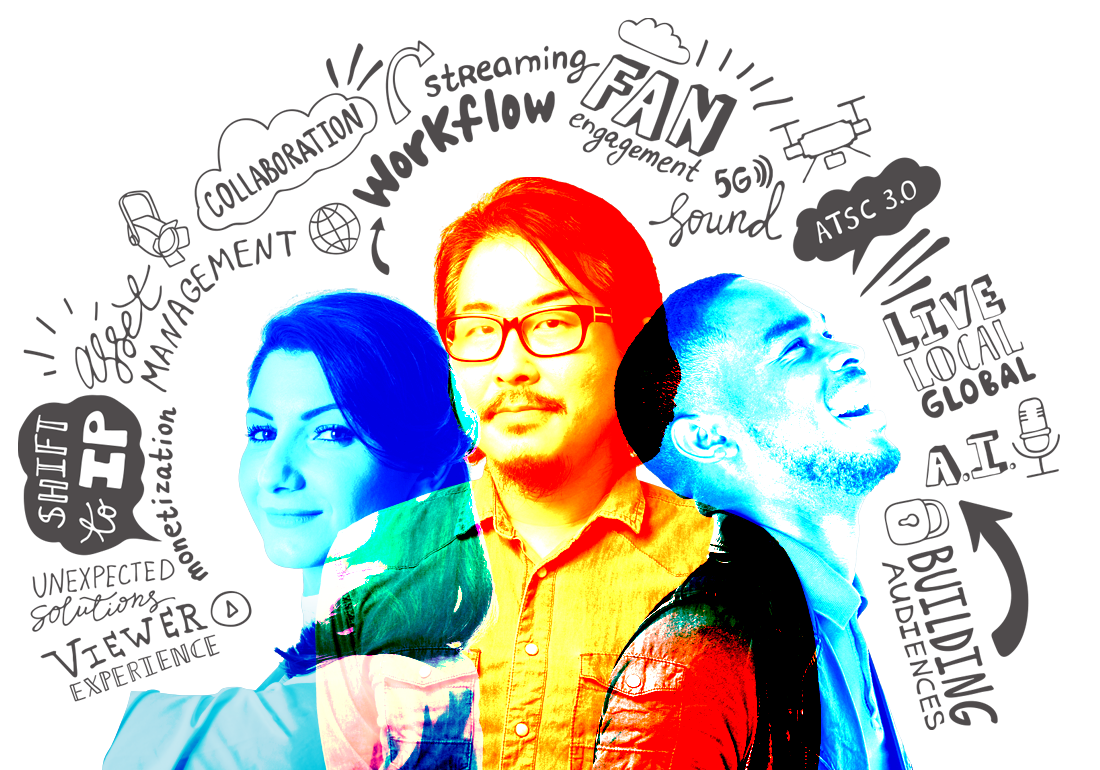 Below is a collection of links to some of the big announcements and news from NAB from our
friends on the floor at NAB from ProVideo Coalition this past week. Make sure to note that in addition to learning all about what Adobe has just announced for the video and audio apps at this month's LAPPG (April 23rd), next month we will have Blackmagic Design in the house on May 8th sharing Resolve 16 and more! Save the date!
Adobe Creative Cloud Video: 2019 NAB Releases from PVC
Blackmagic Design NAB Press Conference and DaVinci Resolve 16 from PVC
Burning Questions About the DaVinci Resolve Editor Keyboard from PVC
---
MARK YOUR CALENDAR FOR THESE UPCOMING MEETINGS
April 23, 2019 – LAPPG Meeting (Community Room)
May 8, 2019 - LAPPG Meeting (Roth Hall)
May 30 - June 2, 2019 - Cine Gear Expo (Studios at Paramount)
June 20, 2019 - LAPPG Meeting (Roth Hall)
---
SUBSCRIBE TO LAPPG'S YOUTUBE CHANNEL TO CATCH UP ON MISSED MEETINGS
Can you really shoot a film on a production budget of $1K? Find out when Alexandra Boylan and Richard Galli talk about their success and challenges of shooting and distributing a movie their team made called "At Your Own Risk"! They discuss the unique shoot in the New Mexico desert and also their creative ideas for marketing and distribution. Get inspired!

Watch here: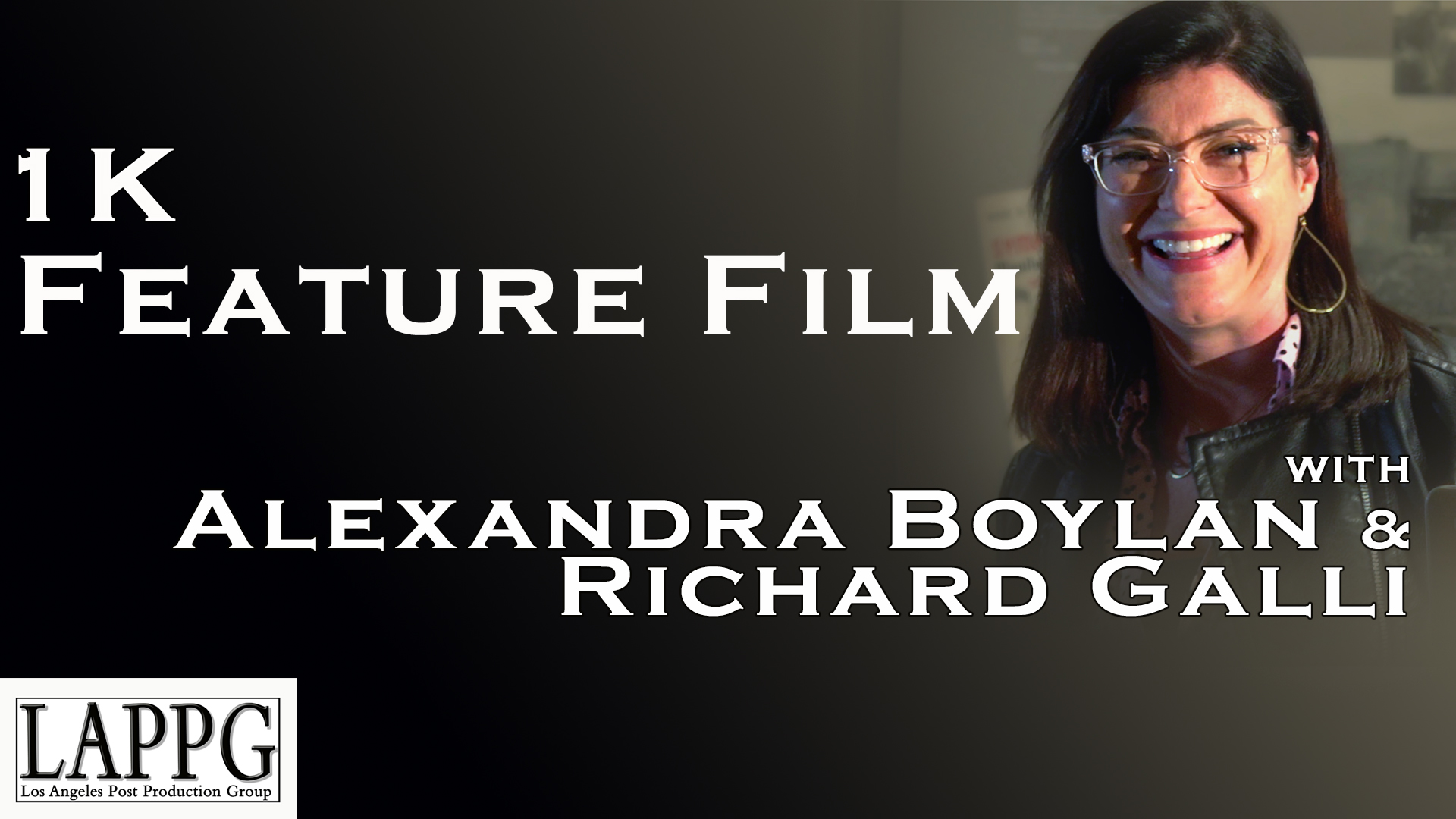 Click the button below to SUBSCRIBE and be notified as new videos hit our YouTube Channel!


---
FREE REGISTRATION FOR CINE GEAR EXPO 2019 IS OPEN

Cine Gear Expo 2019 is the premier annual event for professionals engaged in the film and entertainment technology industry.  The show lasts four days in Los Angeles this May 30 – June 2 at Paramount Studios in Hollywood, California.

Cine Gear features 300 exhibits, new product and service introductions, 30+ complimentary seminars led by industry leaders, master classes, film competition, awards ceremony, special screenings in state of the art theaters, and ample opportunity to network with peers within a studio environment.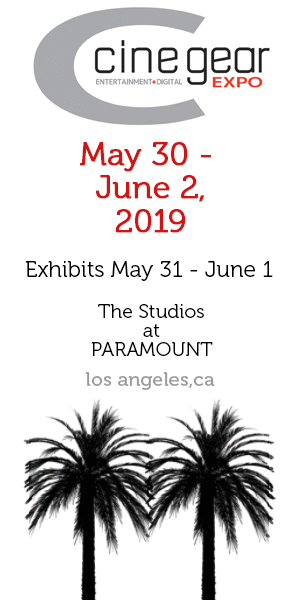 May 30 — Film Series Competition Screenings, Technical Awards
May 31 - June 1 — Exhibits, Premier Seminars, Exclusive Screenings, Awards Presentations, Special Events
June 2 — Master Classes

Updates to the exhibitor list, event map, schedule, presentation topics, speakers, and screening engagements will be posted to the website regularly.    http://www.cinegearexpo.com


Attendee Registration is open!

All attendees must complete the Cine Gear Badge online registration process.          http://www.cinegearexpo.com/la-expo-attendee-registration
Registration is free until May 25th 2019 11:59pm PDT.

Explore and compare the latest tools and services in entertainment technology. Get educated and inspired while gaining insight from old friends, new friends.



*****And be sure to stop by booth 60E and visit LAPPG!*****
---
CONNECT WITH US!
Adobe, Advantage Video Systems, Blackmagic Design, BorisFX, Cine Gear Expo, Digital Rebellion, Indie Shooter, iZotope, Mercury Production Report, NewFilmmakers Los Angeles, Other World Computing, Pro Sound Effects, Pro Video Coalition, ProductionHUB, Shutterstock, Sound & Picture, The Telly Awards, Vimeo, Zeiss
We look forward to seeing you on Tuesday, April 23rd!

Sincerely,
Los Angeles Post Production Group
Please visit www.lappg.com for discounts, job listings, industry news and more.
When & Where

Crossroads School's Sports Complex, Community Room
1634 18th Street, 2nd floor
Santa Monica, CA 90404


Tuesday, April 23, 2019 from 7:00 PM to 10:00 PM (PDT)
Add to my calendar
Organizer
The Los Angeles Post Production Group is a professional organization for people with a passion for film, video and the digital media finishing process.

The LAPPG discusses all aspects of post production, from picture and sound editing to color correction, visual effects, codecs, storage and post workflows.

Expert presenters and leading companies come to our monthly meetings and share new technologies, techniques, tools, products and best practices to aid us in telling great stories.
We also provide our members with great offers and discounts as well as opportunities to network and make industry connections.
Membership is free and you need not live in Los Angeles to take advantage of this great resource.
To become a member please email your name and information about yourself to membership@lappg.com.