Description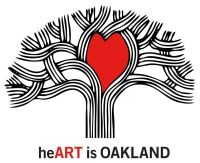 As part of the heART is Oakland exhibition, we are hosting an exclusive evening with LATE NITE ART. This creative experience is intended for surviving friends and family members of the Ghost Ship fire. This event is free and is limited to 50 participants.
LATE NITE ART is an evening of collaborative art-making, curated music and facilitated dialogue to foster creative energy and thoughtful engagement. Come meet new friends,and get your hands dirty exploring some evocative emotions using art supplies. It's a hard thing to describe...just trust us, it can be powerful. See the video http://lateniteart.com/about/.
LATE NITE ART is NOT an event for artists - you don't need to be able to color within the lines or draw portraits of fruit bowls - you just need eyes, ears, and an open mind. Based in Oakland, since 2012 LATE NITE ART has given over 5,000 particpants an evening to remember.
heART is Oakland is a collaboration of FLAX art & design and We the Artists of the Bay Area (WABA). Both FLAX and WABA support Oakland's creative community, with FLAX providing inspiration and materials for creativity, and WABA working for advocacy and public awareness for creativity.
For more see:
heART is Oakland, http://heartisoakland.org/
LATE NITE ART, http://lateniteart.com/
Classic Cars West, http://www.classiccarswest.com/
FLAX art & design, http://flaxart.com/oakland-store/
We the Artists of the Bay, http://artistsofthebay.org/