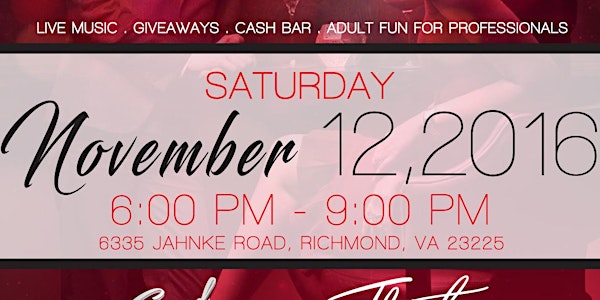 Late 30's & 40+ Speed Dating & Social Mixer at 63Thirty5!
When and where
Location
6335 Jahnke Rd 6335 Jahnke Road Richmond, VA 23225
Description
In the event speed dating tickets are sold out please purchase a Social Mixer ticket to still enjoy some fun! Plenty of singles and professionals will be in the house. Come and connect with us!
"Connecting you to meaningful relationships"
Social Mixer: 35+
Speed Dating : 40+
Live Music. Delectable Eats. No Pressure Atmosphere. No Rejection. Professionals. Adult FUN.
See what it's like to attend our events here + See Nikkea & Julian's love story that began at Speed Date RVA here.
---
FAQs:
What is your Social Mixer?
You may be in a unique situation where you're romantically attached but your friend would like some support along with them. You may be married but live music, great food and drink specials sound like an awesome date night. You may be new to town and want to explore the city and meet new people. You may be single but too shy to be put on the spot during speed dating or you may even be a business professional or entrepreneur looking to network and make new connections. Our Social Mixer is for you! Join us.
Where can I contact the organizer with questions not answered here?
You can call us at (804) 420-2405 during normal business hours or email us anytime at hello@speeddaterva.com
What should I wear?
We encourage you to dress as your best [self]. First impressions are lasting. Think "first date".
What time should I arrive?
We always encourage attendees to arrive 15-20 minutes prior to the time listed. This grace period allows time to find adequate parking (if valet isn't offered), unexpected traffic, time to order a light meal or drink and also to simply RELAX before your exciting night. This is a timed event so arriving on time is imperative. *In the event an attendee has not claimed their seat before speed dating rounds begin they are subject to losing their seat to a guest on our waiting list who is already physically at the venue*
I'm too shy/nervous!
We understand these natural feelings. Most first-time attendees are but they never leave our events feeling the same way. 90% percent of males leave smiling and thanking us for a great time on the way out. We strive to create and maintain a no pressure atmosphere. No one feels rejected due to our private matching system. You may notice some of our events entail a Social/Networking mixer. These mixers are designed for social "spectators" to make new friends, business professionals to connect, and romantically attached patrons for a date night out on the town to experience something other than the "norm". Let your hair down, grab a beverage or meal, win a giveaway, observe speed dating and see what the Speed Date RVA hype is all about! You may meet someone in the process - but overall sounds like no pressure, right?
I'm just under the age limit, can I still sign up?
Please call us during business hours so that we can personally give insight on this matter.
Do I need to bring my printed ticket to the event?
Once you pre-register online we safely store all of your information. No need for a printed ticket! However, we require you to bring a photo ID so that we can identify you properly.
How often do you host speed dating events?
Here at Speed Date RVA, we value quality over quantity. We actively research the dating pool/market to provide the best events to our population. Our goal is to always provide at least 4 events in a calendar year with socials, discussions and networking mixers in the between time. Our goal is to continue to connect single and romantically attached individuals alike all year round!
What is your success rate?
99% of our attendees find a match. We've had over 2,000 connections (business & personal), 4 long term relationships, and 1 event resulted in marriage (https://www.youtube.com/watch?v=OdPxxuwyQiE) since our debut in 2013! We are very proud of our accomplishments and hope that you know you can add to these results!
What is your refund policy?
We have a zero cancellation and refund policy. However, your seat is transferable (to a person of the same gender) in the case of an emergency and you're unable to make an event. Please call us to notify us and to provide us with the person's contact information who'll be taking your place. Text or email is not an acceptable form of communication to note a seat transfer.
We can't wait to meet and connect you!
-Speed Date RVA
(804)420-2405
hello@speeddaterva.com
@speeddaterva on social media.
Absolutely no cancellations or refunds.
Please enjoy responsibly. We are not responsible for the outcome of any potential matches.*
---