Event Information
Refund policy
Contact the organizer to request a refund.
Eventbrite's fee is nonrefundable.
"Es un entrenamiento de alto rendimiento, donde tendrás una cita con tu verdadero "Arquitecto Interior & Tu Yo Genuino"
About this event
ENTRENAMIENTO WAKE-UP
En este entrenamiento vas a vivir una experiencia única en la cual crearas la energía para conectar con tu propósito, pasión, y tus mas anhelados sueños. WAKE-UP, te brindara herramientas con tecnologías vivenciales con las cuales tendrás la oportunidad de identificar como se encuentra tu casa. A través de dichas vivencias, tendrás la oportunidad de demoler muros, barreras, miedos y resentimientos del pasado. Una vez estés inmerso(a) en tu Ser, tendrás una visión clara de tu vida y trazaras tu camino a la grandeza.
La verdadera naturaleza del ser humano es la libertad. La libertad de pensar, planificar, diseñar y construir la vida que merece.
Dice el maestro Vicktor Frank en su libro "El Hombre en busca de sentido", que el ser humano tiene la capacidad de ser libre bajo cualquier circunstancia, si lo escoge. Humanidad, eres mi familia y te invito a continuar conquistando tu libertad emocional, libertad social y tu libertad mental.
BIO DE LA ENTRENADORA
Natty Cabrera es una enamorada de la Humanidad. Es por eso que al vivir un intenso proceso de sanacion interior, se dedico a entrenarse en como desarrollar el potencial humano adquiriendo certificaciones como:
Licenciatura en Justicia Criminal (BS)
Coach Transformational
Maestría Transformacional
Academia Transformacional
Certificación John Maxwell Team
Certificación en Neurocoach
Certificación en Access Consciousness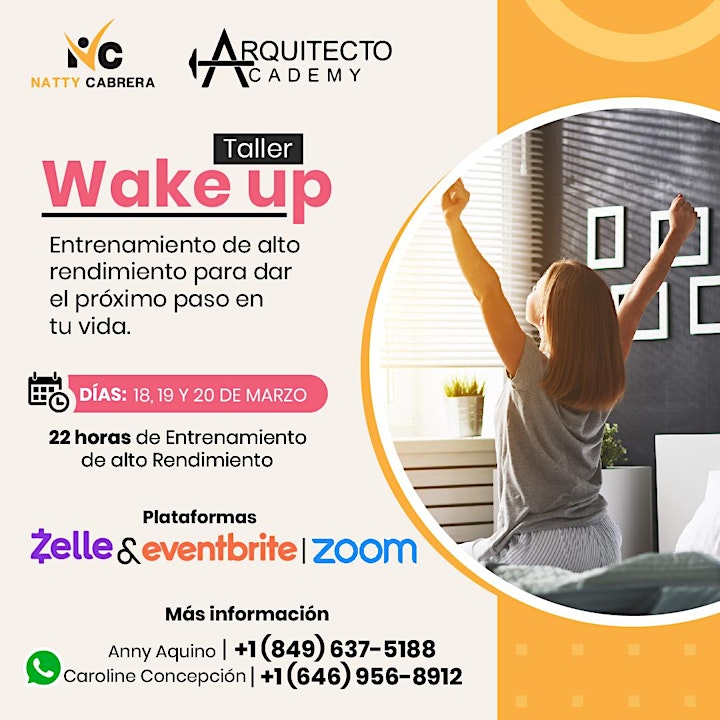 INFORMACIÓN
WAKE-UP DIAS Y HORAS
Marzo 18, 2022_____5:00pm a 10:00pm
Marzo 19, 2022_____10:00am a 8:00pm
Marzo 20, 2022_____9:00am a 4:00pm
Hora del Este de los Estados Unidos
MÁS INFORMACIÓN
arquitectoacademy@gmail.com
Date and time
Location
Refund policy
Contact the organizer to request a refund.
Eventbrite's fee is nonrefundable.