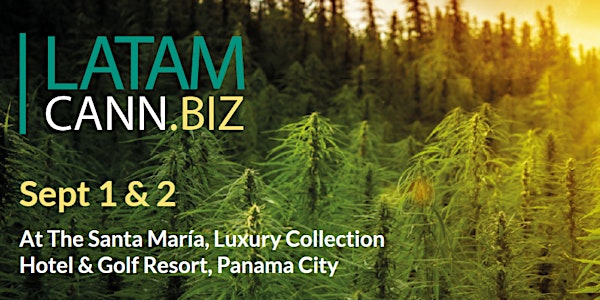 LATAM CANN.BIZ
LATAM CANN.BIZ
When and where
Location
At The Santa María, a Luxury Collection Hotel & Golf Resort, Panama City Luxury Collection Hotel & Golf Resort, Panama City Santa María, Santa María 00962 Panama
About this event
Medical use of cannabis has been legalized in Panama since October 2021. The new regulatory framework allows the use and controlled access to medical cannabis for therapeutic, medical, veterinary, scientific and research purposes.
Join us to enjoy exclusive, curated networking and unmatched access to private deal flow like Latin America has ever seen. Discover hot investment opportunities and learn all about how to succeed in this budding industry. Hear, first hand, from the executives of top-performing cannabis companies and get priceless insights from the world's leading cannabis investors, all in one place.
The 2 day conference will also address global and regional trends and provide up to date information related to regulatory framework, technology, science, agricultural and manufacturing best practices.
Agenda: Day 1
Opening Remarks: Panama - The Cannabis Hub of the Americas
The Role of Latin America in the Global Cannabis Market
The Healing Truth: How Cannabis Changed My Life
The Power of Brands, The Real Winners Of Cannabis Legalization
Cannabinoids 101: Medical Applications of Cannabis
Proper Dosing In Cannabis: How Much Is Enough? How Much Is Too Much?
A Walk Through Regulatory Grounds And Export Opportunities in Latin America
Hemp vs Cannabis: Two Different Ball Games
Trending Business Models for Industrial Hemp
Ancillary Business: NOT Touching the Plant Can Still Be Very Profitable
Lessons Learned at the Research Lab: Leveraging Israel's Decades-Long Cannabis Experience
Innovation As Driving Force of the Cannabis Industry: How To Create Transformative Products
Agricultural Technology: What Goes Into The Business of Cultivating Medicine
Cannabis Banking: When Too Much Cash Becomes a Problem
Agenda: Day 2
Opening Remarks - Government
Panama In The Numbers (TBD)
Leveraging Technology To Grow Your Cannabis Business: It's Never Too Early
Business Models in the Cannabis Business: Where Do I Fit In?
The Legal Landscape in Panama: What We Know So Far
The Pharma Opportunity: Latin America And Panama's Huge Potential
Raising Capital: Funding 101
Celebrity Brands: Do They Work?
Cannabis Medicine For Children: A Guide To Best Practices
The Next Frontier In Plant Medicine: Psychedelics?
Media & Cannabis: Staying Relevant While Navigating Minefield
Cannabis and Sports: A Match Made In Heaven?
Return policy:
- Latamcann.biz will not issue a refund, but a credit of the same course to be used in another event. The tickets have an expiration date of twelve (12) months.
- Latamcann.biz reserves the right of admission and the right to cancel any event.
- If an event is cancelled, registrants will be offered a credit to attend another future event..
- Should circumstances arise that result in the postponement of an event, they have the right to transfer the registration to the same event on the new future date.
The can't miss event in the Latin America is making its debut to bring a groundbreaking, fully bilingual cannabis business, finance and education conference to Panama. An interdisciplinary forum that gathers members, stakeholders, key policy players and of the medical cannabis industry .
Be there or be square!
Powerd by the teams behind PR Hemp Biz and PR Medcann Biz, El Planteo and Javier Hasse of Benzinga