Description
Stella's 'Lasting Happiness'
9/28/17
BACK BY POPULAR DEMAND.., STELLA!!!!!
"LASTING HAPPINESS"
What's change got to do with it?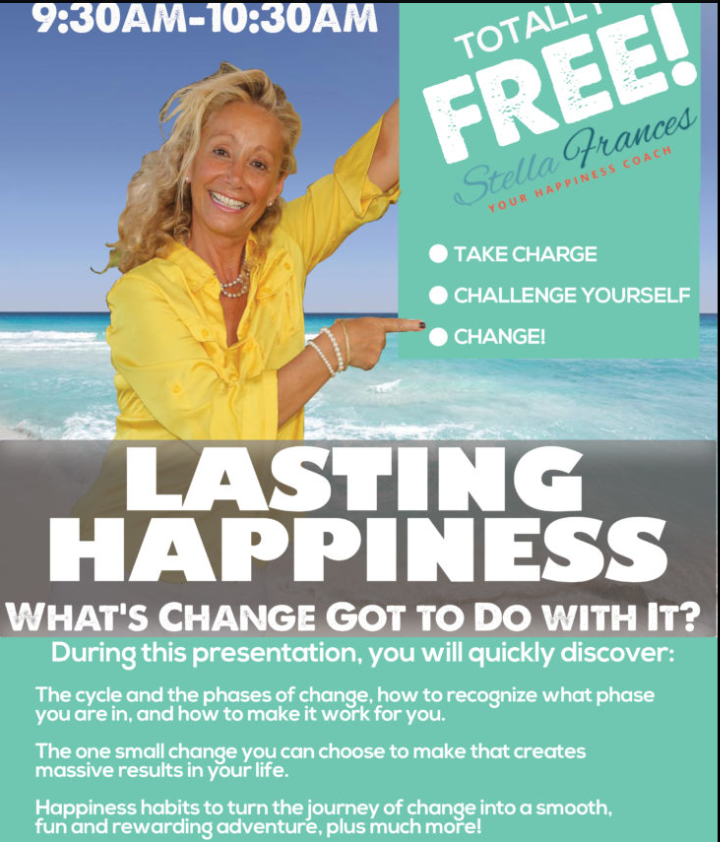 Are you stuck in an area of your life that you desperately want to see progress? You may be feeling stuck at a certain weight or in a dead-end job. You may be in a relationship that you no longer enjoy or is not going anywhere. Or you maybe even be stuck in the single status yearning to find the one person to share the joys of life.
These are roadblocks to happiness and they have everything to do with the way you think about change. During this presentation, you will quickly discover:
✓ The cycle and the phases of change, how to recognize what phase you are in, and how to make it work for you.
✓ The one small change you can choose to make that creates massive results in your life.
✓ Two simple happiness habits that when adopted will help you turn the journey of change into a smooth, fun and rewarding adventure.
Plus much more!
One of the most common things that often holds us back when experiencing change is a general sense of disempowerment.
Change is a process and an emotional journey that contributes to our growth and when you understand the dynamics of it you can welcome it, embrace it and create success.
You will leave feeling inspired ready to step into your next level of happiness and success.
"If you are going through a transition I encourage you to believe more in yourself now than ever before – for you are your greatest resource and you have the power to get through whatever it is you are experiencing...I'd love to see you there.
Organizer of Lasting Happiness