Description
Join us for a fun, safe and family friendly weekend on a 120 acre tract at 3900 feet of elevation in the beautiful WNC mountains. We'll have lots of fun camping, staying busy and sitting by the campfire. Rest assured that there will be lots of slingshot shooting and other fun activities. We'll post the schedule as we get closer to the event. Joining us for the whole time or just one day is totally up to you.

You'll need to bring everything you need to camp for the weekend. We'll provide dinner by the campfire on Saturday night and a fire for you to cook on the rest of the time, but you'll need to bring everything else. If you want to contribute to the dinner on Saturday night with your favority campfire dish, just let me know and we will plan accordingly.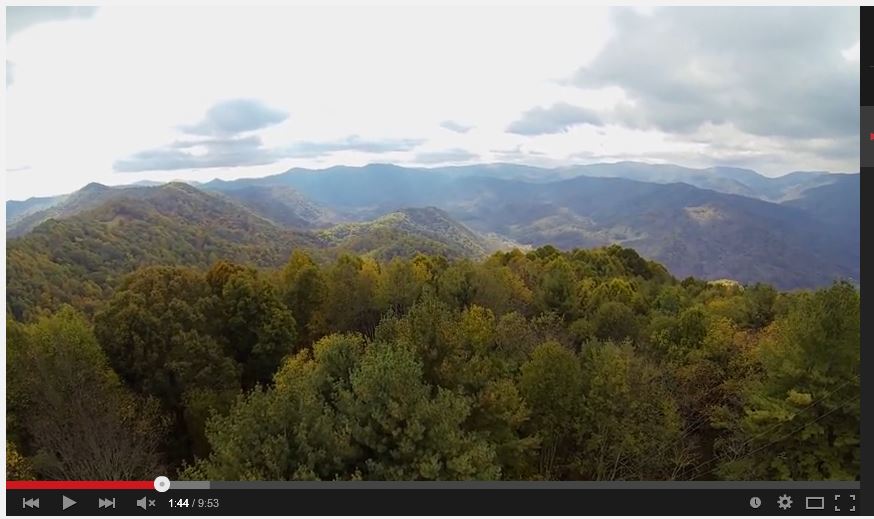 Click on the image above to see the video from the drone or click here: http://youtu.be/YrmwPWUKvgs

Weather

The weather for this event is generally nice, but it is the mountains so temperatures can range from 30s at night to mid 80s in the daytime. Rain is always a possibility.
Getting There
We will email directions and contact numbers to the event a few days in advance. GPS can send you down the wrong road up there. There are places where your cell phone just won't work as you are driving up, so we'll make sure you can find it.

If you have a really nice car or aren't comfortable driving on steep mountain gravel roads, email Montie and we'll set up a pickup point down in the valley just off the paved roads. We suggest a 4wd for the last 1/2 mile up the driveway but there is plenty of parking at the bottom and we'll run a shuttle back and forth.
Tweets, Instagram and Hashtags

Please use the #troublesomegap hashtag for tweets and pics.
Questions

Email montie@montie.com with any questions.

We'll have plenty of:

- water
- space to camp
- slingshot ammo
- targets
- power for charging electronics is on site

Suggested things to bring:

- standard camping gear (tent, sleeping bag etc.)
- warm clothes and a water resistant jacket
- camp chair for sitting by the
- cooking and eating gear (pots, pants, utensils, plates, etc.)
- food for all meals except for Saturday night
- sturdy shoes
- long pants
- bug out bag (we may have a comparison / expo)
- Montie Gear (can't forget that)

Suggested things to leave at home:
- your cares and worries

If You Don't Want to Camp

www.turtlemountainnc.com - - email wildernesslodgenc@hotmail.com for more info
Alpine Court Hotel

Bring Your RV?
We can provide a spot for your RV. Depending on your RV and your tow vehicle (if its 4wd) and the weather, we might be able to provide a hookup. Email montie@montie.com to discuss.


Organizer of Last Stand / Zombie Apocalypse Weekend at Troublesome Gap

Philosophy

Our philosophy for Montie Gear products is pretty straight forward.  We provide "Heirloom Quality Products That are Troublesome Gap Tough".   Montie Gear is driven by 6 part-time contributors and supported by great vendors.  Many of our products are made-to-order so expect a 1-2 week delay from the time you order until we ship.  If you need something by a specific deadline, then contact us.
 
Heirloom Quality

Many products in today's world are meant to have a limited life time.  A good example is that cell phone that you need to replace every two years.  It works great, but over time technology changes and the fragile electronics have a limited lifetime.  We want to design and sell products that have a very long lifetime and may actually get passed along to your kids or grandchildren.  Many rifles get passed along from parent to children, sometimes marking a rite of passage.  Granted a shooting rest isn't as special as your Grandfather's rifle.  However, we work to design and sell products that are simple, elegant and high enough quality that you will want to pass them along to your kids or grandchildren.
Troublesome Gap Tough

Troublesome Gap is a place in Western North Carolina, near the peak of Hap Mountains and overlooking Spring Creek, NC.  My parents purchased the property over 40 years ago.  I grew up spending time there.  We cut firewood for heat, picked blackberries and raspberries, and spent some great weekends up there.  Troublesome Gap is remote and rugged, the prefect place to test our product prototypes.  Troublesome Gap Tough means our products are rugged and easy-to-use.  A delicate, hard-to-use product is a liability in the field.  We avoid that by making sure all our products provide a great customer experience and are built to last, even in demanding conditions.

Our "Troublesome Gap Tough" products live up to the name : tough. You should be able to say that any Montie Gear product you have is truly Troublesome Gap Tough and Heirloom Quality.

As President of Montie Design, I like the fact that we are shipping out high-quality products, many of which are almost 100% U.S. Made.