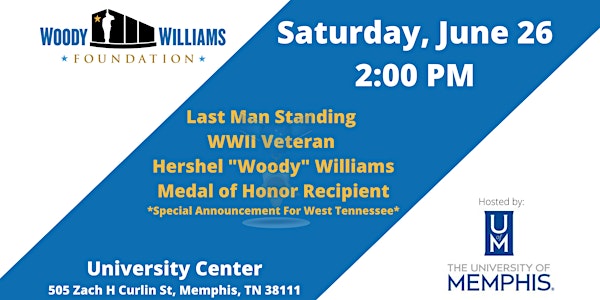 Last Man Standing: WWII Veteran Hershel "Woody" Williams, Medal of Honor
Listen & Learn from Hershel Woody Williams how "The Cause is Greater than I..." Hosted by The University of Memphis
When and where
Location
University Center - University of Memphis 505 Zach H Curlin St. Memphis, TN 38152
About this event
Come and listen to Medal of Honor recipient Woody Williams. Woody is one of 67 living recipients of the Medal of Honor and the last living recipient from the WWII. During the Battle of Iwo Jima, in the face of powerful enemy resistance, Marine Cpl. Hershel "Woody" Williams displayed "valiant devotion to duty" and service above self as he "enabled his company to reach its objective". His actions, commitment to his fellow service members, and heroism were recognized on October 5, 1945, when he received the Congressional Medal of Honor. But his service to his country, and his gallantry, did not end there.
Hear from the 97-year-old Williams, the last surviving Medal of Honor recipient from World War II, about his continuing efforts to support Gold Star families.
"The Cause is Greater than I..." -Woody Williams
Visit www.WoodyWilliams.org to learn more about Woody.
Seating is limited please RSVP to save your seat with the link below.
Complimentary Parking
Zach Curlin Parking Garage
505 Zach H Curlin Street
Memphis, TN 38152
If you can not attend there is a live stream of the event Live Stream (link)
If you have any questions please feel free to contact event organizers at 901goldstars@gmail.com