Description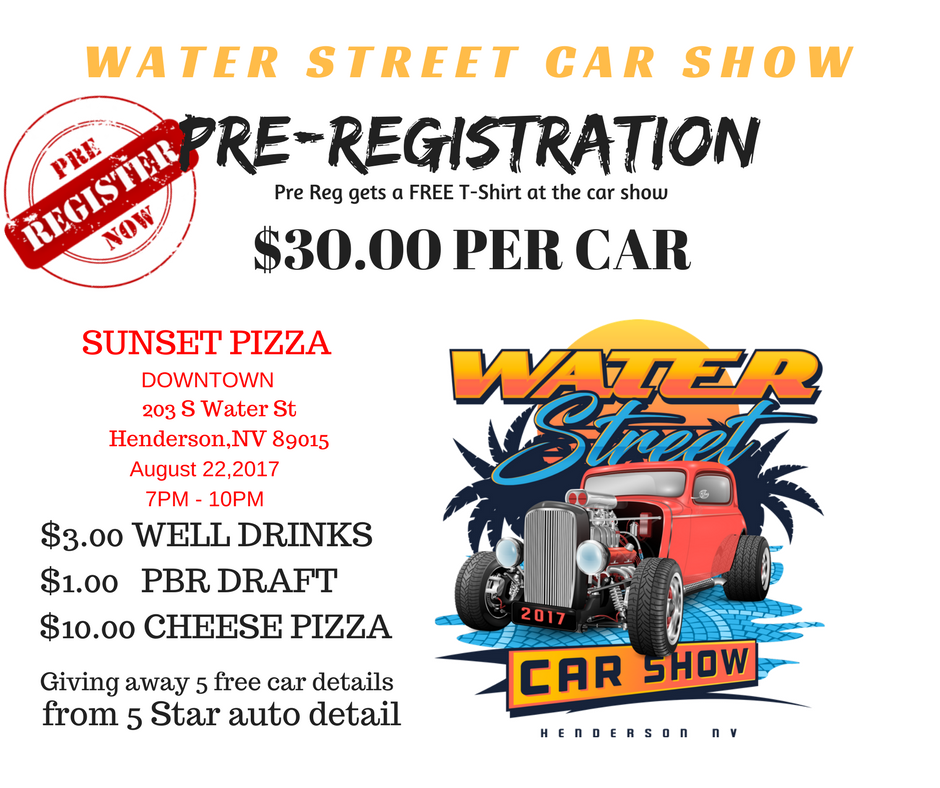 Last Friday, Just Add Water Street Reveals New Water Street Car Show to Rev the Engines Of Classic, Custom, Hot Rods and Muscle Cars
The 2017 Water Street Car Show, supported by the City of Henderson, announces it's celebrated annual traditional

car show in Henderson, Nevada to the relief of the community and marks a new year for new programming.
Henderson's Water Street Car Show sponsored by Last Friday, Just Add Water Street, is a two-day celebration for car enthusiasts showcasing classic, custom and muscle cars. This celebration includes trucks, motorcycles, hot rods and other one of kind cars.
Additional programming for the whole family includes competitions, live musical performances and exhibitors featuring the latest car gadgets and accessories.
Let this event be your new family tradition!

The event has secured Ken Long from Mutt 'n Jeff's Classics to help organize the show.
Picture a beer garden, fun and eclectic food offerings -not your typical car show offerings.

This event is perfect for all car enthusiast of all ages and complimentary so invite all your friends. This local community event will encompass a transformed Water Street into a classic car museum filled with great people. Imagine classic cars displayed with detailed information about their year and make and popped hoods open displaying their engines with owners excited to share information and their store about the cars.
WATER STREET CAR SHOW:
The event will take place at the Henderson Events Plaza.
HOURS:
For Car Registration
Online registration for all vendor requests at
https://www.waterstreetcarshow.com/car-vendor
. Car registration is $30 for pre-registration and $40 day of event. Day of event registration does not guarantee a specific space.
PRE-REGISTRATION KICK OFF EVENT IS

AUG 31, 5PM-10PM

at Sunset Downtown Water Street. #vrooooom Sponsored by Last Friday, Just Add Water Street