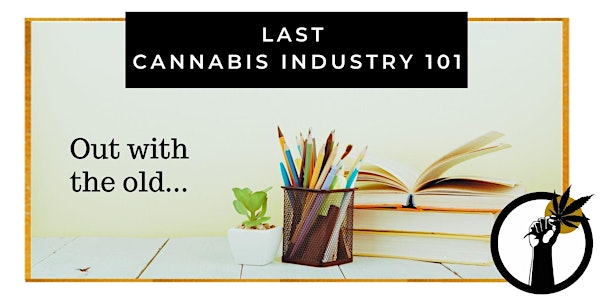 Last Ever: Cannabis Industry 101 Webinar
Black community: Join us Sept 7th at 8pm EST/5pm PST to turn this industry's challenges into businesses that create generational wealth.
By 40 Acres And A Dispensary
Date and time
Tuesday, September 7, 2021 · 5 - 6:30pm PDT
About this event
This is your LAST chance to attend "Cannabis Industry 101" - Don't hesitate 😊
40 Acres And A Dispensary educates the Black community on the vast and lucrative opportunities in the cannabis industry. The effort is led by Dr. Kaya, a physician who believes in creating holistic health for her people, including physical health, mental health, environmental health, educational health and financial health.
Cannabis brings all types of health to the world, including healthy pockets. The industry is set to inject trillions of dollars into the economy. Why not take a significant portion of this wealth as our reparations?
40 Acres And A Dispensary is hosting its LAST EVER Cannabis Industry 101 to guide you in taking advantage of the industry's challenges to create prosperous businesses that fit your background, talents and skill sets. Why is this the last one ever? Well, we have brand new content and programs coming soon.🥳 So purchase your ticket and MAKE A DONATION to help us bring you more educational and networking opportunities.
You don't want to miss this presentation if you:
• Have a marketing background
• Have a legal background
• Have a background in healthcare
• Have an accounting background
• Have a security or law enforcement background
• Own land
• Are in the legacy cannabis market and want to transition into the legal market
• Are an entrepreneur or aspiring entrepreneur
• Have agricultural skills
• Have retail skills
Ok there's too much to list, just be there. 😉
You'll leave with insight on how to start your journey in the cannabis space.
REMEMBER: This event will be the last in our Cannabis Industry 101 series before we launch brand new content and programs (coming soon). 🙌🏾 Purchase a ticket, make a donation and help us move forward to deliver you more educational and networking opportunities.
*Instructions to login to the event will be sent by Eventbrite. Also, put 40 Acres And A Dispensary (info@40acresandadispensary.com) in your email contact list to get instructions directly from 40 Acres And A Dispensary.
*By signing up for the event, you will automatically be subscribing to 40 Acres And A Dispensary's email list.
*All information, materials or interactions ("info") are for informational purposes only. This info is not intended to be a substitute for professional medical advice, diagnosis, treatment, professional financial advice, professional legal advice or professional career/business advice. Always seek the advice of your personal physician or other personal qualified health provider with any questions you may have regarding a medical or mental health condition. Always seek the advice of a professional financial advisor for financial advice, the advice of an attorney for any legal advice and the advice of a professional career/business coach for career/business advice. See the full Terms & Conditions of 40 Acres And A Dispensary at https://40acresandadispensary.com/termsandconditions/.
About the organizer
40 Acres And A Dispensary is a movement is to expose the Black community to the many opportunities in the cannabis industry. It's not likely that reparations will come from the white house, but that doesn't mean we can't get them. We are creative people and we're good at finding ways to both survive and thrive. As the cannabis industry becomes legal in more states and legal federally, it will bring a lot of money into the economy. It is absolutely necessary that we claim a significant part of this industry. The money we generate in this space can finally bring generational wealth to our community. We can't let that opportunity pass us by!
Whether you are a Black professional in an industry that you think is completely unrelated, a landowner or someone trying to move from the illegal cannabis market to the legal market, join us to learn about new opportunities that you may have never considered.
Explore 40acresandadispensary.com regularly to find newly updated information, powerful messages, artistic expressions and resources to begin the movement of Reparations through cannabis!