Last Chance: Co-author a book with Brian Tracy and 10 VIPs and Celebrities
Description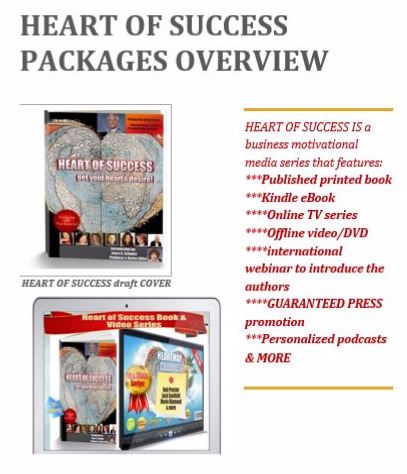 Hello,
Thanks for connecting with this amazing opportunity to co-author a book with Brian Tracy which incudes a whole package of promotion, audios, podcasts, videos and mailings to 1 million VIP readers. No one promotes books like we do. My book THE VISION BOARD: the secret to an extraordinary life has sold more than 100,000 copies alone.
Vision Publishing would like to provide you with more info on how to be in our upcoming business motivational book featuring world reknown Brian Tracy and more than 10 other VIP's.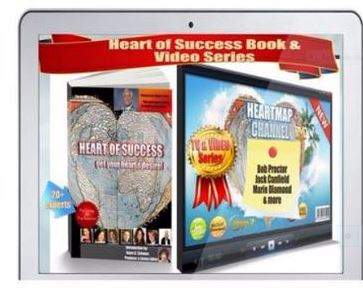 The media series features:***

the printed book *** ebook *** podcasts *** radio show ***international teleconference and *** Online TV series and ***video


BE SIDE BY SIDE WITH TEN TOP INTERNATIONAL LEADERS -- with an introduction by Brian Tracy....Yes, can be in the same book as these VIPs and meet and be featured on the same worldwide teleconference with them: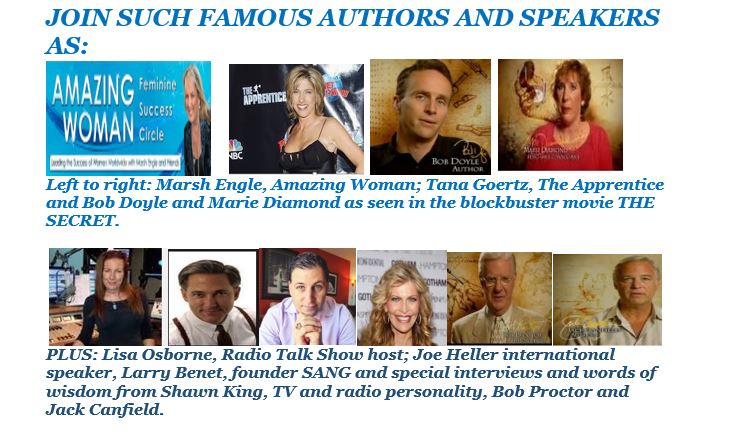 PERFECT OPPORTUNITY FOR: coaches, consultants, speakers, entrepreneurs, CEO's and experts intheir field who want to help others by sharing their story or proven success system and offer tips to readers to change their lives for the better. FINALLY-- get your book out of your head or transferred from idea or notes into an inspirational and informational book (and media series -- CDs, MPs, Videos and more.
YOU CAN DO THIS -- Joyce Schwarz, bestselling author, speaker and consultant will guide you step by step through her amazing FAST TRACK publishing process.....she has worked with more than 100 top speakers, authors, experts and corporate and startup leaders.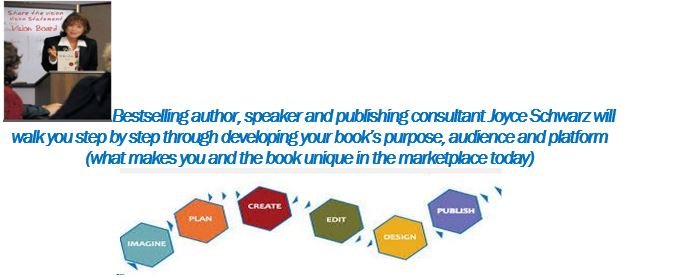 BE IN A BESTSELLER: Joyce will walk you through the stages of your book from idea to purpose to audience to creation, editing and publishing Imagine how wonderful it will feel to have YOUR chapter published in a bestselling motivational book with the opening by Brian Tracy and featuring other MAJOR VIP's.
STEP INTO THE SPOTLIGHT -- it's your turn to shine -- this is much more than just a chapter in a book -- it's your bridge to being recognized as one of the top experts in your field worldwide.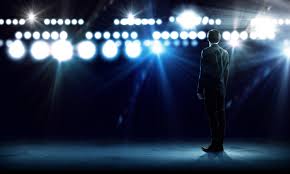 IF YOU QUALIFY
Joyce will work with you personally on:
*****Turning your idea into first a chapter then a book
****
Discovering the purpose of your book (and possibly other products)
***** Setting up your writing plan and providing sample chapters for you to model yours after in format and impact
*****Reviewing your chapter outline and later your book proposal and step by step chart to publishing
*****Editing your chapter or helping with one rewrite.
*****Picking a cover so your chapter can also be an ebook to sell immediately after you finish writing it.
*****Explaining how to self-publish or get a publisher for your books and other products.
*****Guiding you to success as a speaker, author and coach or consultant
GET READY FOR BIGGER SUCCESS NOW......

BE ON THE BACK COVER--- it may still be possible for two of our new co-authors to be on the back cover of the book!


THREE PUBLISHING PACKAGES:
YOU CAN CHOOSE FROM THREE DIFFERENT PUBLISHING PACKAGES:
SILVER, GOLD AND PLATINUM
SEE INFO BELOW -- call Joyce Schwarz at 310-822-3119 and she will help you make a decision as to which package is right for you -- or if you know already simply sign up on this site. joyceschwarz@gmail.com
SILVER PACKAGE:
- if you're on a budget but want to get started on your bigger success package NOW: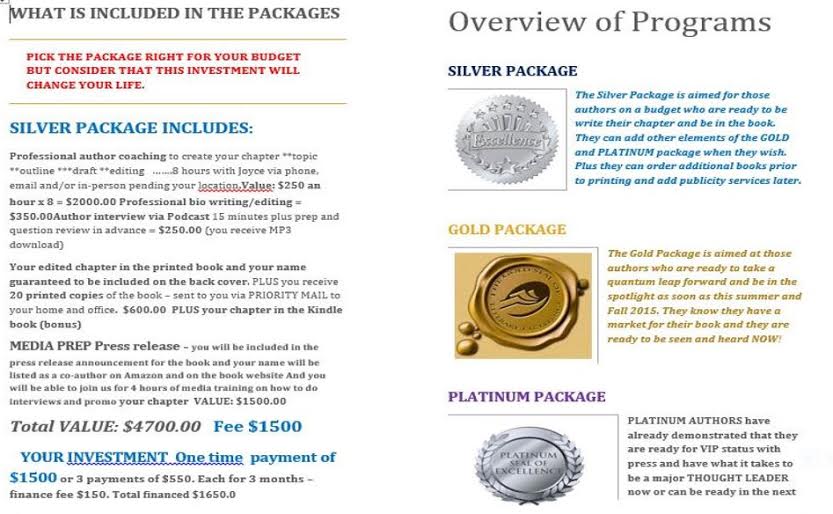 TAKE A QUANTUM LEAP FORWARD WITH THE GOLD PACKAGE --


....FUTUREPROOF YOUR CAREER AND BUSINESS with the PLATINUM LEVEL and be in the HEART OF SUCCESS INNER CIRCLE (you get invited to VIP functions/VIP calls with our Celebrity experts and a special Secret Facebook Group exclusively for YOU.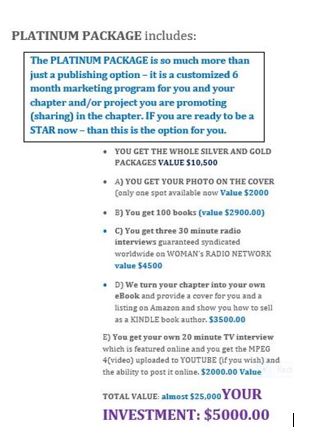 SIGN UP BELOW HERE or call Joyce Schwarz, 310-822-3119 to set up an appointment to go over the packages now-- WARNING -- this will sell out this week -- my phone has been ringing every half hour!
joyceschwarz@gmail.com