Sales Have Ended
Ticket sales have ended
Thank you for securing a seat at our Is Soulmate Real? singles event!
Sales Have Ended
Ticket sales have ended
Thank you for securing a seat at our Is Soulmate Real? singles event!
Start off 2022 by joining us at this guided meditation session. Reflect on the past year and learn how to connect with our inner wisdom!
About this event
The New Year can be a good opportunity for reflection and connection - with yourself and others.
Join us at this guided meditation session to set your intentions and start 2022 by connecting with your inner wisdom. Organised by True Love Compass (UEN: 53432879B) and Meditation Practitioners, Inner Friend.
<𝗛𝗼𝗹𝗶𝗱𝗮𝘆 𝗽𝗿𝗼𝗺𝗼𝘁𝗶𝗼𝗻> Get a $𝟱 𝗨𝗻𝗶𝗾𝗚𝗶𝗳𝘁 𝗨𝗹𝘁𝗶𝗺𝗮𝘁𝗲 𝗲-𝘃𝗼𝘂𝗰𝗵𝗲𝗿 when you secure an event ticket from today 𝘁𝗶𝗹𝗹 𝟮 𝗝𝗮𝗻𝘂𝗮𝗿𝘆! The e-voucher will be issued 3 days before the event.
This event is for you if you are keen to gain wisdom about
Kicking bad habits you know are harmful to you
Improving yourself so you can attract the right people into your life
Finding a partner who you can clique and connect with
The session will include facilitated exercises on the following:
Reflecting on 2021 and turning your experiences into inner wisdom
Letting go of the negatives to feel lighter and happier
Connecting with yourself and observing what matters most to you
Setting intentions for 2022, and an action plan on achieving your life goals
Making new connections and sharing of ideas with other singles
Class Details:
Date: 9 Jan 2022, Sunday
Time: 9.30am - 11.30am
Place: 66B Race Course Road Level 3, Singapore 218570 (5 mins walk from Little India, Exit E)
Class limit: Only 12 seats available
Ticket Price: S$34.90 (before EventBrite fees)
Refund Policy: Refunds can only be done up to 7 days before the event starts
About the Instructor:
Li Xuan is a meditation instructor and emotion wellness coach. She has worked with over a thousand people in Southeast Asia, and specializes in enabling people to feel relaxed and in tune with their inner self that brings alignment and peace through meditation, coaching and sound/energy healing. Personally, she enjoys connecting with nature, having deep and sincere conversations with her loved ones, and being in quiet reflective moments.
About Inner Friend:
Inner Friend was founded by three friends who connected on inner work, and provides a safe and conducive space for people to connect to their inner selves, heal the heart space and manifest their dreams in life.
What Past Participants Say:
Li Xuan has a calm and peaceful presence as a meditation instructor. Her gentle and steady approach keeps us grounded during the meditation, and her passion in helping others made me feel well supported to clearing issues that I had with my sleep. She's the real deal 🙂
- Ying Ling, UX Designer
"I've been attending meditation classes led by Li Xuan for more than a year. It has been extremely helpful especially during the pandemic period. The regular meditation practice led to more awareness of how "negative" emotion state blocks opportunities in life. With that mindful shift, I am able to move out of my comfort zone to take on bigger challenges in personal and professional space."
- Florence, HR Partner
"It drastically helped me with the challenging year I'm going through. I learned to step back from inner small problems and lot of stress, which helps me to focus on the bigger picture of things and life. I highly recommend the experience to anyone seeking for calm, clarity and energy."
- Bastien, Software Engineer
"I really feel very recharged and refreshed after the meditation sessions. I feel much more connected within and positive. I highly recommend these classes."
- Sanjana, Software Engineer
Please like our True Love Compass Facebook page and be kept informed of more exciting events coming your way.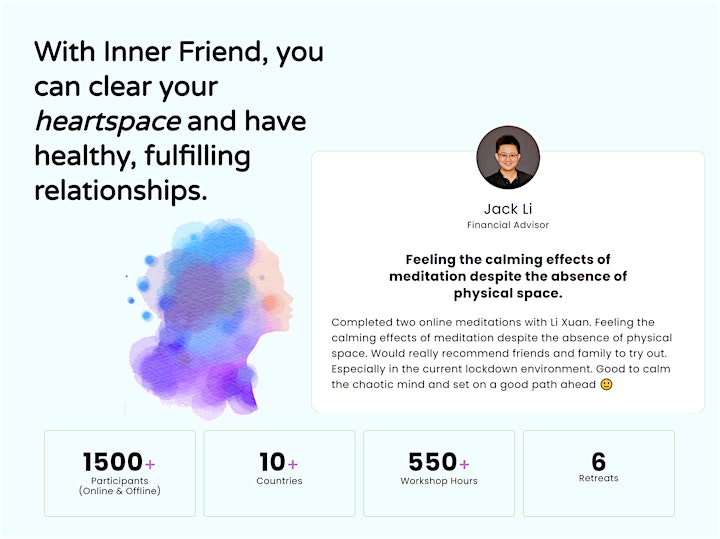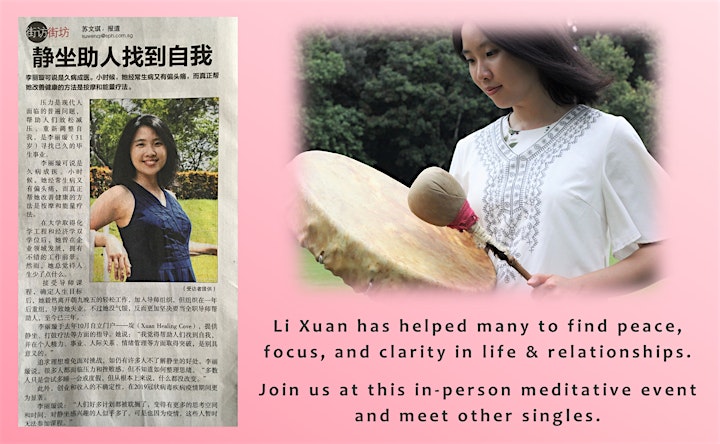 Organizer of Last Call> Connect with your Inner Wisdom| A Meditation Session for Singles
Speed Dating Specialists | Meetup Organisers | Dating Company in Singapore | Social Platform Developer
True Love Compass was incorporated in Singapore in 2020. UEN: 53432879B
As Meetup organisers with 15,000+ members in our community, we are committed to bringing together more singles in Singapore via events hosted by True Love Compass, in collaboration with our expert Image, Branding, Relationship, and Personal Development partners. First time joining our events? Check out our Event FAQs here: http://tlc-dating.com/?page_id=473