"Last Call" CEU Update - October 18 (Price increase after Oct 15)
Description
Get your CEUs (2 for each category):
Fumigation
Termites
Mosquitoes & Bed bugs (GHP) (Comm GHP; Lmt. structural)
IPM in the Landscape (Pvt. Applicator; Ornamental & Turf; Right-of-Way; Limited Lawn/Ornamental; Lmt. Comm. Landscape; Comm Lawn/Ornamental)
Core (482 or 487)
TIP: Select all your classes before going to checkout.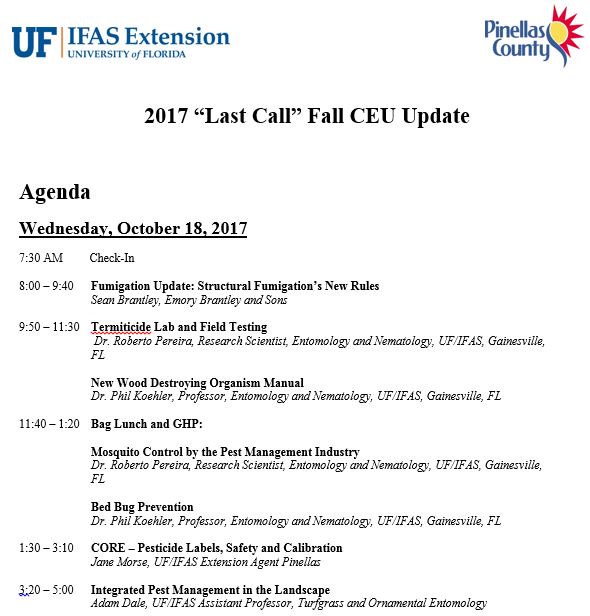 _________________________________________________________________________________
Pinellas County complies with the Americans with Disabilities Act.
If you are a person with a disability who needs any accommodation in order to participate in this class
you are entitled, at no cost to you, to the provision of certain assistance. Prior to two working days before class, please contact the Office of Human Rights, 400 South Ft. Harrison Avenue, Suite 500, Clearwater, Florida, 33756, (727-464-4062)
Minimum class size required is 10. You will be notified at least a day in advance in case of cancellation.
FAQs
Do I need to print the ticket?
No. Only if you are taking someone else's place then print the ticket.
Can someone else take my place?
Yes. Please bring a printed ticket of the person they are replacing.
Are there ID requirements or an age limit to enter the event?
Drivers license or equivalent. Must be an adult.
Are there any special instructions for parking or attire?
The room is often chilly so dress in layers. There are no special parking instructions.