Multiple Dates
Lash Artist Classic & Volume Training - 1 Day Certification
Event Information
Refund policy
Refunds up to 7 days before event
Eventbrite's fee is nonrefundable.
ALL COURSES INCLUDE A CERTIFICATE OF COMPLETION & A FREE ($200) KIT! ​​CLASSIC & VOLUME LASH TRAINING for only $750 *We keep our class size
About this event
ALL COURSES INCLUDE A CERTIFICATE OF COMPLETION & A FREE ($200) KIT!
​​CLASSIC & VOLUME LASH TRAINING for only $750 
*We keep our class sizes small between 1-4 students to provide more attention to each student.  COVID-19 Precautions being taken, social distancing and sanitation of our studio throughout the session, masks worn by all, temperatures taken prior to class.
Reserve your seat today!!!
​1 Day (8 Hour) Lash Training​
Taught by our 4x Certified Lash Artist and Certified Master Trainer Lucy!  Over the past few years has serviced over 2,000 clients while managing 2 Lash & Brow salons.  When picking a Trainer make sure you pick one that has the successful track record!  She will show you the tricks and tips of the industry, saving you time and frustration that she had to go through when she first started out.  We may not be the cheapest, but when you save money on cheap lash training, you pay for it later.  We show our students how to provide lash quality to help retain clientele.  Make supplemental income right away, or eventually make this a career for yourself making upwards of 100k or more a year with dedication!!!  
​Includes:
·  Classic Lash Pro Certificate of Completion
·  Hands-on Training – Prep Lashes, Volume and Classic Lash application technique, Lash Removal
·  Theory & hands-on covering sanitation, allergies, products, incident management, business tools & more;
·  Included Kit ($200 value) with tweezers, primer, remover, lashes, adhesive, microbrushes, wands, eyepads, etc.
·  Template client forms to customize with the liability waiver, disclosures and after care instructions.
·  Access to discounted Laveda Lash products
·  Free Access to phone or email advice with your Master trainer after the class to assist with your continued success.
​Bonus * Live Model included for FREE so you can practice your skills!​
Right after completion of this Course, on day one, you will have the knowledge and ability to start working on lashes for clients and building a foundation for a career in the profitable and exciting lash industry. 
Of-course we encourage continual practice to perfect the techniques we will show you.  Perfection comes with practice.  These techniques can be practiced at your home with training strips and mannequins.
www.lavedaboutique.com/lash-training
​Laveda Lash Training Curriculum
​1st Half of Class
Introduction
Lash Types \ Mapping \ Eye Shapes
Natural Lash Growth, Topics on Reactions, Infections and Allergies
Safety and Sanitation Guidelines
Adhesive Use
Pre-Care and Consultation \ Post Care Instructions
Description of Kit (Lash Primer, Lashes, Adhesive, Lash Sealer and tools)
Demonstration - Prep, Set, Place, Separate
Lash Strip Practice \Lash Application on Mannequin
2nd Half of Class
Lash Strip Practice \Lash Application on Mannequin
Lash Retouch
Lash Removal process
Troubleshooting (Typical Client issues during and after)
Intro into Advanced Lashing
Photo & Certificate of Completion
Take Home-Kit and Follow-up material
FAQs
Q: Besides the training, what else is included in each course?
A: All students will receive a manual and a fully stocked Lash Kit to the value of $200 with products that you will use everyday. Also, a Live model will be included at no additional charge. In addition, lifetime support for any Lash advice or consultation as you progress through your lash journey.
Q: Do I have to pay in Advance when I register?
A:  We only require $200 to reserve your seat for our eyelash course.  This deposit goes toward your training.  It costs for us to secure your seating, this is the reason for the non-refundable.  Upon the day of the course the rest of balance for that session must be paid.  
Q: What will I receive after completing a training course?
A: After successful completion of one our training courses students will receive a "Certificate of Completion" issued by Master Trainer Lucy Enkh.  The Lash Certification will be issued after the 1st day, however we have an 2nd half day which is optional and involves working our a live model, but highly recommended and is at no additional cost.  We encourage all our students to take advantage of this to help solidify what you have learned.
Q:  When is the Live Model provided?
A. The live model is provided at a later date based upon your availability. We set aside 4 hours for the model. We decided to do this on a separate day to allow our students the opportunity to take what they have learned and go home with their kits (provided) and practice.  This will allow for a better and more encouraging experience when time to apply the techniques on the live model.  We suggest at least a few days of practice and we can have a live model ready.  Our trainer will be available to assist and guide during this time.  
Q: Do I need any previous experience for this training?
A: No, there are absolutely no prerequisites to attend in terms of having a background in beauty related industries as we have students enroll from all walks of life, but keep in mind if you are serious about this profession, you need to continue to practice after the training. Please refer to your State qualifications, as each state is different and may require additional requirements in order to do lashes.
Q: Where are your classes being held?
A: Our training classes will vary based upon the number of students registered for each class, however the location will be in the local Hyattsville and College Park area.  We will provide the exact location prior to your class start date.  For small group sessions, we conduct training at our Lash boutique shop at 5616 Baltimore Ave. Hyattsville, MD 20781.
​Q: Can I really learn how to Lash in 8 hours?
A: With our fast-paced, yet focused curriculum that is geared to practical application and what you need to know, we are confident that you will have a good understanding and ability to apply lashes and more.  We cover what you need to know to start doing lashes right after you leave our training.  You learn from one of the best in the Industry, 4x Certified Lash Artist and Master Lash Trainer. Also, we cover the common mistakes that new lash artist makes, and we help you to avoid them by addressing it.  We consider our training to be the best eyelash training course in the DMV area. We encourage practice after our training and we give you what you need to continue perfecting your skills. 
Q: Why is the price for Lash Training expensive?
A: Lash technician training typically varies from $500 to $1000 or more, we try and make this training affordable for everyone.  When you take in consideration that with just a few clients that you would start working on, the cost pays for itself and can help provide supplemental income or become your primary income for you and your family.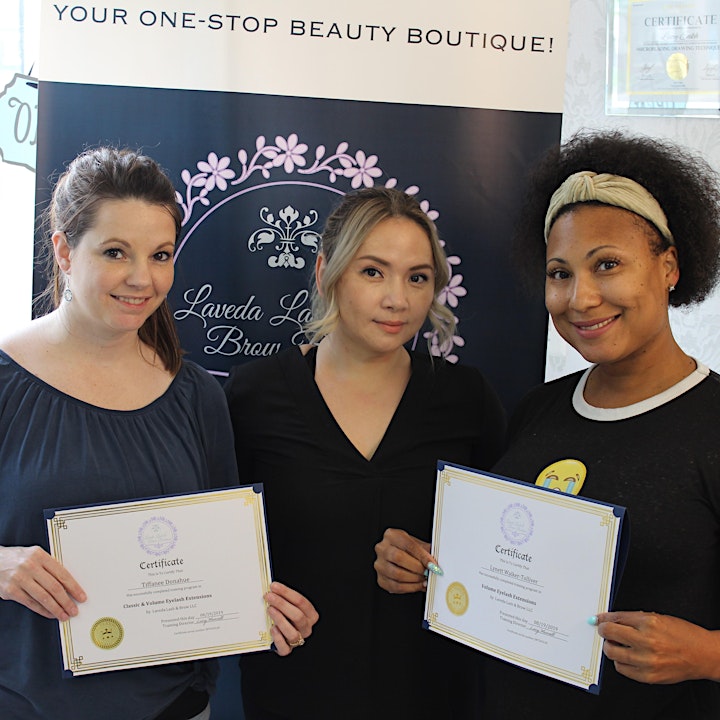 Location
Refund policy
Refunds up to 7 days before event
Eventbrite's fee is nonrefundable.
Organizer of Lash Artist Classic & Volume Training - 1 Day Certification
"Laveda Lash & Brow Boutique is recognized as the TOP Beauty Experts for all of the Prince Georges County, Maryland and Washington, DC regions and is featured on the TOP Doctors Interviews which are seen on CNN Headline News, MSNBC, Oprah Winfrey Network, BRAVO and other networks"​
Since 2018, Laveda Lash Brow & Boutique has served thousands of clientele. Our Beauty salon in Hyattsville is located in the Arts District in the area's most exciting retail destination just two miles from DC and within two miles of two Metro stations. Our DC location, now open, 2200 14th St. NW DC is located on the corner of 14th and W in Northwest Washington D.C. and is our 2nd full service beauty salon offering top end luxury manicure \ pedicures, lash extensions, lash lifts and microblading \shading.
The Owner & Co-Founder Lucy has been in beauty industry for 16 years & became a Licensed Esthetician in 2013 and a Master Lash Trainer. She has been polishing her skills by attending various advanced trainings for skincare Microdermabrasion, Peels, Dermaplanning and is a Master Lash Trainer, 4x Certified Expert Eyelash Artist for Classic & Volume application & a Certified Microblading Technician. Over hundreds of satisfied clients with MicroShading Ombre Brows, Microblading, Shading, Classic and Volume Lash Extensions, Lash Lifts, Lash Tint, Brow Tints, and Facials. Lucy has built her own Laveda beauty brand which was inspired by her deep passion to deliver excellence to the beauty world. To be a successful beauty guru and a stand out female entrepreneur, she chooses to provide exceptional services, personalized care and go beyond the needs of the customer to maximize their lash and skin care health.
Years of experience and learning motivates her to achieve the best out of this industry in the face of happy and contented customers.