Description
LASERs are FREE and open to the public.
The K-State LASERs are held monthly during the Fall and Spring semesters.
Speakers:
Carolyn Blocksome, Department of Horticulture and Natural Resources, K-State
Linda Duke, Beach Museum, K-State
Celka Straughn, Spencer Museum of Art, University of Kansas
Carlos Castellanos, Department of Art, K-State
If you are interested in presenting at an upcoming LASER, please email Carlos Castellanos: ccastellanos@ksu.edu
If you would like to be notified of upcoming LASER events, please sign up for the LASER Announcements list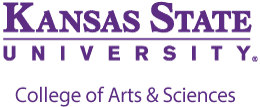 The Leonardo Art Science Evening Rendezvous (LASERs) are a national program of evening gatherings that bring artists and scientists together for informal presentations and conversation with an audience. The K-State LASER series is co-sponsored by the The College of Arts & Sciences, DX Media Program, and Department of Art, Kansas State University and Leonardo/ISAST, the International Society for the Arts, Sciences, and Technology. LASERs foster community and discussion around the intersection of art and science, serving as a platform for the dynamic cross-disciplinary conversations necessary to generate innovative ideas and perspectives. The thoughts and opinions expressed in the LASER events are those of the panelists and speakers and do not necessarily reflect the positions neither of the The College of Arts & Sciences, Department of Art, Kansas State University or Leonardo/ISAST.
---
The mission of the LASERs is to provide the general public with a snapshot of the cultural environment of a region and to foster interdisciplinary networking. For details about other LASER events please visit us online or contact us.