Description
LASER // Conversations in Art and Science
The Leonardo Art, Science, Evening Rendezvous (LASER) talks at UC Davis are evening presentations that engage the public as participants in conversations with artists, designers, scientists, and technologists making significant contributions to their fields. The evenings are designed to encourage unexpected juxtapositions between seemingly unrelated projects, facilitating the interdisciplinary conversations that engage the challenges of the 21st century.
---
LASER 02 // Thursday, March 9, 2017
Art Annex Main // UC Davis Main Campus (campus map: http://campusmap.ucdavis.edu/; nearest visitor parking is Lot 5)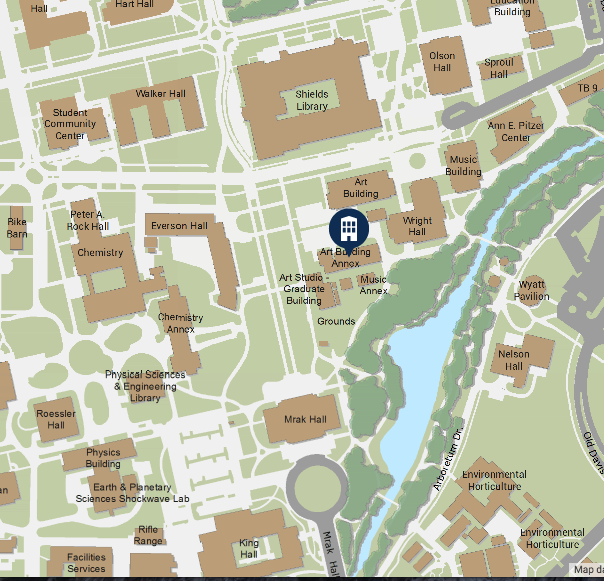 Admission free; Reservations recommended //
6:00pm Door
6:30pm Speaker presentations
7:15pm Conversation followed by Rapid Fire Community Sharing

Refreshments will be provided.
---
Cy Keener//
Cy Keener is an interdisciplinary artist focused on creating field recordings of natural phenoma and experiential representations of these recordings. Keener is currently a lecturer at Staford University, and an Affiliate Resident at Autodesk's Pier 9 workshop, where he is creating data buoys to capture wave dynamics and sea surface temperature in the Pacific Ocean. He has an MFA in Art Practice from Stanford University and a Masters of Architecture from the University of California, Berkeley. His installations coax strings of numbers into immersive environments of light, space and sound. He has completed commissioned installations for Stanford University, the Scottsdale Museum of Contemporary Art, and the Rubin Center for the Visual Arts at the University of Texas, El Paso. Keener will share reflections on the role of data collection in art through the context of recent projects. http://www.cykeener.com/
Lillian Cruz-Orengo//
Lillian Cruz-Orengo is an Assistant Professor at the School of Veterinary Medicine-Anatomy, Physiology & Cell Biology, UC Davis. Her research focuses on the impact of environmental exposure and sexual dimorphisms on blood-brain barrier function and neuroimmune interaction, particularly with regards to the central nervous system autoimmunity. Do sexual dimorphisms matter to human health? For centuries, biomedical research was "androcentric." The extensive focus on women's health, which roughly began in 1990, brought forward new scientific questions and ideas for research in the field. She will share with you some provocative glimpses about the triad of sexual dimorphism, autoimmunity, and Multiple Sclerosis (MS). ?http://www.vetmed.ucdavis.edu/faculty/results.cfm?fid=22185
Fiamma Montezemolo//
Fiamma Montezemolo is both an artist (MFA, San Francisco Art Institute) and a cultural anthropologist (Ph.D, Universita' degli Studi Orientali di Napoli). She is an established scholar in border studies and an Associate Professor in the Department of Cinema & Digital Media at the University of California, Davis. She works mainly with installation and video. Her artwork has been widely exhibited both nationally and internationally, and she is represented by the Magazzino gallery in Rome. She authored and co-authored several articles and books, among them: Tijuana Dreaming: Life and Art at the Global Border (Duke U. Press), Here is Tijuana (Black Dog Publishing). She will be discussing her work in between Art and Anthropology with a special emphasis on border-related methodologies.
http://www.fiammamontezemolo.com/
---
Event sponsored by HArCS, College of Agriculture and Environmental Sciences UC Davis and Leonardo/ISAST.
Organizer of LASER Talks 02 at UC Davis
LASER (Leonardo Art Science Evening Rendezvous) is Leonardo/ISAST's international program of evening gatherings that bring artists and scientists together for informal presentations and conversations. There are over two dozen LASER Talks world wide including four in the San Francisco Bay Area. 
Please visit us online for more information about our programs and opportunities including becoming a LASER host.