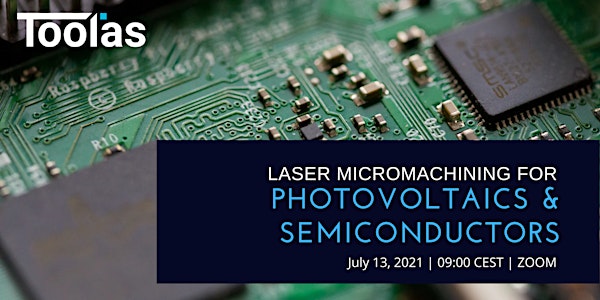 Laser Micromachining for PHOTOVOLTAICS & SEMICONDUCTORS
Seminar on advanced laser micromachining solutions for photovoltaics and semiconductors
About this event
Laser micromachining cluster TOOLAS is holding series of online seminars dedicated to laser micromachining technologies, insights, and applications. The purpose of these events is to catalyze cross-sectorial applications and new product development.
The upcoming seminar will be focused on the advanced laser micromachining solutions for photovoltaics & semiconductors.
The event is designed for tools manufacturers (integrators) for semiconductor microelectronics and photovoltaic industry, representatives of semiconductor microelectronics and photovoltaic industry, manufacturing process developers in all meanings: technical-technological solutions, optimization, innovations, decision and/or advice makers, and others interested.
Speakers are representatives of Ados-Tech, Evana Technologies, Modern E-Technologies, Workshop of Photonics, Lightdensity & Center for Physical Sciences and Technology.
Please register by July 12, to receive the Zoom link before the event. The event is free of charge.
If you have any questions, please contact marija@toolas.eu (Marija Tunkevičiūtė).
Program (EEST time)
10:00 – 10:05 Participants join the event channel
10:05 – 10:10 Organizers' intro
10:10 – 11:40 Presentations (after each presentation 5 min. Q/A)
11:40 – 12:00 Closing remarks
Please note that footage will be taken throughout online seminar Laser Micromachining for Sensors and Micro Medical Devices. Video material will be used for marketing and publicity in our publications, on our website and in social media or in any third party publication. Please contact the event organiser if you have any concerns or if you wish to be exempted from this activity.
Previous events
Future events
Laser Micromachining for AUTOMOTIVE
Laser Micromachining for PRECISION OPTICS PRODUCTION
Laser Micromachining for CONSUMER ELECTRONICS