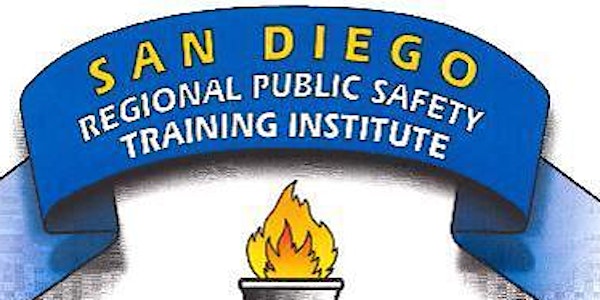 LASER (LIDAR) OPERATOR COURSE (8 HOURS)
Laser Operator (LIDAR) Course - 8 Hours
When and where
Location
Miramar College - San Diego Regional Public Safety Training Institute 10440 Black Mountain Rd San Diego, CA 92126
About this event
 SAN DIEGO REGIONAL PUBLIC SAFETY TRAINING INSTITUTE
AND SAN DIEGO SHERIFF'S DEPARTMENT
COURSE:                      LASER (LIDAR) OPERATOR COURSE  (8 HOURS)
                                                        (Meets 40802 CVC requirements)
 DATES:                   2022: November 21st             (4690-23320-22-001)
2023: May 18th (4690-23320-22-002)           
TIME:                        0700 - 1600
LOCATION:            Miramar College - San Diego Regional Public Safety Training Institute
                              10440 Black Mountain Road, San Diego, CA 92126
                                   Room A - (TBA)
RESERVATIONS:        https://laser-lidar-operator.eventbrite.com 
COURSE CONTACT INFORMATION:
Deputy Michael Guerrero
San Diego County Sheriff's Department
Desk # 760-510-5048
michael.guerreroR@sdsheriff.org
REGISTRATION:      Course registration will begin promptly at 0700 hours on the first day of class.
COURSE CONTENT:   Students will be taught the proper use of RADAR-Laser (LIDAR) in traffic enforcement.  The class also includes the history and theory of Laser and meets CVC 40802 requirement for Laser speed enforcement.  This class will provide the students the necessary skills and certification to operate Laser for traffic enforcement.
PREREQUISITE:   Students are required to have successfully completed a POST RADAR Class or its equivalent.
CERTIFICATION:     This course is certified under P.O.S.T. Plan IV. Class hours are mandated by P.O.S.T. and full participation is required for certification.  Completion certificates will be awarded.
TUITION/CREDIT:   0.2 lower division semester units will be awarded for completion of this course (ADJU 366). Tuition is $9.20 per student. Agencies/students can pay at time of registration on the first day of class or the agency may be billed (***** SDSO student's tuition is covered by Sheriff's Training budget *****). California non-residents will also be charged a tuition fee of $307 per unit. There may also be a $20 medical insurance fee, which is waived if you are currently employed by a Law Enforcement agency. Students are expected to be honest and ethical at all times in their pursuit of academic goals. Please refer to SDCCD Procedure 3100.3 for more detailed information.
EQUIPMENT/SUPPLIES:    Students will need the following items in class: pen/pencil and note paper. A student book will be provided electronically. Students will need to either print their own book or bring a tablet/laptop computer.. Students should bring a department issued Traffic Enforcement LASER (i.e. LTI 20-20, Kustom Pro-Laser, Applied Concepts, Laser Atlanta, etc.) if available.
DRESS:     Casual clothing is appropriate. No shorts, sandals or flip-flops. Outside practical exercises will be conducted regardless of weather conditions.
PARKING: Parking is available in the Student Parking Lot (upper lot) and parking structure at Miramar College. Parking permits are required and will be issued the first day of class at the time of registration. The permit must be displayed on the vehicle dashboard. Any vehicle not displaying a permit will be cited. Do not park on Campus Point Drive, any Staff spaces and/or the parking lot next to the "A" building. This area is reserved for staff and faculty by permit only. Marked and unmarked law enforcement vehicles are not exempt. Additional parking is available on Gold Coast Drive without a permit.