Description
Laser cut ornament workshop
Design and create your own laser cut holiday ornaments in this 3-hour workshop. No laser cutting or design experience necessary. All materials included.
This is a great class to take if you want to get experience with laser cutting. Laser cutters are the perfect tool for creating personalized gifts and decor, and it's not as complicated as you may think!
If you enjoy the workshop, you can take MakerLab's LaserLab 101 orientation class to be able to run the machine yourself.
Class outline
Overview of how laser cutting works and how to design for the laser cutter
You will create some designs or choose some from from our design library
We will work together to edit the designs on the computer
We will cut your designs onto birch plywood or solid cedar
Add some string to hang them
Cedar ornaments
Locally sourced cedar, 1/4", great for a natural look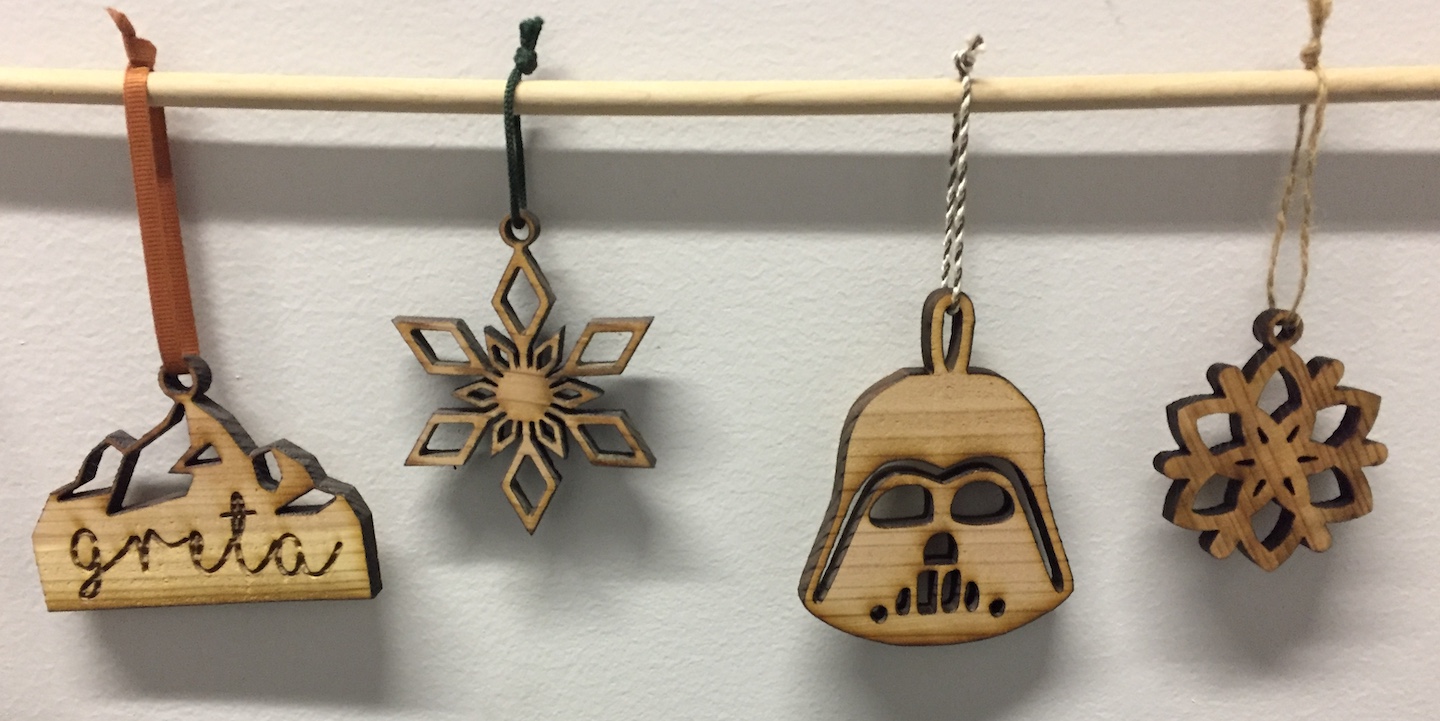 Birch plywood ornaments
Thinner, 1/8", better for painting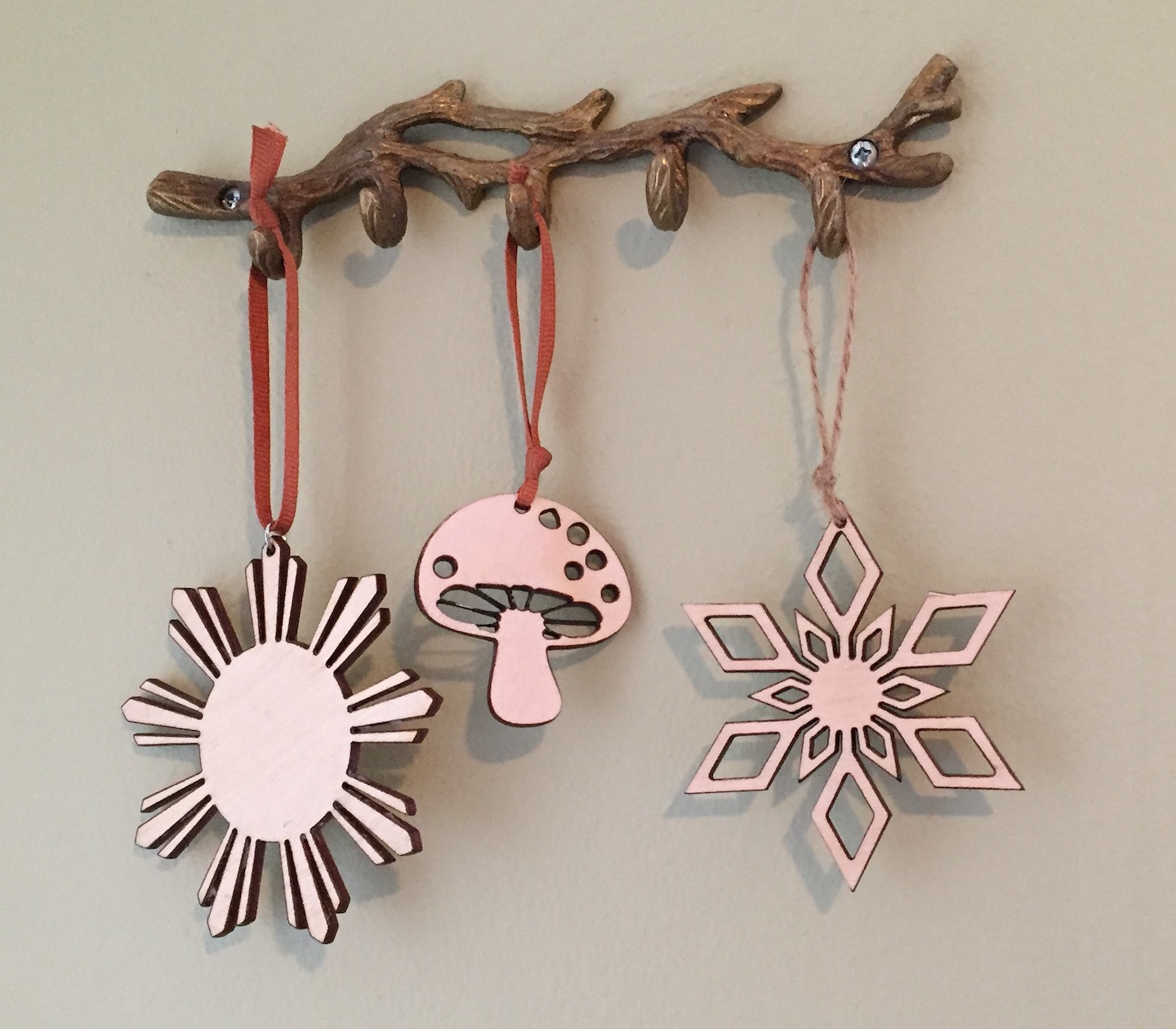 Other details
You will have material and time to create 5 - 10 ornaments with the option to have more copies cut after the class at $5/ornament.
We will have a small selection of string and paint available if you want to decorate them, but feel free to bring your own supplies.
You can sketch or create digital designs (svg) before the class starts. Email files to ariannedee@gmail.com to make sure they will work on the laser cutter.
About the venue:
MakerLabs is Vancouver's largest makerspace. We provide the tools, space and know-how to allow anybody to create almost anything! MakerLabs (makerspace + fablab) was born out of a vision to create the best possible space for making.
MakerLabs is made up of 42,000 square feet of workshops, studios and common areas. The communal working areas include: a wood shop, metal shop, CNC router table, laser cutters, sewing machines and an electronics area. Each tool and work area have a corresponding class to teach people how to safely use each tool.
FAQs
I can't make any of these times. Will you be running any more sessions?
If you want to attend a workshop at another date, email me at ariannedee@gmail.com at least two weeks prior with your preferred dates and times. I have to book the laser cutter in advance and will get back to you with the dates that are free. Private sessions are $150 for 1-3 people and $250 for 4-6. If you have at least two attendees, I can make the event public and tickets are the regular $50.
Should I bring a laptop?
Sure! If you want to bring your own laptop with design software capable of creating SVG's (Inkscape or Illustrator), please do. If you have your own computer, you will have more time to create and edit your designs.
What supplies can I bring?
We will provide the supplies you need to make ornaments out of 3mm baltic birch plywood and 6mm cedar.
If you have another material you would like to laser cut, check with the organizers first. Acrylic and wood are great (6mm or less).
What if I've already done the laser cutter orientation at MakerLabs?
The hosts, Greta and Arianne, will be running the laser cutter for you in this class. If you want to attend the design portion of the class and then cut your own designs at a later time, please email ariannedee@gmail.com and we will take off $10 from the class cost.
How can I contact the organizer with any questions?
Email Arianne at ariannedee@gmail.com
Do I have to bring my printed ticket to the event?
No, just sign in as a guest at MakerLabs and they will direct you to the studio that the workshop will be held in.
Is my registration fee or ticket transferrable?
Yes. But please email ariannedee@gmail.com beforehand to update the name on the ticket.
What do I do when I show up?
If you are not a MakerLabs member, you will have to sign in as a guest at the front desk. The staff there will direct you to the studio after that.
Is there parking on-site?
Yes, there's a parking lot on the east side of the building (accessible if you're driving east along Cordova between Heatley and Hawks). You will have to register your vehicle's license plate when you sign in at the front desk.