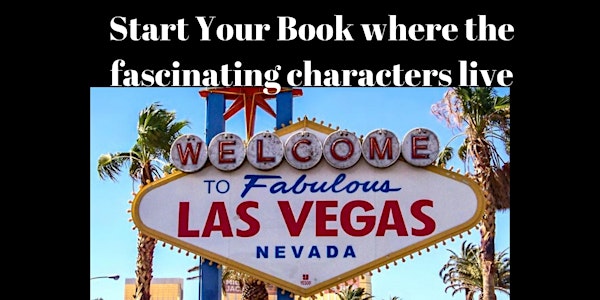 Las Vegas Writers Retreat
When and where
Location
Embassy Suites by Hilton Convention Center Las Vegas 3600 Paradise Road Las Vegas, NV 89169
Description
2 days in Las Vegas to develop you book idea
Bring Your Book Idea or your work in progress and learn from the best. A USA Today Bestselling Authors, And one of the 20 Iconic Authors according to Every Writer's Resource (1) how to write your book, Pitch to an Agent, and market it.
October 7th
Tour Vegas** - meet people, hear their stories, observe your surroundings and the people, then jot it all down, because you can use these notes to create a better story or fill out your idea for your book.
Arrive at the hotel at 3:30pm after a morning of creative inspiration and learn about writing from
1)A New York Times Bestselling Author about plot & Chat with the creator of Pitch Wars
-2)Learn how to market and use the media from the CEO of Now Hear This.
3) 18th Iconic Media Present Authors in the World will teach you how to get your books written about and how to appear on TV, domestically and internationally.
4)Learnfrom 2 publishers what they are looking for this year.
9)Poet of the Year Finalist of '18 &'19 will discuss giving your work flow, with imagery and poetic rhythm.
Day 1 Practical Application
Ask the panel any questions you want for 30 minutes, then break into groups with a panel member to discuss your work and practical advice for your work.
To Finish The Evening
After a long day, enjoy a cocktail and refreshments downstairs and network with the panel and your other fellow authors.
Add-on:
Enjoy a 30 minute one-on-one session to prepare for pitch sessions or get help with your work, review written works, or just read over you notes. Use this time for an intensive writing session.
Day 2
October 8th
Wake up and enjoy a leisurely morning in Las Vegas. Prepare your written works for a pitch session.
1 )Listen to a screenwriter and the director of numerous movies explain what she is looking for and how to pitch.
2) Learn from a production company co-founder and actor what the company will be looking to shoot as short films, television, or movies.
3)Do a mock interview before Wilnona and Jade record and broadcast your live interview about your book idea, your movie, your writings.
Pitch session
At 2:30 pm the pitch session begins.
Pitch a film producer.
Pitch a Hollywood director.
Pitch a magazine editor to get an article written about you or to write for the magazine.
Pitch a hybrid publisher.
Pitch a traditional publisher.
Chat with the professionals for a chance a mentor and chance at a literary agent/book publishing deal.
Sit for an interview with Reality TV and Film Talent Jade & Wilnona for a live broadcasted interview.
After a hard day of presenting your work, enjoy a cocktail and association with fellow authors or network with the director, producers, and publishers.
**Tours can be arranged for an extra fee.
publishers' names:

Indie United Publishing

AITL Media Publications




producer, (Tonya Todd)

Director (Bonne Barton)

Actor (Jarvis Orr) Stars in "Down South"



Panelist for the retreat.

Lisa Orban, publisher Indie United

Bruce Warzyneiack (CEO Now Hear This)

Wilnona Marie ( 18th most interviewed author)

Brandi Miller (40 Day Author/ Magazine editor)

Brenda Drake (NY Times Bestselling Author)

Jade Dee (Poet of the Year 2019)

Tonya Todd( Producer/Actress/Corrdinator for a spoken word event/ Educational Coordinator)
Joylynn Ross (Expert Make Money at Writing)