Actions and Detail Panel
Las Vegas Tap Festival 2017
Fri, May 5, 2017, 5:00 PM – Sat, May 6, 2017, 9:45 PM PDT
Description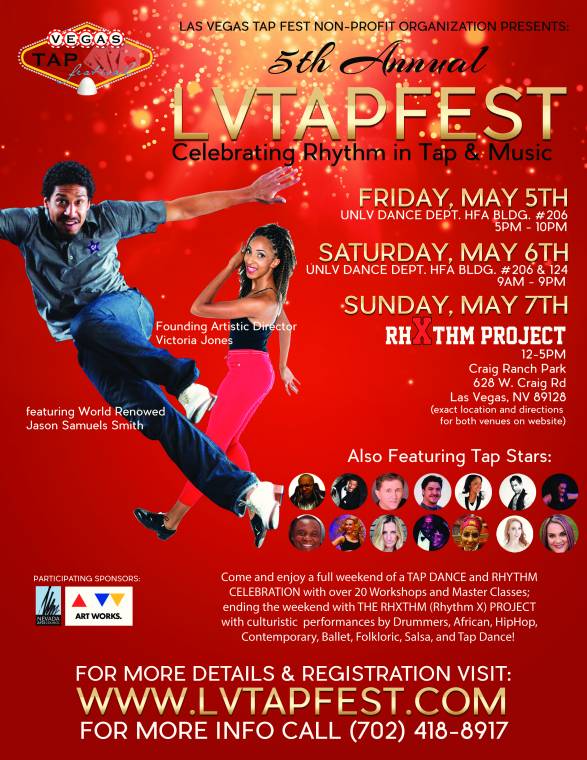 Las Vegas Tap Fest (LVTAPFEST) is the first tap dance organization to celebrate National Tap Dance Day in Las Vegas, building the community through American tap dance, education, and exposition. National Tap Dance Day is
The LVTAPFEST focus and calendar concludes with the honoring of National Tap Dance Day (May 25th).
National Tap Dance Day was declared in remembrance of tap pioneer Bill "Bojangles" Robinson and Las Vegas is celebrating the national dance holiday with extending the history of Las Vegas Entertainment in Tap.
There will be three full days of learning, exploring, challenges, history, repetition, dancing, and appreciating the form and art of Tap Dance. The Las Vegas Community will develop a stronger brand of tap dancers and will be welcoming tap dancers from all over the world.
The festival will honor the Late Greats Dr. Prince Spencer 98 and Dr. Bunny Briggs 92 who both recently passed away in the past few years. We will always push forth their legacy with Las Vegas Entertainment and the lives of the new generations.
Date and Time
Location
UNLV - Building HFA - Dance Department
4505 S Maryland Parkway
Las Vegas, NV 89154