Description
Angelbeat is hosting this comprehensive 1/2 day IT seminar at the conveniently located Westgate Hote, right off the Strip with free self-parking. World renown Microsoft evangelist Mark Hedley covers the latest developments around private/public/hybrid cloud architecture, when to expand internally and purchase more storage/data center equipment, versus renting capabilities/services from third party cloud providers, plus container/docker/virtualization options across Linux and Windows platforms. Chris Ard, Incident Response Team Leader at Microsoft, describes what happens within Microsoft when a major cyber-attack such as Wannacry occurs, and how Microsoft works to protect the applications and data of its customers/users. John Norton, enterprise architect at $10 Billion Barrick Gold, delivers an invaluable case study on how and why they embrace cloud computing. Trend Micro, Centrify, Silver Peak, Scale and Veeam provide additional insights on security, storage, and network/infrastructure.

Scroll down to see the full agenda - packed with fantastic content on top issues - and click on links to see company information and speakers' biographies. Content is pre-approved by Angelbeat and past attendees to maximize learning; click here to download presentation guidelines that are followed by all participants, which makes the program so worthwhile for technology professionals, business executives, etc.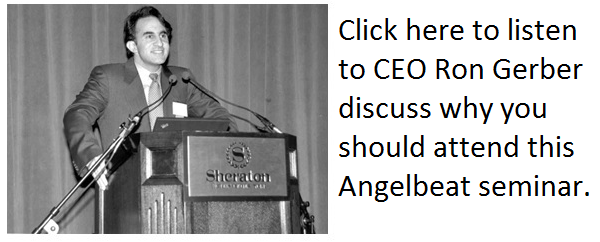 As one Walmart attendee states, "Of all the seminars I attend, your format is by far the best. Brief informative talks from vendors, followed by one-on-one time at their booth to find out more. I am out of the office for less than a day yet I have access to all the different solutions. This year I will follow up with two vendors." As another IT Director commented, "Thanks for hosting a very informative meeting with vendors that tied in well; it was an integrated picture of technologies that work together to create a complete infrastructure solution for the workplace."

Join your peers from Caesars, Scientific Games, Zenith American, Clark County, State of Nevada, University Medical Center, Clark County Schools, Lincoln Educational Services, Nevada System of High Education and many more organizations who are confirmed attendees.

Every attendee receives a delicious hot breakfast, complimentary WiFi, plus 4 CPE credit hours towards your CISSP or other certification. There are drawings for $100 gift cards and other prizes (must be present to win).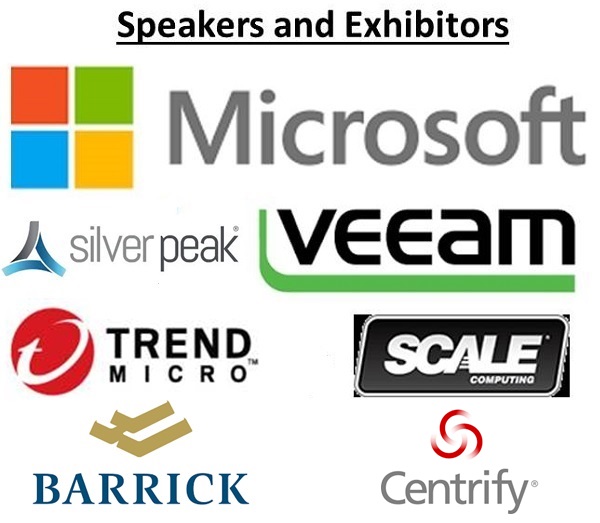 Agenda

7:30 - 8:40: Registration Begins, Hot Breakfast and Coffee Served, Exhibit Area Open with Product Demonstrations, Time For Peer Networking/Interaction

8:40 - 9:00: Microsoft Opening Security Keynote: Trusted Cloud Initiative
The Microsoft Trusted Cloud Initiative is a set of guidelines, requirements, and processes for delivering rigorous levels of engineering, legal, and compliance support for its cloud services, to ensure that customers/users can implicitly and explicitly trust its offerings. There are four key pillars that will be discussed during this highly relevant opening keynote by Microsoft's Chris Ard, Incident Response Team Leader:

- Security: Protecting you from external cyberthreats such as Wannacry. Microsoft takes your security very seriously and spends over a billion dollars annually on its security practices and technologies. Its comprehensive approach to security helps protect your data wherever it may be - in a datacenter, on a phone, on a desktop, or in transit through the Internet - when attacks occur.

- Privacy and Control: Giving you Control over Access to your Data. Microsoft fundamentally believes that user/customer data is their data, whether it sits in the Azure cloud or in their own datacenter. Microsoft invests heavily in technology development and practices to ensure that they can actively protect your privacy, plus provide customers/users with the necessary tools to control both the privacy and administrative aspects of its data in the Microsoft Cloud.

- Compliance: Unparalleled Investment in Meeting Global Standards: Microsoft's extensive experience working with the world's largest governments and enterprises, in the most highly regulated industries, has been transferred to its cloud services. Its investments in compliance-related technology, resources and staff ensure that Microsoft is proactively adopting new certifications and partnering with regulators and standards bodies to develop new regulation and standards, when they identify opportunities to increase digital privacy and safety.

- Transparency: Clear Insight into Policies and Procedures: Transparency plays an important role in developing trust. Microsoft works tirelessly to increase not only its own transparency, but the transparency of the industry and its regulators. Microsoft publishes reports detailing government requests for customer data, notifies individual customers when the government requests their data or applications when legally allowed to do so, and submits to a set of third-party audits and publishes the results for its customers.

9:00 - 9:20: Identity Management and Password Solutions/Alternatives from Centrify
Centrify is the leader in securing enterprise identities against cyberthreats that target today's hybrid IT environment of cloud, mobile and on-premises. The Centrify Identity Platform protects against the leading point of attack used in data breaches ― compromised credentials — by securing an enterprise's internal and external users as well as its privileged accounts. Centrify delivers stronger security, continuous compliance and enhanced user productivity through single sign-on, multi-factor authentication, mobile and Mac management, privileged access security and session monitoring. Centrify is trusted by over 5000 customers, including more than half of the Fortune 50.

9:20 - 9:40: The endpoint is NOT the only battleground with Trend Micro
There has been extensive growth in protection capabilities at the endpoint but is that enough? In this technical session, senior security engineer Keith Tarantino from Trend Micro will discuss the terminology of "next generation", explore true end-to-end threat intelligence, provide examples of how machine learning is applicable, and conclude with what it truly means to create a Defense in Depth plan, so that internal teams work together to provide a holistic approach towards maintaining a defensible environment.

9:40 - 10:00: Storage/Disaster Recovery/Backup in 15 Minutes for the Always-On Enterprise, plus Ransomware Solutions, with Veeam
The lightning-fast pace of technological innovation is forcing digital and physical worlds to collide — and it's also transforming the way organizations of all sizes operate, in every industry. This digital transformation can either make or break your business. Because, in the digital world, customers expect 24/7/365 Availability.

However, a survey of 1,140 senior IT decision makers revealed that 84% of CIOs can't meet today's 24/7/365 demands. With an average of 15 unplanned downtime events each year, this "Availability Gap" costs businesses an average of $16 million annually. And on top of the financial damage, there's often irreparable damage to brand reputation and customer confidence.

To help you address the challenge of this "Always-On Enterprise", Veeam enables you to achieve recovery time and point objectives (RTPO™) of less than 15 minutes, for all applications and data, through a fundamentally new kind of solution that delivers high-speed recovery, data loss avoidance, verified recoverability, leveraged data and complete visibility.

In mid-May more than 100,000 organizations, mainly in Europe and Asia, were hit with the devastating WannaCry ransomware attack. To recover from such an attack, the answer is not paying Bitcoin demands but instead restoring the most recent data. Click here to watch Angelbeat CEO Ron Gerber's video commentary and more insights on this critically important topic will be covered by Jim Mackey of Veeam.

10:00 - 10:20: Hyperconverged Data Center Infrastructure with Scale Computing
Scale Computing integrates storage, servers, and virtualization software into an all-in-one appliance based system that is scalable, self-healing and as easy to manage as a single server. Using industry standard components, the HC3™ appliances install in under an hour, and can be expanded and upgraded with no downtime. High availability insulates the user from any disk or server failure and a unified management capability driven by the patented HyperCore Software™, efficiently integrates all functionality. The result is a data center solution that reduces operational complexity, allows a faster response to business issues, and dramatically reduces costs.

10:20 - 10:40: Software Defined Wide Area Networks (SD-WAN) with Silver Peak
Geographically distributed enterprises are embracing SD-WAN at an accelerating pace. As applications continue to move to the cloud, networking professionals are quickly realizing that traditional WANs were never architected for a dynamic, internet-based environment and recognize that backhauling traffic from the branch to headquarters doesn't make sense. Furthermore, end users often find their business apps run faster over their home Internet service, or even on their mobile device.

During this technical session on this increasingly important topic, Ken Kirkman from Silver Peak will help you better understand how and why to deploy SD-WAN in your network infrastructure, covering the following topics:

- Address and overcome concerns around overall network performance, reliability and security
- Harden broadband internet connectivity for a secure SD-WAN
- Extend micro-segmentation from the data center across the WAN to securely connect users to applications and meet compliance requirements
- Eliminate latency and performance limitations of broadband
- Prioritize mission-critical applications and ensure that non-business/consumer applications that are bandwidth-intensive, such as Netflix, do not impact customer service
- Connect the branch securely and directly to SaaS applications and trusted web services using broadband significantly increasing performance
- Interoperate with existing routers and WAN infrastructure to migrate to SD-WAN at your own pace, or replace branch routers with an SD-WAN alternative for greenfield installations and router refresh projects
- Simplify management, configuration and expansion of branch offices with centralized management and zero-touch provisioning to lower OPEX and reduce configuration errors
- Lower overall WAN costs by up to 90%

10:40 - 11:00: Coffee Break, Product Exhibits and Demonstration Area Open, Peer Networking

11:00 - 11:45: Private/Public/Hybrid Cloud Strategies, Linux & Windows Containers, Integration with Microsoft Azure
In the opening part of this session Mark Hedley, world renown Technical Evangelist at Microsoft and a dynamic/engaging presenter, will discuss the strategic/financial tradeoff and decision-making process between expanding internal IT resources (capex, buying more network/storage hardware) versus using third party/public cloud/service providers (opex, renting these same capabilities).

Then more technical discussions, starting with the similarities and differences between a container and a virtual machine, followed by a walk through/demonstration of enabling, creating, deploying and managing Linux and/or Windows containers/resources. There will be an evaluation of when to use which containers, why and how. FYI, a container is an isolated and portable operating environment, often viewed as the next evolution of virtualization. It provides a mechanism for IT to deploy services in a portable, repeatable and predictable manner.

For those who are new to containers, this content serves as a jumpstart to accelerate your learning of containers. If you already have experience on Linux containers, the session familiarizes you with the specifics of Windows containers, plus helps bridge and extend your skills for bringing business value to both Linux and Windows communities.

The session ends with a detailed assessment of the top five new features in Microsoft's Azure cloud platform for 2017, and how to integrate your organization's public/private/hybrid cloud and container strategies.

11:45 - 12:10: Barrick Gold Cloud Deployment, Case Study: Security, Infrastructure, Enterprise Architecture, Financial Implications
John Norton is the lead enterprise architect at Barrick Gold, one of the world's largest mining firms with $10 Billion in sales. Mr. Norton will discuss Barrick's transformation to a digital-driven organization, where cloud computing is enabling "data mining" or analytics, to increase profitability, improve performance of mineral mining operations, and further enhance employee safety.

Insights from this end user case study is applicable across all industries - gaming, education, government, healthcare, corporate - and will be an appropriate conclusion to this informative seminar.

End of Speaking Sessions, Product Demonstrations and Exhibit Area Open, Raffle Prize Drawings for $100 gift card and other great items!

FAQs

What are Angelbeat's privacy and optin/optout policies
Each attendee acknowledges/understands that financial support from Angelbeat sponsors allows him/her to attend this event at no cost, and that the sponsors will be given your contact information 2 days after the event for follow-up email and telephone communications. All sponsors are required to provide you with an opt-out option, allowing you to be removed from their database

However each attendee can opt-out of sponsor follow-up by informing Angelbeat staff at the event, or by emailing Angelbeat immediately after the event, but before Angelbeat releases the attendee list to the event sponsors.

If you have any questions regarding Angelbeat's privacy policies and how your contact information is used, please contact CEO Ron Gerber directly at 516-277-2057 or at rgerber@angelbeat.com.

Who might be available to receive the special Promotional Code and free pass
There is a special promotional code, that will allow you to attend for free, that is limited and only available for end user IT professionals who work in the telecom/network/storage/security/data center/desktop/purchasing departments of corporations (private and publicly-held, large and small), universities, school districts, government agencies, hospitals/healthcare providers, pharmaceuticals, insurers, manufacturers, retailers, financial services/banks, real estate, legal/accounting/services, transportation/logistic firms, etc. and use, support, approve and/or are involved in or influence the decision to buy the products and services offered by our sponsors.

Reporters from major newspapers, websites and other media outlets are eligible for a free pass and must submit in advance their media credentials to the event organizer for approval.
All other individuals who are not end user, IT professionals must pay the registration fee.

In all cases Angelbeat reserves the right to accept or reject a registration at its sole discretion.

What are my transport/parking options getting to the event
Detailed driving directions will be sent out to all attendees one week before the event. There is complimentary self-parking at the hotel.

What is the dress code
Suggested dress is business casual.

What if you have special dietary needs/restrictions
If you have special dietary needs/restrictions, then please email Angelbeat below. We will do our best to accommodate any and all requests.

What if I am a government employee and cannot accept free meals and/or win raffle prizes
If you are a government employee and cannot accept free meals, then you can pay Angelbeat $35/person, to cover the cost of meals. Please contact the event organizer at registration@angelbeat.com to arrange payment.

Each sponsoring company/exhibitor handles its own raffle prize drawing; Angelbeat itself has nothing to do with these prizes and attendees are not automatically entered for any raffle prize drawing. Since each attendee must individually signup to win a raffle prize, then government employees (who are not eligible to win these prizes) can simply not signup for the drawing.