Las Vegas Real Estate Expo - Join Us for Networking, Education and Motivation

Saturday, October 22, 2016 from 9:00 AM to 5:00 PM (PDT)
Who's Going

Loading your connections...
3 of your friends are going.
Share it to get more people on board!
Share

Sara Haughty
San Francisco, California

Luke Picard
London, United Kingdom

Rick Vespucio
Florence, Italy
Event Details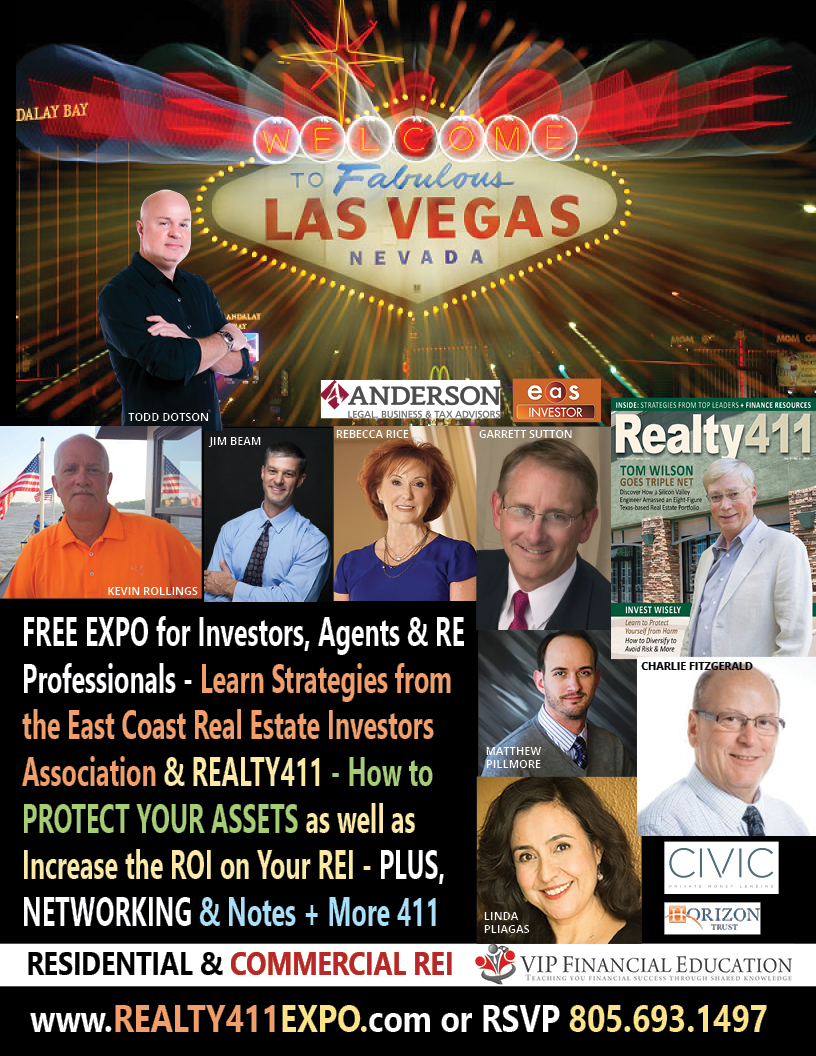 Garrett Sutton
Garrett Sutton has been in practice more than thirty five years. Garrett assists entrepreneurs and real estate investors from around the world to protect their assets and maximize their financial goals through sound management and asset protection strategies. Garrett is highly sought after as a guest speaker and serves as a member of the elite group of "Rich Dad Advisors" for bestselling author Robert Kiyosaki. Garrett has authored several successful books for business owners, including Start Your Own Corporation, Run Your Own Corporation, Writing Winning Business Plans and Loopholes of Real Estate. These books are part of the bestselling Rich Dad, Poor Dad wealth-building book series.
Garrett attended Colorado College and the University of California, Berkeley and obtained his law degree from Hastings College of the law, the University of California's law school in San Francisco. Garrett is licensed in Nevada and California. He serves on the boards of The American Baseball Foundation, based in Birmingham, Alabama and The Nevada Museum of Art and Sierra Kids Foundation, both based in Reno, Nevada.
LEARN ABOUT INVESTING IN SELF STORAGE WITH KEVIN ROLLINGS!
Kevin Rollings loves challenges. He has turned mediocre results into capitalizing solutions in the Self Storage Industry. His company, Self Storage Investor Academy (formerly Self Storage Facility Management), has been created to help aspiring entrepreneurs have a comfortable place to visit and be able to learn what a great investment self storage can be for them. They are able to attend a 2 day event that will show them how to acquire financing (if needed), management techniques for the facility and most importantly, the keys to profitability.
Kevin has 25 years of rental experience. After managing rental stores with Nationsrent for 15 years, Kevin was offered the position of Regional Director by the previous owner of the Alcatraz Storage Facilities located in the Indiana. Nine years later, amongst the facilities Kevin owns are three of the facilities he once managed.
He was recently appointed to the Advisory Board for Indiana Self Storage Association. He is a member of the Indiana Self Storage Association and on the board of advisors.
Kevin continues to expand in this bursting market throughout the United States. Kevin has managed over 1683 self storage units through his property management group. Since the purchase of three Alcatraz Storage facilities (Alcatraz Storage Brownsburg, Alcatraz Storage Muncie & Alcatraz Storage Fort Wayne) in just a short period of time and under his ownership he has taken the facility in Brownsburg to full occupancy. He has formed a strategic alliance with 2 other facilities to send customers to their facilities. Muncie is the newest acquisition and is at 72% occupancy, but up 32% since purchase. Fort Wayne has climbed to 94% occupancy from a start of 62.3%.
The Brownsburg facility has won best storage facility in multiple years. Kevin also enjoys being involved in the local communities where he has self storage facilities. In Brownsburg, he participates in the local Christmas parade; sponsors ball teams and works with Wounded Warrior and Jacob's Place. At his Alcatraz Storage Ft. Wayne location he works with Pet Paws Rescue and the Alcatraz Storage facility in Muncie works alongside A Pet Rescue Center.
Starting as a self storage manager has given Kevin real personal experience in the self-storage business. Kevin wants to help others achieve success, like his good fortune in Self Storage, by sharing his profit-turning skills with other self-storage investors, managers and owners.
Kevin says, "There is plenty of success possible in the self-storage market if you know where to find the best deals. The key is to understand the current market and the people who participate in it at every level. That ranges from who is selling and why, all the way to your potential customer. It also involves understanding the ebb and flow of the current economic situation throughout the country."


Kevin was Athletic Director for his local Church, St. Malachy and its school for a number of years. He has coached for 27 years. His love of competition and teaching come together in coaching young people in a wide variety of sports. He also enjoys coaching adults too. All three of his children (Kevin Jr., Jason and Lindsay) have not only been a very supportive family but a source of great pride for Kevin. Both of his sons have served the country in the Air Force and the Army. His daughter has just completed her freshman year in college and has started a group to help people in need.
Kevin brings to the investment world a "new" approach and way of learning that is both refreshing and honest! He's not your suit and tie speaker — he's in the trenches and loving every minute of it! Kevin's love of sports has him involved with coaching kids and adults! A loving father, a mentor, a trusted friend, a military father and a true desire to TEACH and TRULY GIVE back the blessing he has had with Self Storage and wants you to SUCCEED without breaking YOUR bank!
CHARLIE FITZGERALD
Charlie Fitzgerald, is Branch Manager and Account Executive with CIVIC Financial Services. Charlie has been in the banking and finance industry for over 25 years, and has been in the Mortgage Lending arena for the past 16 years. He believes that his primary responsibility with his clients is to be their advocate throughout the lending process, and to make sure that his company is delivering superior customer service at each step of the lending process. Additionally, setting the right expectations for his clients is vital.
Charlie has always believed it is better to under-promise and over-perform, rather than the opposite. Charlie is available to his clients, investors and Real Estate Partners 7 days a week.

CIVIC FINANCIAL SERVICES OFFERS:

Specialized Products.
Straightforward Terms.
Exceptional Service.

We're a private money lender, specializing in the financing of non-owner occupied investment properties. Civic provides Mortgage Brokers, Borrowers, Investors and Real Estate Agents with funding for investment property acquisition and refinancing. We use our own institutional capital to provide business purpose loans for clients that seek to:

Fix & Flip
Buy & Hold
Rate & Term
Cash Out & Refinance
Bridge Financing
Wholesale Financing

With a specialized set of market competitive products, Civic makes possible the ability to acquire multiple properties and gives investors leverage over their cash position.

The Civic Difference

COMMON SENSE LENDING
We won't make you jump through hoops to get access to financing. If your investment makes sense, we will finance it.

RELATIONSHIP BUILDING
This is not just a transaction, we want to be your partner today and in the future. We are invested in your success.

LOCAL CONTROL
We are a direct lender, underwrite our own files, and provide our own appraisals which makes our loan process transparent and fast.

STRAIGHT FORWARD TERMS
We lend and you pay us back with interest only payments and a full balloon payment at the end of the term. That's it.

LEARN FROM MATTHEW PILLMORE - VIP FINANCIAL EDUCATION!

Matthew Pillmore built a successful wholesale residential mortgage company in 2000. During that time he began investing in real estate. At age 23 he hired a creator of the original FICO score and the Nation's leading credit attorney to build the 760 Club.
One year later, he discovered a revolutionary cash flow formula which allows real estate investors to own real estate free and clear far more quickly & safely by turning the banks' rules against themselves.
Today, Mr. Pillmore has been featured on hundreds of radio and television programs and is considered the foremost leading expert on the subjects of cash flow, debt, and both personal & business credit. He has a unique ability to accelerate nearly anybody's financial goals, using a simple 3 step recipe.


Who Is Anderson....
Anderson Advisors is a Seattle and Las Vegas based business planning and consulting firm with a focus on providing high-quality services and resources to real estate investors, stock traders, solopreneurs and business owners.

What makes Anderson Unique?
Anderson Advisors takes a unique approach to asset protection. Unlike traditional groups, we avoid hourly fees and instead work on a fee-based structure in which the costs of creating and implementing a plan are inclusive. In other words, we want our clients to take an active role in the implementation of their plan.
Welcome To Horizon Trust Company
Horizon Trust Company is a custodian that offers IRA custodial services for clients looking to self-direct their Individual Retirement Account (IRA). Horizon Trust provides education on self-directing and custodial services to investors interested in diversifying their tax-sheltered portfolios beyond the limited options of publicly-traded investment products.

Horizon Trust is a licensed and bonded trust company that provides clients with the opportunity to invest in a variety of investment vehicles, including non-publicly traded assets - expanding each client's investment possibilities well beyond traditionally accepted investments in the stock market. We are committed to offering clients the flexibility to select investments that complement their investment portfolio, while providing timely funding of investments, and superior customer satisfaction.
Meet Author Rebecca Rice and Discover her "Living Benefits" Strategy

At age 37 Rebecca Rice suddenly became single with three small children. Without any source of income, Rebecca faced food scarcity and homelessness. "I know what it's like to be without," Rebecca said. "I made it my goal to never let that happen again."
She started working—and worked hard! She learned and advanced to the point where she started her own business. Along the way, she kept that passion for financial security for herself and for her clients. "I was drawn to financial services because it's such a concrete, specific way to prepare for the difficulties life throws at you," Rebecca said. For 24 years she read and studied books, journals, newsletters, and the leading trends to best help her clients secure their financial future.
In 2003 Rebecca discovered Nelson Nash's book, Be Your Own Banker. She stayed up all night reading it. It just didn't seem possible. So she asked her CPA to read it. He had never heard of the strategy either. Together they tried to punch holes in the theory behind Nash's book. They ran the numbers. They ran the numbers again. And it worked! When her CPA called and said he wanted to set up four accounts for his family, she knew they were on to an amazing secret. How could she not have known about this incredible wealth-building strategy before now?
Rebecca fully used this "Living Benefits" strategy. She tried it herself and found success. She used it more and more. To date she is fully vested in this strategy and has the comfort, control, and peace that financial security brings. As of 2014, Rebecca has written over 3,000 uniquely designed policies. She's gained certification in the knowledge and application of "Living Benefits" strategies. She's used the "Living Benefits" for herself and her clients in every way possible. She stands as the go-to expert for the "Living Benefits" strategy.
Save
Save
Save
Save
Save
Save
Save
Save
Save
Save
Save
Save
Save
Save
Save
Save
Save
Save
Save
Save
<span style="border-radius: 2px; text-indent: 20px; width: auto; padding: 0px 4px 0px 0px; text-align: center; font: bold 11px/20px 'Helvetica Neue',Helvetica,sans-serif; color: #ffffff; background: #bd081c url('data:image/svg+xml;base64,PHN2ZyB4bWxucz0iaHR0cDovL3d3dy53My5vcmcvMjAwMC9zdmciIGhlaWdodD0iMzBweCIgd2lkdGg9IjMwcHgiIHZpZXdCb3g9Ii0xIC0xIDMxIDMxIj48Zz48cGF0aCBkPSJNMjkuNDQ5LDE0LjY2MiBDMjkuNDQ5LDIyLjcyMiAyMi44NjgsMjkuMjU2IDE0Ljc1LDI5LjI1NiBDNi42MzIsMjkuMjU2IDAuMDUxLDIyLjcyMiAwLjA1MSwxNC42NjIgQzAuMDUxLDYuNjAxIDYuNjMyLDAuMDY3IDE0Ljc1LDAuMDY3IEMyMi44NjgsMC4wNjcgMjkuNDQ5LDYuNjAxIDI5LjQ0OSwxNC42NjIiIGZpbGw9IiNmZmYiIHN0cm9rZT0iI2ZmZiIgc3Ryb2tlLXdpZHRoPSIxIj48L3BhdGg+PHBhdGggZD0iTTE0LjczMywxLjY4NiBDNy41MTYsMS42ODYgMS42NjUsNy40OTUgMS42NjUsMTQuNjYyIEMxLjY2NSwyMC4xNTkgNS4xMDksMjQuODU0IDkuOTcsMjYuNzQ0IEM5Ljg1NiwyNS43MTggOS43NTMsMjQuMTQzIDEwLjAxNiwyMy4wMjIgQzEwLjI1MywyMi4wMSAxMS41NDgsMTYuNTcyIDExLjU0OCwxNi41NzIgQzExLjU0OCwxNi41NzIgMTEuMTU3LDE1Ljc5NSAxMS4xNTcsMTQuNjQ2IEMxMS4xNTcsMTIuODQyIDEyLjIxMSwxMS40OTUgMTMuNTIyLDExLjQ5NSBDMTQuNjM3LDExLjQ5NSAxNS4xNzUsMTIuMzI2IDE1LjE3NSwxMy4zMjMgQzE1LjE3NSwxNC40MzYgMTQuNDYyLDE2LjEgMTQuMDkzLDE3LjY0MyBDMTMuNzg1LDE4LjkzNSAxNC43NDUsMTkuOTg4IDE2LjAyOCwxOS45ODggQzE4LjM1MSwxOS45ODggMjAuMTM2LDE3LjU1NiAyMC4xMzYsMTQuMDQ2IEMyMC4xMzYsMTAuOTM5IDE3Ljg4OCw4Ljc2NyAxNC42NzgsOC43NjcgQzEwLjk1OSw4Ljc2NyA4Ljc3NywxMS41MzYgOC43NzcsMTQuMzk4IEM4Ljc3NywxNS41MTMgOS4yMSwxNi43MDkgOS43NDksMTcuMzU5IEM5Ljg1NiwxNy40ODggOS44NzIsMTcuNiA5Ljg0LDE3LjczMSBDOS43NDEsMTguMTQxIDkuNTIsMTkuMDIzIDkuNDc3LDE5LjIwMyBDOS40MiwxOS40NCA5LjI4OCwxOS40OTEgOS4wNCwxOS4zNzYgQz
When & Where

Embassy Suites Convention Center
3600 Paradise Rd.,
Las Vegas, NV 89169


Saturday, October 22, 2016 from 9:00 AM to 5:00 PM (PDT)
Add to my calendar
Organizer
Realty411 Magazine & Marketing

* Event Organized by Realty411 *
Based in Santa Barbara County, Calif., Realty411 publishes online and print magazines, e-newsletters, produces expos, and mixers around the United States. Their mission to educate and empower everyone from all walks of life to invest in real estate. The media/marketing company is owned by a real estate investor and licensed California real estate sales agent. Realty411 currently reaches more personal investors around the nation with their in-house expos and events than any other realty investor publication in the world. Many expos are charity events where awareness and donations are raised for numerous worthwhile organizations, which focus on children, assisting the homeless, victims of domestic violence, and animal welfare.
For information, call: 805.693.1497 or visit http://Realty411.com or
our new expo website: http://Realty411expo.com
To contact us directly, call: 805.693.1497 or realty411magazine@hotmail.com
Save
Las Vegas Real Estate Expo - Join Us for Networking, Education and Motivation