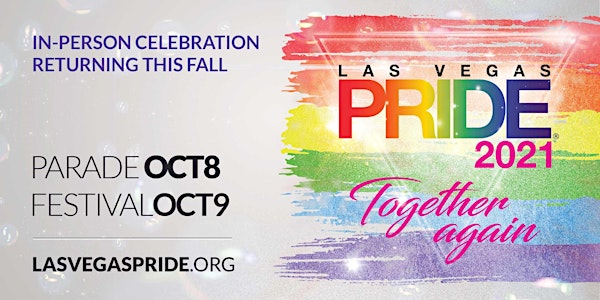 Las Vegas PRIDE 2021 Festival
Come celebrate Las Vegas PRIDE in person. The 2021 Las Vegas PRIDE Festival will be on Saturday Oct 9, 2021 at Craig Ranch Regional Park.
When and where
Location
Craig Ranch Regional Park 628 West Craig Road North Las Vegas, NV 89032
Refund Policy
Contact the organizer to request a refund.
About this event
COVID Restrictions will be in place - masks required when not actively eating or drinking and social distancing is suggested.
2021 Las Vegas PRIDE Festival Celebrate Diversity at the Las Vegas PRIDE Festival where everyone is welcome. LGBT families, couples, and singles along with their friends and straight allies come together for an entire day of fabulous fun at Craig Ranch Regional Park.
Ticket Options; (Kids 5yrs and under are Free, Seniors 60 + are Free)
Youth Age range is 6-17 yrs
GA Adult (Discounted Entry for Youth (17 and under), Military, and Senior, and ADA ONLY AT THE FESTIVAL MAIN GATE)
VIP Ticket :
Festival Entry
Select sponsored cocktails
VIP Access with main stage view and seating
Select sponsored light bites
Festival Entertainment
HEADLINERS
5pm Jiggly Caliente- Jiggly Caliente is a trans drag performer and recording artist most recently known for competing in the 6th season of RuPaul's Drag Race All Stars. She's appeared in a wide variety of roles in television shows ( Pose , Saturday NightLive and Broad City) and on film ( Milkwater and The Queens) and released an album called T.H.O.T. Process. She is currently co hosting a cooking show on OutTV called "Wigs in a Blanket" with Ginger Minj as well as incredible topical round table talk show "TransLation". All this as she continues to bring audiences around the world to their feet.
7pm Mila Jam- A NYC pop recording activist & transgender star, Mila Jam fills every room with talent, personality & undeniable style. A YouTube Sensation turned Original Pop Artist, Mila is known around the world for her unforgettable stage performances & one of a kind music videos. Mila has toured internationally with the Broadway musical RENT; performed with Chaka Khan at Chicago's Pride In The Park and alongside James Brown, Mark Ronson, Laverne Cox, Travis Wall, Jody Watley, Lady Kier (Deee-Lite) & Natasha Bedingfield. Appearances include the BBC's The Lilly Allen Show, GLAAD Media Awards, MTV & MTV NEWS with special features on The Huffington Post, MTV.com, OUT.com, Perezhilton.com, and prominently featured in Cadillac's Audacity of Blackness commercial. Her song 'Faces' was featured in Ralph Lauren's Polo Pride campaign. She is the Odyssey Nightlife Awards Breakthrough Artist, the GLAM Nightlife Awards Best Video & Dance Artist and the talk show host of an original YouTube Talk Show Series titled 'I'm From Driftwood'.
9pm Slayyyter- Catherine Slater (born September 17, 1996), known professionally as Slayyyter, is an American pop singer and songwriter from St. Louis, Missouri, currently based in Los Angeles. She started her career independently through SoundCloud. Her single "Mine" reached number 38 on the iTunes pop chart. Early singles such as "BFF," alongside "Daddy AF" and "Mine," snatched critical praise from Rolling Stone, NME, The FADER, V Magazine, Idolator, Paper Magazine, and more. Months before the release of her debut project, she had already sold out her first headlining tour without having even performed live before. "After that first show in New York, I remember feeling like, yeah, I'm supposed to be doing this and I don't want to be doing anything else." Following the release of her acclaimed self-titled debut mixtape, which dropped in September, Slayyyter featured alongside Kim Petras on Charli XCX's "Click (No Boys Remix)." And earlier this year, lifelong hero Lady Gaga selected her 2019 single "Mine" as a part of her Women Of Choice playlist, a moment she describes as heart attack inducing. Still, despite all the love, Slayyyter never had any intention to confine her sonic palette to the mid-aughts: "I don't want my sound to be stuck in 2007. I'm not fully ditching my old self, but I want to be someone new," she says, adding that "the new material I'm working on has a balance between good and evil. There's an angrier side, and a softer, heavenly side." That hellacious duality blazes forward on her debut album "Troubled Paradise," out now via FADER Label. The album draws from the most dramatic, almost surreal, sides of pop culture - Y2K gloss, nu metal, and cheerleader chants all coalesce here. Fusing such elements together, Slayyyter flips them into her own, bombastic take on pop. That sound fluctuates between towering, aggressive cuts ("Throatzilla," "Cowboys") and gliding dance-pop ("Clouds," "Troubled Paradise"). Slayyyter's resourcefulness runs through the album, where she spins dastardly lovers, boredom, and literal villains into rambunctious, early aughts-influenced music. For all her clever puns and head-turning entendres, she still brings true heart and inspired melodies to the modern pop realm. Upon release, the album drew praise from MTV, Paper Mag, the FADER, Paste, and many others.
*Community Stage* Local organizations, dance groups, singer and drag queens and more through out the day.
*Kidz Zone* Games, activities, bounce house, and more.
*PRIDE Pets area* Pet friendly area for you and your furry friends to enjoy.
*PROUD & Kinky – Adult Area (18+ Only)* Specialty Vendors and more.
Prohibited items include, but are not limited to:
Any weapon or item that could be used as a weapon including tasers.
Any chemicals, poisons, and/or hazardous materials.
Any outside alcoholic beverages or liquids.
Any food and drink, with the exception of one UNOPENED bottle of water, any size.
EMPTY reusable bottles are permitted for access to on-site free potable water.
Any drugs, other than prescription or consumer products in their original containers. (You MAY NOT smoke cannabis in a public place even with a medical marijuana card per state law. )
No Skateboards or roller blades or other rideable accessory other than ADA compliant devices.
Any explosive or incendiary devices.
Any filled Camelbaks/Hydration Packs, MUST BE EMPTIED UPON ARRIVAL.
No megaphones or loud sound producing speakers or devices.
Any other items that security determines will or could have an adverse effect on the event or is deemed to be prohibited at entry.
WE HAVE A ZERO-TOLERANCE POLICY FOR FIGHTING AND FOR UNAUTHORIZED SOLICITORS. VIOLATORS WILL BE ESCORTED OUT OF THE FESTIVAL.
For more information visit: LasVegasPride.org