Description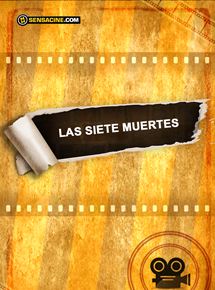 LAS SIETE MUERTES
After 10 years, Clara is no longer the same happy and seductive girl described in the novels in famous author Norman. Following the mysterious death of her boyfriend, the rest of her loved ones suffered a similar fate, dying one by one. As a result, Clara lives in terror suspecting this is all part of a revenge plot concocted by the author. She turns to a journalist, Julia, to help her unravel the mystery.
Tras diez años, Clara ya no es la misma chica alegre y seductora a la que el famoso escritor Norman dictaba sus novelas. Después de la misteriosa muerte de su novio, todos sus seres queridos, uno a uno, han sufrido sucesos similares. De esta manera, ella vive atemorizada y sospechando que todo es parte de una venganza en su contra por parte del escritor. Clara deberá recurrir al periodista Julián, con el que trabajó en el pasado, para intentar desvelar todo el misterio
Director / Director: Gerardo Herrero
Country / País: Dominican Republic-Mexico-Spain
Producer / Productor: Marisol Alonso, Guillermo Martínez
Screenwriter / Guión: Guillermo Martinez
Director of Photography / Director de Fotografía: Alfredo Mayo
Editor / Editor: Teresa Font
Genre / Genero: Drama
Cast / Intérpretes: Juan Manuel Bernal, Victor Clavijo Cobos, Manuela Velles Casariego
Language / Idioma: Spanish with English Subtitles
Year / Año: 2016
Running Time / Duración: 104 min
VIEW TRAILER: https://www.youtube.com/watch?v=BQx9sOanV5s
Director biography::
Gerardo Herrero was born on January 28, 1953 in Madrid, Spain. He is a producer and director, known for The Secret in Their Eyes (2009), Comanche Territory (1997) and Heroína (2005).