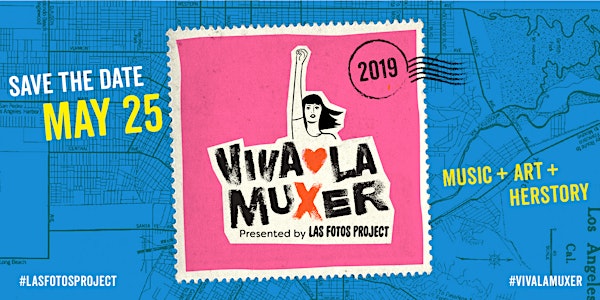 Las Fotos Project's 5th Annual Viva La Muxer Festival
When and where
Location
Plaza de la Raza 3540 N. Mission Rd. Los Angeles, CA 90031
Description
5th Annual Viva La Muxer
A Benefit Festival presented by Las Fotos Project
Saturday, May 25, 2018, 6 pm -10 pm
Plaza de la Raza, Los Angeles, CA
Viva La Muxer is Las Fotos Project's annual fundraising benefit that celebrates and uplifts women-identified artists, entrepreneurs, and changemakers from across Los Angeles. The 5th annual arts and music benefit event features live performances, 100+ curated arts exhibits, family-friendly workshops, resource booths, food and drinks, dancing, networking, and more!
100% of Viva La Muxer proceeds will support Las Fotos Project programs, a nonprofit organization and brave space where teenage girls gather to collaborate, learn, and be inspired through photography.
Early Bird: $15 — SALES END on Monday, March 11, 2019!
General Admission: $25 (Online-only UNTIL 5pm on May 25, 2019)
General Admission: $35 (At the Door AFTER 5pm on May 25, 2019)
Group Tickets (must order 10 or more): $20 per person

*Kids under 10 get in for free!
*Tickets are NON-REFUNDABLE (All tickets are a direct donation to Las Fotos Project, a nonprofit organization.)
#LasFotosProject
#VivaLaMuxer
lasfotosproject.org
@lasfotosproject
@vivalamuxer
Stay up to date! Join our Mailing List
Interested in volunteering? Click Here


Contact Us:
General Inquiries: vlm(at)lasfotosproject.org
Sponsorships: Click Here
Vendor Interest Form: Click Here
Live Music & Performances
Irka Mateo
Linafornia
Te Aho Nui
Welfair
Bloco Obini
Banda Femenil Oaxaqueña - Los Angeles
Alima Lee (DJ)
Shakti Circus
Migrant Mamas Virtual Reality Theater

Presented by TecnoLatinx

Food Vendors
Big Grandma's Kitchen
Capuyo Cafe
ChilOSO Gummy Bear
Milpa Grille
Viva Los Cupcakes
Marketplace Vendors
Ahliyah Crafts
All For Ramon
Audey Thunders
Balam Creations
Boricubi
Brujitx del Barrio
Butter & Scents
East LA Community Youth Center
Daughter of an Immigrant
Dorastiendita
Gata Salvaje Merch
Gladis Alejandre-ART
Haus of Anais
Kalli Arte
Lagrimas de Oro
LA Retro Girl
Lil' Libros
Lulucita
Luna Linda Cloth
MexiChic Crafts
Oh Comadre Candles
Pisando Sin Fronteras
Semillas Artes
XiCali Products
YOUnique Homecrafted Collective



Resource Tables
Budding Artists
California Immigrant Policy Center
Hood Herbalism
KIWA
Las Chicas Chulas
Las Girls in Action
Levitt Pavillion
Las Fotos Project
LIMA Coalition
Los Angeles City Clerk
National Immigration Law Center
Rad Women Book Club
Roots of South LA
TransLatina Coalition
UCLA VAPAE
Arts Workshops & Activities

A Suitcase Without Borders / Una Maleta Sin Fronteras Workshop by LA libería
Esta Soy Yo: Creators Workshop by Las Fotos Project
DIY Foto Frame Making Workshop by Black Book Sessions
Unapologetic Street Series Wheatpaste Tutorial & Public Arts Workshop
Mini Manis by Nailart Fairy
Live Screenprinting by The Clover Signs