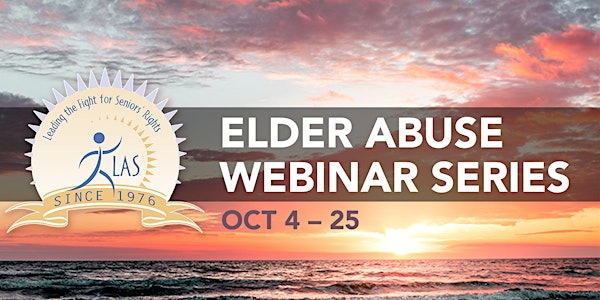 LAS Fall Webinar Series on Elder Abuse 2022
COVID-19 has changed our world. Amidst this backdrop, let's explore the protection of seniors' rights together.
Refund Policy
Contact the organizer to request a refund.
Eventbrite's fee is nonrefundable.
About this event
Thank you for joining us for Legal Assistance for Seniors' Fall Webinar Series on Elder Abuse.
This year's webinar series is brought to you in partnership with Golden Gate University, the special host of this webinar series. We extend our deep gratitude to our sponsors, partners and volunteers for their time and generosity. Without their commitment and support, this webinar series would not have been possible.
LAS' four-part webinar series is open to the public, free of charge, though a donation of $25 per webinar event will be gratefully appreciated and accepted in order to support our work. We hope you find the presentations informative and useful.
Each webinar will run approximately 90 minutes in length, featuring a presentation on the particular topic followed by a live, moderated Q&A session. We encourage everyone to come prepared with questions to submit to our panelists.
This webinar will be held on Zoom. Closed captioning will be available to all participants. For additional accommodation or accessibility requests, email Shawna Reeves at sreeves@lashicap.org.
For questions about the webinar series, email us at conference@lashicap.org or visit our website at https://www.lashicap.org/events/elder-abuse-webinar/

Webinar 1: Transforming Elder Abuse Through Integrative Mediation
Date: Tuesday, October 4 from 12:00 to 1:30 PM (Pacific Standard Time)
Presenter: Kamela Love, JD and Anaisa Seneda
As Integrative Mediators, transforming family conflict into empathetic understanding, healing of hurt feelings, and restoration of financial, emotional, and/or physical damage is our ultimate goal. We will share how we work with families dealing with elder abuse situations in a way that promotes the restoration of healthy boundaries and the preservation of family relationships.
Webinar 2: Understanding Non-Economic Damages in Elder Financial Abuse Litigation
Date: Tuesday, October 11 from 12:00 to 1:30 PM (Pacific Standard Time)
Presenters: Frank Fox, Esq. and Jon Furgison, Esq.
Too often, the non-economic damages inflicted by elder financial abuse are underestimated or "fly under the radar" altogether. This presentation will explain the realm of and reason for potentially recoverable non-economic damages in elder financial abuse litigation, discuss ways to identify and assess those damages and explain the importance of considering potential non-economic damages at each stage of the litigation, e.g., at case intake, pleading, discovery, settlement and trial.
Webinar 3: RISE: An Approach to Restorative Justice in Elder Abuse
Date: Tuesday, October 18 from 12:00 to 1:30 PM (Pacific Standard Time)
Presenters: David Burnes, PhD, Marie-Therese Connolly, JD, Patricia Kimball, MS, Stuart Lewis, MD, FACP, Geoff Rogers, Erin Salvo, JD
This moderated panel will explore the evolution and implementation of R I S E – a new person-centered approach to elder abuse designed to reduce harm, respect autonomy, and advance justice in a more holistic and flexible way than is possible given the structural constraints of most existing systems. Since 2019, Maine APS workers have referred more than 350 cases to RISE advocates with positive outcomes as measured both by APS and by clients. Panelists will discuss the philosophy and research that inspired RISE, the practical steps and partnerships that turned those ideas into a reality, and the ongoing efforts to collect and analyze data to assess the impact of the work.
Webinar 4: Holding Financial Institutions Accountable for Financial Elder Abuse
Date: Tuesday, October 25 from 12:00 to 1:30 PM (Pacific Standard Time)
Presenters: Kathryn Stebner, Esq. and Niall McCarthy, Esq.
As our population gets older and wealthier it is no surprise that preying on the elderly for financial gain is rising. Our Financial Institutions are the first line of defense and the gatekeeper of the elder's money. In fact, institutions market themselves as such and promote all the ways in which money will be guarded and protected against scams. Policies and education are said to be in place to catch the scammer. Yet the scams keep happening under the unwatchful eye of the institution. The presenters will discuss fact patterns, red flags and holding the institution accountable.
Continuing Education
1 hour of continuing education credit per webinar is available for California attorneys (CLE) and professional fiduciaries (CE). BBS-licensees (LMFTs, LCSW, LPCC, and LEP) are eligible to receive 1 hour of CAMFT CE credit per webinar. California nurses are eligible to receive 1 hour of BRN CE credit per webinar. Sessions have been submitted to CAPAPGPC and approved as outside training for public administrators, public guardians, and conservators.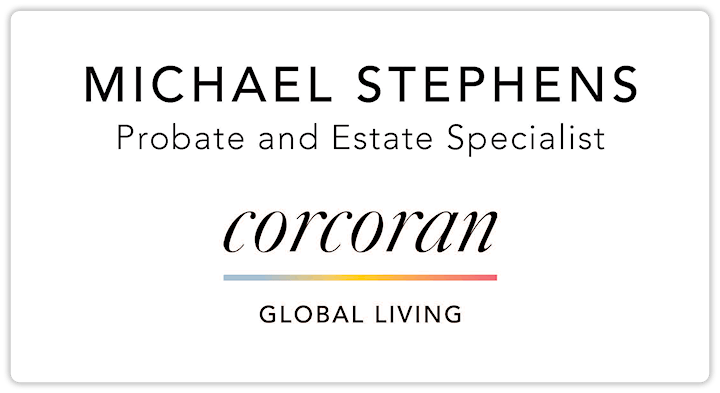 Thank You to Our Sponsors
Diamond Level Sponsors
Michael Stephens, Probate & Trust Realtor, Corcoran Global Living
Platinum Level Sponsors
Gold Level Sponsors
Acuña Regli, LLP
Tile Shop
Silver Level Sponsors
Anderson Yazdi Hwang Minton & Horn, LLP
Ingrid Evans, Evans Law Firm, Inc.
Professional Fiduciary Association of California
Senior Alternatives
Bronze Level Sponsors
A.R.M. Homes
LAS would also like to thank:
Golden Gate University for co-hosting the webinar series and providing technical assistance and support.
CAPAPGPC for its work to provide continuing education units for attendees.
Alameda County Area Agency on Aging for sustained program support.
East Bay Foundation on Aging for its partnership with LAS.
California Elder Justice Coalition for its support of our webinar event.
Legal Aid Association of California for its support of our webinar event.
California Advocates for Nursing Home Reform for its support of our webinar event.
Elder Abuse Prevention Program at Institute on Aging for its support of our webinar event.