EdTech Innovations Addressing the Education Equity Gap for Underserved and Rural Communities
About this event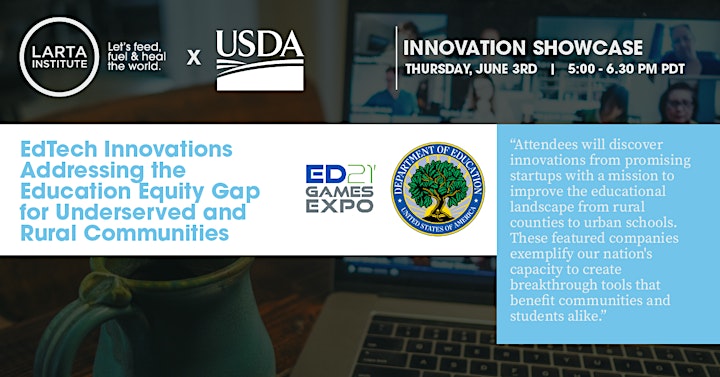 Join us for an Innovation Showcase event for educational technologies designed to address the equity gap for rural and underserved communities.
Larta Institute and USDA National Institute of Food and Agriculture are co-hosting an Innovation Showcase as part of the US Department of Education's 2021 Ed Games Expo.
Discover innovations from promising startups with a mission to improve the educational landscape from rural counties to urban schools. These featured companies exemplify our nation's capacity to create breakthrough tools that benefit communities and students alike.
A concluding panel will feature perspectives of leaders who fund, advocate, develop, and work with the innovators, students, and communities that engage daily to reduce the equity gap in education.
______________________________
AGENDA
• Welcoming Remarks
Rohit Shukla, CEO, Larta Institute
• Keynote Address: "Role of Education in Community Transformation"
Dr. Caprice Young, Larta Institute Board Member and National Superintendent of Lifelong Learning
• Innovation Showcase: "Equity Gap Bridging Technologies on Parade"
Presenting companies:
National Center for Rural Schools Mental Health
• Reflection Panel: "Impacts of Rural and Underserved Community Education Development"
Dr. Suzanne Stluka, USDA NIFA Division Director, Family & Consumer Sciences and Youth and 4-H
Dr. Allen Pratt, Executive Director of the National Rural Education Association
______________________________
EVENT ACCESS
Upon registering, you will receive an email confirmation with a link to the event.
______________________________
ABOUT LARTA
Larta Institute is a non-profit organization accelerating innovation and entrepreneurship. Our mission is to foster science and technology innovation for a sustainable planet. Larta was founded in 1993 in Los Angeles, as California's regional technology alliance to stimulate the economic development of technology-based enterprises. Larta quickly became the national partner for numerous federal government agencies to commercialize novel research & innovation including USDA, Dept. of Education, NSF, NIH, DOE, DARPA, NIST and NOAA. We have supported close to 100 EdTech companies in areas ranging from classroom-based technologies, STEAM solutions, to virtual learning, and more. To date, we have assisted over 6,000 startups, and our alumni have raised over $5BN in funding.
Today, our innovation platform and ecosystem accelerates new science & technology from idea to sustainable enterprise- by providing a unique combination of connections, resources and funding. Together let's feed, fuel and heal the world!
To learn more about Larta visit our website
ABOUT USDA NIFA
The National Institute of Food and Agriculture (NIFA) provides leadership and funding for programs that advance agriculture-related sciences. We invest in and support initiatives that ensure the long-term viability of agriculture. NIFA applies an integrated approach to ensure that groundbreaking discoveries in agriculture-related sciences and technologies reach the people who can put them into practice. Learn More
ABOUT ED GAMES EXPO
The ED Games Expo is an annual showcase of game-changing innovations in education technology that were developed through more than 30 programs at the US Department of Education and across the federal government. Learn More