Description
The Interval at Long Now welcomes
Larry Brilliant (physician, technologist, author of Sometimes Brilliant)

Check-in begins at 6:30; talk will start at 7:30 sharp
Sometimes Brilliant will be on sale and Dr. Brilliant will be signing after the talk.
Larry Brilliant's story would be worth reading just for the fascinating cast of characters he introduces and the turbulent times he describes so vividly...a rare bridge between science and spirituality, and a reminder that real progress in improving the lives of other human beings is within our grasp.
—Steven Johnson, author of Wonderland, two-time Long Now Seminar speaker

After sitting at the feet of Martin Luther King at the University of Michigan in 1962, Larry Brilliant was swept up into the civil rights movement, marching and protesting across America and Europe. As a radical young doctor he followed the hippie trail from London over the Khyber Pass with his wife Girija, Wavy Gravy and the Hog Farm commune to India.
Then one of India's greatest spiritual teachers, Neem Karoli Baba, told him his destiny was to work for the World Health Organization to help eradicate smallpox. He became a key player in eliminating that 10,000-year-old disease that killed half a billion people in the 20th century alone. Among the many chapters in his remarkable life (so far), he also co-founded the influential online community The WELL with Stewart Brand in 01985.

Dr. Larry Brilliant will appear in conversation wtih Long Now co-founder Stewart Brand in this very special event.

Long Now members can view a free livestream of this event online.
Join Long Now for access to live streams of our Seminars and Interval events.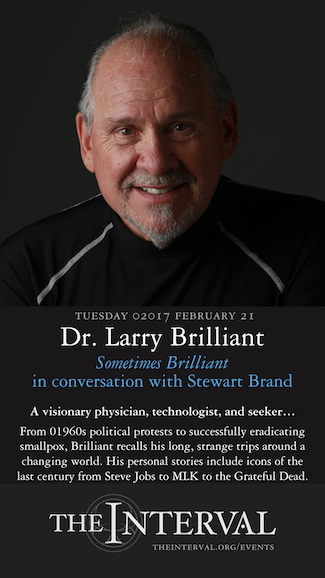 Larry Brilliant, M.D., M.P.H., is a pioneering physician, visionary technologist, and spiritual seeker. He is an epidemiologist, board certified in preventive medicine and public health. He was a medical officer for the UN's World Health Organization and key member of the Central Team that eradicated smallpox from India and South Asia and also worked on WHO smallpox and blindness programs and in refugee camps following disasters around the world.
He has also been a professor of epidemiology at University of Michigan and the first executive director of Google.org. He currently serves as Chairman of Skoll Global Threats Fund. Larry co-founded the The Seva Foundation (pronounced Say-Va), whose programs and partners have restored sight to more than four million blind people in two dozen countries. He chaired the National Biosurveillance Advisory Subcommittee created by Presidential Directive. He co-founded one of the first digital social networks, the Well. In 02006 he won the TED Prize, and in 02009 he was named in TIME magazine's 100 most influential people. He is on the board of Salesforce.org, Skoll Foundation, and Skoll Global Threats Fund.
Larry Brilliant has been an incredible inspiration to me, as a spiritual advisor, teacher and friend. His life story is nothing short of remarkable and this book will serve as an enduring inspiration for many generations to come.
—Marc Benioff, Chariman and CEO, Salesforce

Long Now members hear about Interval events first: become a member today